PARTNER POST: Get ready for the months ahead with new potato recipes that will inspire your spring and summer cooking.
This comforting savory potato crumble is loaded with ham and cheddar cheese and a topping of chives for a touch of spring.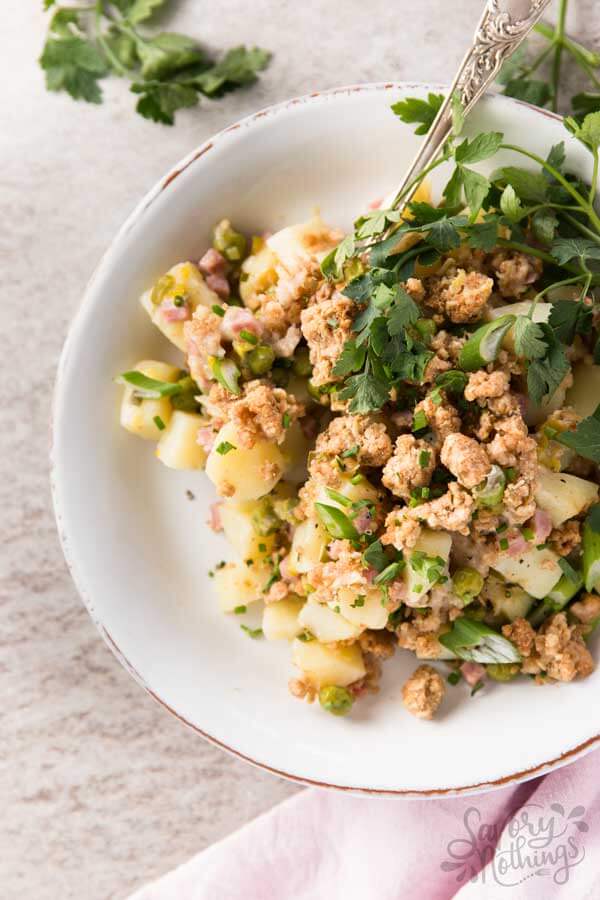 This crumble is one like you've never seen before: It's savory! Filled with healthy goodness from potatoes and plenty of vegetables, then topped with a fiber-filled whole wheat and oatmeal topping, it's going to be your new favorite way to use up leftover ham.
Are you ready for spring food? I'm definitely ready. Warmer weather, less coats and more sunshine? Totally my jam.
It helps that Easter is my favorite holiday of the year, too.
If you're a rainbow fish like me, in love with the Easter bunny more than with Santa, then boy do I have a recipe for you. One that's springy. Eastery.
Or rather post-Eastery, if you need a way to pack away that leftover ham.
This is a savoury crumble, though you could also call it pommes de terre au gratin of sorts. But it does have a delicious crumbly topping, complete with a dose of cheddar cheese for extra flavour and deliciousness.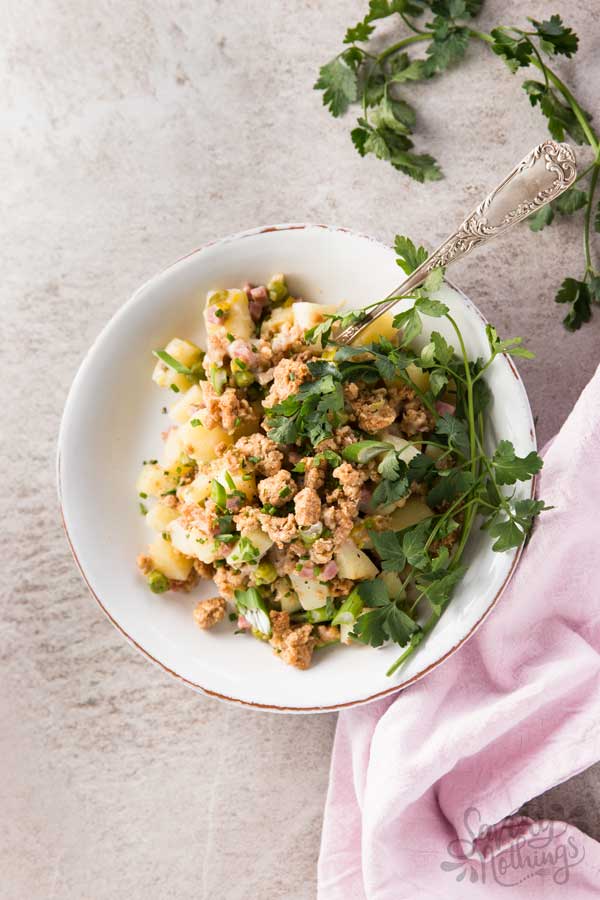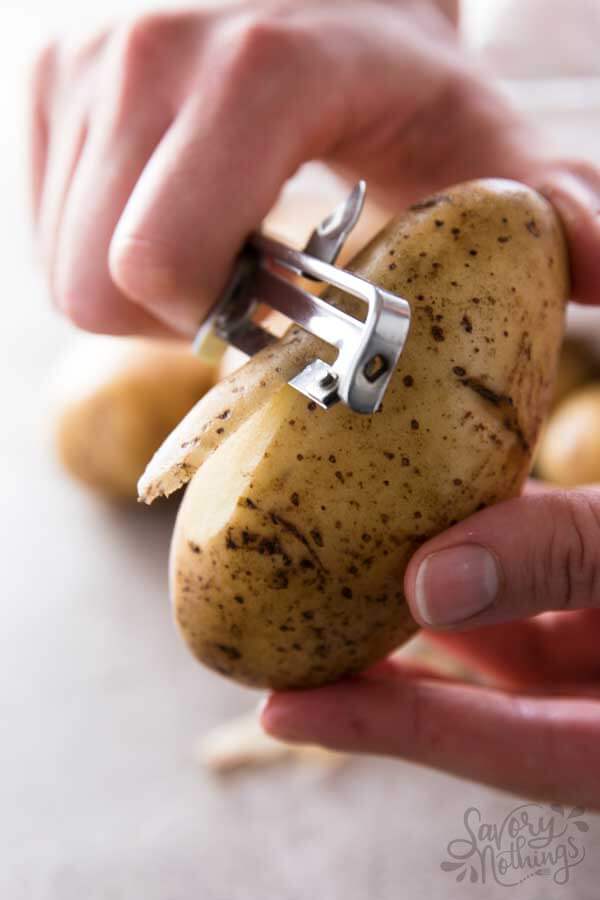 Though this is not your ordinary heavy potato casserole, oh no. Quite according to the season, it's on the lighter side and quite nutritious.
Made with plenty of good-for-you potatoes, a little diced ham and NO cream at all – perfect for warmer weather (and post Easter-chocolate binges, ahem).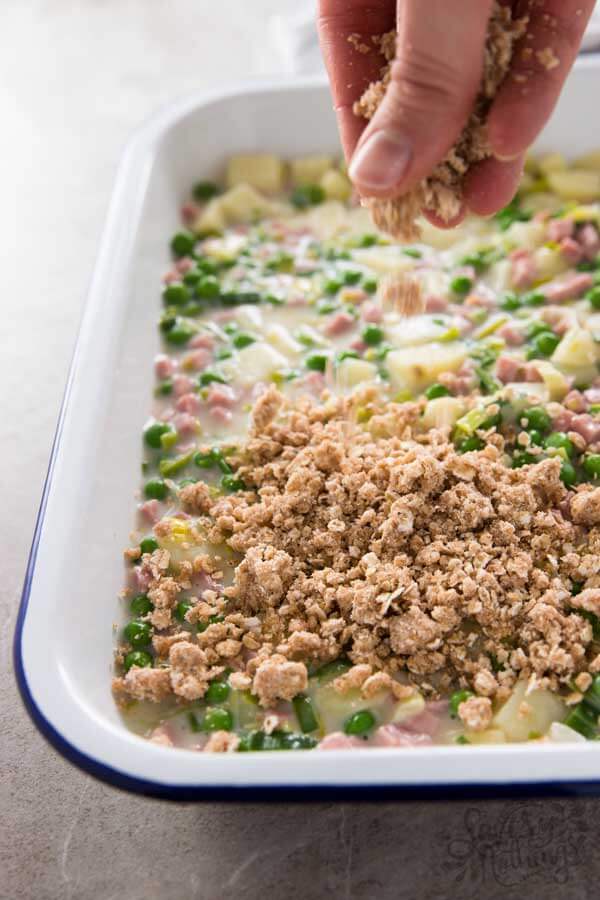 The topping has a little butter and cheese, yes, but there's also whole wheat flour and wholesome oats, plus plenty of fresh herbs to add a pop of flavour and some colour right before serving.
I used yellow potatoes for this recipe, Yukon Gold would be a good choice as they cook up firm and don't totally disintegrate in this dish.
We like to enjoy this as a light main, with a big salad to go along with it.
This Cheddar Chive Savory Ham and Potato Crumble has zippy spring flavours from lemon juice, mustard and scallions – but thanks to the fact that there's peas it's also incredibly kid-friendly.
Click the banner below for more delicious potato recipes.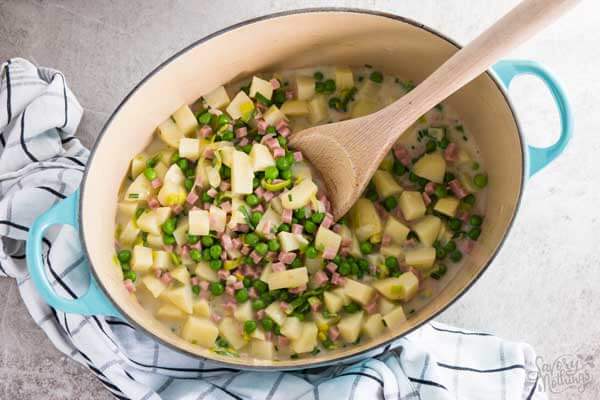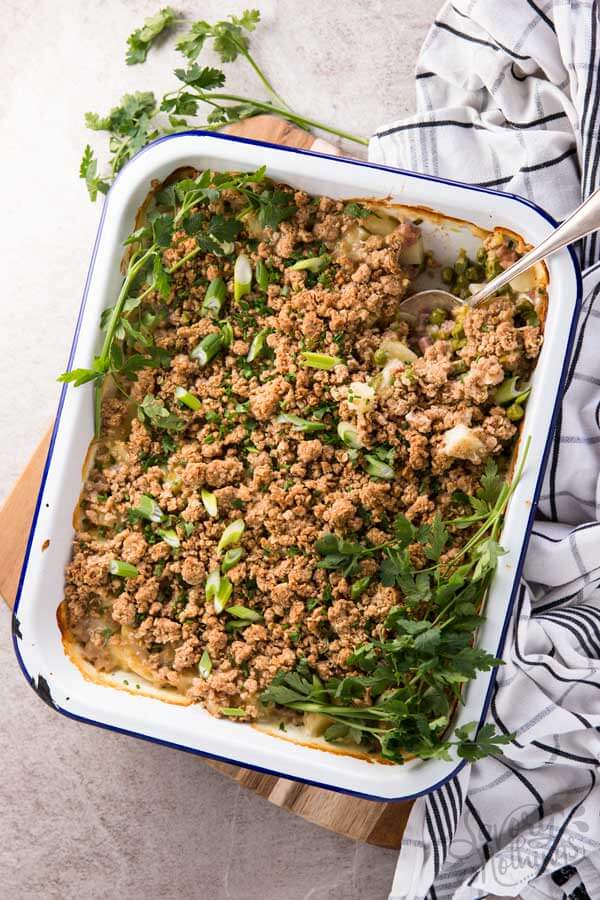 For another unique way to use potatoes, check out these truffles and find the recipe here.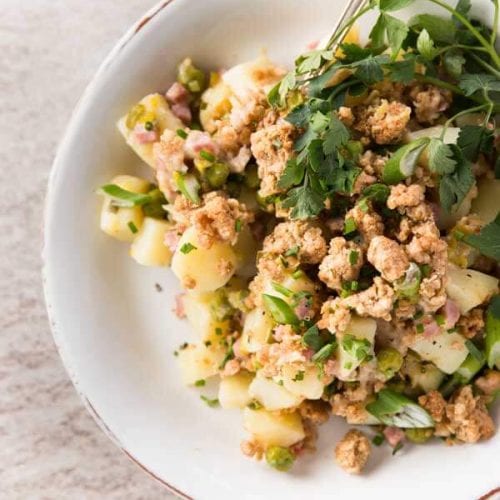 Savory Ham, Cheddar, and Potato Crumble
Nora Rusev
This comforting savory potato crumble is loaded with ham and cheddar cheese and a topping of chives for a touch of spring.
Ingredients
For the crumble topping:
3/4

cup

whole wheat flour

3/4

cup

rolled oats

1

ounce

grated cheddar cheese

Pinch

of salt

Pinch

of black pepper

1/3

cup

cold unsalted butter

1

tablespoon

lemon juice
For the filling:
1

tablespoon

unsalted butter

1

tablespoon

flour

1

garlic clove minced

1

cup

chicken or vegetable stock

1 1/2

cups

milk

1

tablespoon

mustard

1/4

teaspoon

salt

1/8

teaspoon

ground nutmeg

Dash of black pepper

1

lb

yellow potatoes peeled and diced

2

small leeks sliced

1

cup

peas no need to defrost if frozen

1/2

lb

leftover ham chopped

1

tablespoon

chopped chives
To finish the dish:
Chopped parsley

Chopped chives

Sliced scallions
Instructions
Mix all the crumble ingredients EXCEPT for the butter and lemon juice in a large bowl. Then, add the butter and lemon juice and rub both into the flour with your fingertips. Do this until there is no more dry flour and you have a mix of both coarse and small crumbs. Cover and refrigerate.

Make sure you have your stock and milk ready to use at this point. Melt the butter for the filling in a large pot over medium heat. Using a whisk (use silicone coated if you have a pot with a delicate surface), stir in the flour. Whisking constantly, cook the flour for one minute. Add the minced garlic and continue whisking for another 30 seconds. Pour the stock into the pot, whisking vigorously to remove any lumps of flour. Once it's smooth, whisk in the milk, mustard, salt, nutmeg and pepper.

Preheat the oven to 390°F. Bring the sauce to a boil, add the potatoes and leeks and reduce to a simmer. Cook for 5 minutes. Stir in the peas, ham and chives.

Pour the filling into a 7x11 rectangular baking dish. Evenly top with the crumble topping. Bake for 30 minutes or until the filling is bubbly and the topping golden brown.

Serve immediately topped with chopped chives, parsley and sliced scallions, if you like.
Notes
This dish can be made ahead of time. Follow the steps 1-3, omit preheating the oven. Assemble the crumble in a baking dish, then cover and refrigerate for up to 24 hours. Allow 10-15 extra minutes for baking, as the dish will be cold out of the fridge. You can also choose to freeze this dish for up to three months. Wrap the baking dish very well to avoid freezer burn. Clearly label with the recipe name, date and instructions for cooking. Defrost the dish in the fridge overnight and add 10-15 minutes to the baking time stated in the recipe.
Nora Rušev
I'm Nora and I have a bit of a thing or food. I live, love and argue together with my husband Branimir and our new baby daughter. When I'm not playing with your girl or studying towards my degree in secondary education I can be found testing new recipes in my kitchen.