Savory Bacon and Scallion Pancakes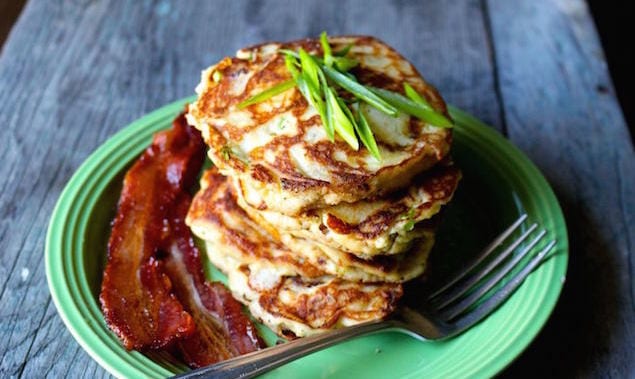 Make a savory pancake that will satisfy all of your brunch eaters. Top with cheese or add a touch of sweetness with jam or the usual maple syrup.
By Chantelle Zakariasen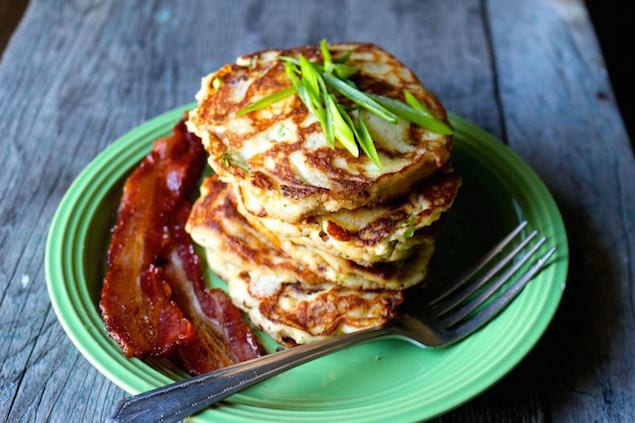 I've never been a huge fan of sweet breakfasts, so savoury pancakes are right up my alley. If you're into cheese, you can throw some aged raw cheddar in these for an extra special treat. I like to smother them in butter with a bit of maple syrup.
Find more great paleo recipes and inspiration here.

Savory Bacon and Scallion Pancakes
Make a savory pancake that will satisfy all of your brunch eaters. Top with cheese or add a touch of sweetness with jam or the usual maple syrup.
Author:
Chantelle Zakariasen
Serves:
about 12 pancakes
Ingredients
½ C almond flour
¼ C coconut flour
¼ C tapioca flour
1 tsp baking soda
½ tsp sea salt
2 eggs
¾ C almond milk (unsweetened) or coconut milk
¼ C ghee or butter (melted)
2 Tbs bacon fat (melted)
6 pieces of crispy bacon, chopped
6 scallions, finely chopped
½ raw cheddar cheese (shredded) (optional)
Instructions
Combine all ingredients until smooth
Heat a cast iron skillet and melt fat or oil of choice
Drop ¼ C of batter at a time and let cook until bubbles start to show around the edges, about 2 minutes per side.
Chantelle Zakariasen
Chantelle strives to provide the tools for a lifestyle that's closer to how our ancient ancestors lived, she hopes to find balance between modern comforts and natures design. A student of herbalism and wildcrafting, she is happy to share recipes, articles and other interesting bits and bobs with her awesome readers.