Fresh parsley pesto and feta make for a bright and light dinner. With added garlic chicken sausage, this meal is sure to satisfy hunger. Try using chickpeas for a vegetarian option.
By Taylor Kadlec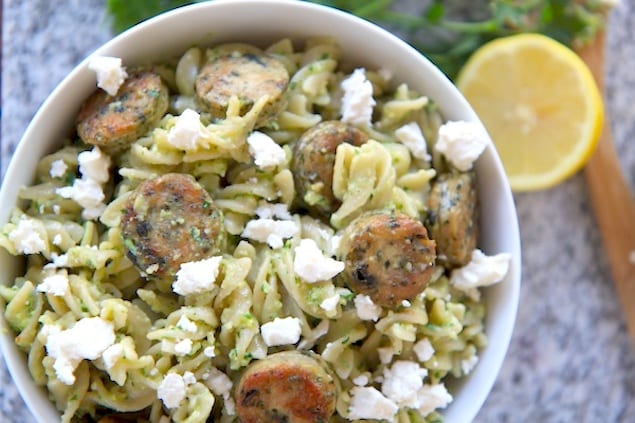 The pesto recipe makes a little more than what you need, but pesto freezes beautifully and you'll have parsley pesto ready to go whenever you want. Another recipe note – in my directions I talk about saving the pasta water and adding some in at the end. This naturally thickens any pasta sauce, which really meant that a little bit of my pesto went a long ways. Add the pasta water gradually, until the pasta is coated in the pesto to your liking.
I loved the freshness of the parsley in the pesto and along with the lemon zest and feta – it was a yummy spring dinner. The chicken sausage added some heartiness to the pasta, but I think you could use other meats too, like chicken or shrimp, and I think a can of chickpeas would be a really delicious vegetarian option, too.

Sausage, Feta, and Almond-Parsley Pesto Pasta
Fresh pesto and feta make for a bright dinner. With added chicken sausage, this meal is sure to satisfy hunger. Try using chickpeas for a vegetarian option.
Ingredients
10-12 oz fusilli pasta, or pasta of your choice
4 links chicken sausage (I used roasted garlic chicken sausage)
½ cup crumbled feta cheese
For the almond-parsley pesto:
1 cup slivered almonds
2 cups parsley leaves, loosely packed
¼ cup Parmesan cheese
zest of 1 lemon
½ tsp salt
juice of ½ lemon
¼ cup olive oil
Instructions
Bring large pot of water to boil.
Add pasta and 1 tbsp salt and cook according to package.
Once cooked, save ½ cup of pasta water and drain the pasta.
While pasta is cooking, cook the chicken sausages in separate skillet over medium-high heat, according to package, until cooked. Mine took about 8 minutes.
While pasta and sausage are cooking, you can also make the pesto.
Make the pesto by adding almonds, parsley, Parmesan cheese, lemon zest, and salt to food processor.
Pulse until very finely chopped.
Add lemon juice and olive oil and pulse until well combined. You may have to scrape down the edges a couple of times to make sure the olive oil is evenly distributed.
Once pasta and sausage are cooked, combine them in large pot.
Add ⅓-1/2 cup of pesto and 2 tbsp of pasta water.
Stir to combine well. Add more pasta water, 1 tablespoon at a time, as needed. I added about ¼ cup total just to moisten it a bit.
Serve into pasta bowls and top with crumbled feta.
Taylor Kadlec
Taylor Kadlec is a lover of all things food including baking, cooking, and of course, eating. She is a self-taught baker and cook, and she shares her kitchen adventures on her blog Greens & Chocolate, where healthy cooking meets sinful indulgence.