PARTNER POST — The holiday season is here and it is time to add some Italian flair to your menu with authentic ingredients from Colavita and Perugina's rich Italian chocolate.
Ring in the holiday season with a beautiful Italian sausage and mussel risotto and a sweet bite of festive-looking white chocolate pomegranate bark to cap off the meal.
By Carlene Thomas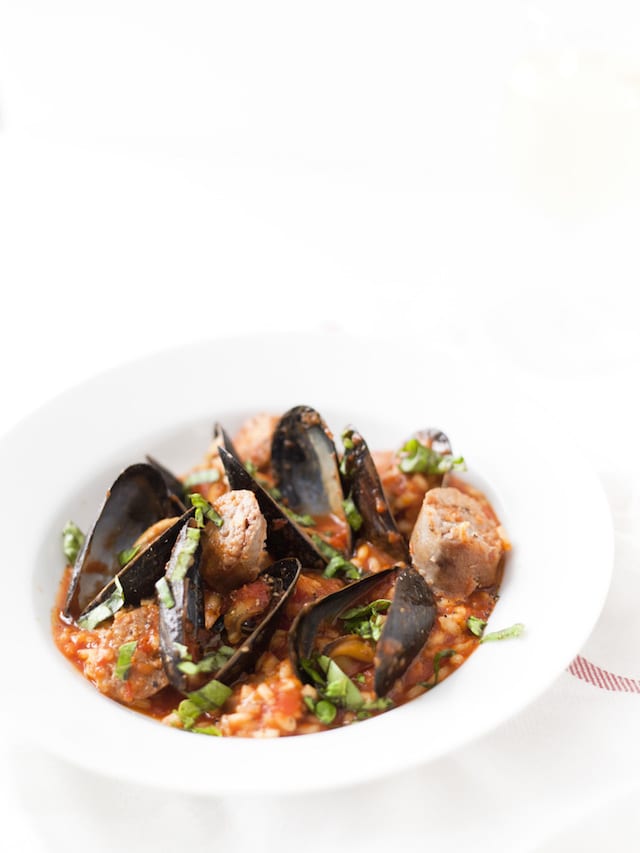 I love holiday food. LOVE IT. But I know there are some of you out there that get stressed about eating healthy during the holidays. And to that I say the following: Put care, flavor and effort into your cooking and you'll enjoy every bite.
Maximizing the flavor and experience of holiday food in a balanced way is totally achievable. One of the cultures that seems to do this the best? The Italians. And these two Italian ingredient inspired recipes should be how you kick off the season.
Use Colavita's quality Arborio rice and a fun garlic infused olive oil for maximum flavor. Enter the sweepstakes below to win a supple of Colavita or Perugina ingredients. Experiment with new recipes and wow your dinner guests.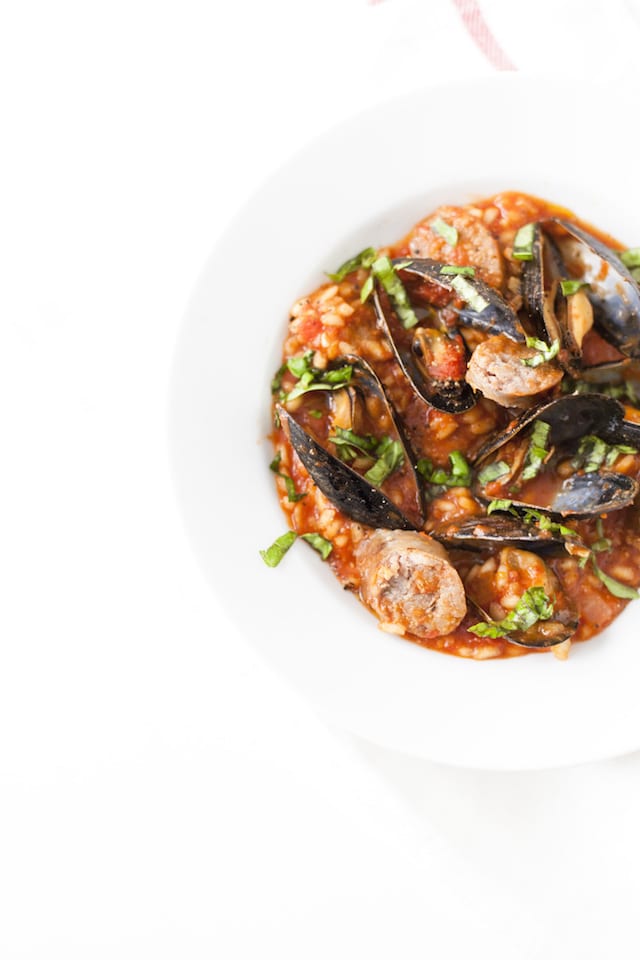 Italian Holiday Table: Sausage and Mussel Risotto
Cuisine:
Italian Inspired
Ingredients
¼ cup garlic infused olive oil *** (split between onions, searing sausage, and tomato seafood stock)
4 garlic cloves, minced
1 bay leaf
3 c. water/seafood stock
1 (28-ounce) can crushed tomatoes
¾ pound Italian sausage, casings removed
¼ c. of sliced fennel
1 small white onion, finely chopped
Coarse salt and ground pepper
1 cup Arborio rice
½ cup dry white wine
2 tablespoons butter
24 mussels (about 1½ pounds total), debearded
½ cup torn fresh basil leaves
drizzle of hot pepper oil (on top as finishing oil)
OPTIONAL
1 bunch flat-leaf spinach (10 to 14 ounces), washed well, tough stems removed, chopped (about 7 cups)
½ cup grated Parmesan cheese, plus more for serving
Crusty Bread
Instructions
Heat ⅛th cup oil in a medium pot over medium heat. Add the garlic and bay leaf. Saute until the garlic is tender, about 1 minute. Add the tomatoes and 3 c. water/seafood stock. Bring to a simmer. Simmer until the tomatoes begin to break down and the flavors blend, approximately 20 minutes. Remove bay leaf.
In a medium saucepan, poach your Italian-style sausage in water until it has reached an internal temperature of 150ºF. Remove the sausage and set aside. If your sausage is pre-cooked, you can skip the previous step. If you poached the sausage, quickly pat dry the sausage with a paper towel to remove surface moisture that will effect the browning of the exterior. Heat oil in pan until it just starts to smoke. Add the sausage and sear each side until properly browned on all sides. Remove sausage from the pan and let cool down for 10 minutes and slice.
In a medium saucepan, heat ⅛th cup oil over medium. Add onion and fennel; season with salt and pepper. Cook until the fennel and onion has softened, about 3 to 5 minutes. Add rice; cook, stirring until well coated, 1 to 2 minutes. Add wine and cook, stirring until absorbed, about 1 minute.
Add about 2 cups hot tomato mixture to rice; simmer over medium-low heat, stirring occasionally, until absorbed, 4 to 5 minutes. Continue adding tomato mixture, 1 cup at a time, waiting for one cup to be absorbed before adding the next, stirring occasionally, until rice is creamy and just tender, about 25 minutes total (you may not have to use all the liquid). After the 4th cup of tomato mixture has been added to the risotto add your mussels to the saucepan with the tomato mixture, cover and cook (approximately 5 minutes). When the mussels have opened add the mussels onto the risotto. Add in the knob of butter and stir. Add the sliced sausage, basil and pepperolio oil over the top of each dish.
To make the beautiful chocolate bark with fun spices and flavors, use the best of the best in the Italian world of chocolate, Perugina's white chocolate.
White Chocolate Pomegranate Bark
Recipe Type:
Dessert, Chocolate
Ingredients
1 Perugina white chocolate bar
1 pinch instant coffee crystals
5 hazlenuts, chopped
a dusting of cinnamon
⅛ t fennel seeds
2 t pomegranate kernels
Instructions
Line a baking sheet with parchment paper. Have ingredients ready to add to melted chocolate.
Break white chocolate bar into pieces and place in a heat-proof glass bowl. Microwave on high for 30 seconds. Remove and stir with a rubber spatula. Microwave chocolate for an additional 30 seconds, then stir again. Continue to heat and stir in 30-second intervals until the chocolate is just melted.
Pour melted chocolate onto parchment paper and spread evenly. Sprinkle coffee crystals, chopped hazelnuts, cinnamon, fennel and pomegranate evenly over the top of the melted chocolate.
Refrigerate for at least 20 minutes or until solid. Break into pieces and serve. Store in fridge.