Salmon with Pickled Onions, Spring Leeks, and Pea Shoots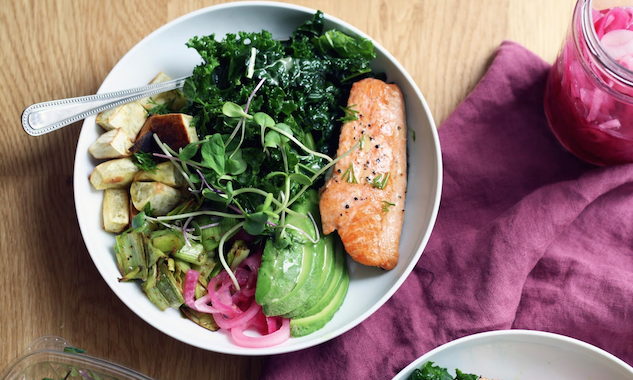 A bowl of spring goodness doused in a lemon-dill vinaigrette and finished with avocado. Roasted sweet potatoes add rich flavor to the fresh flavors.
By Shelley Ludman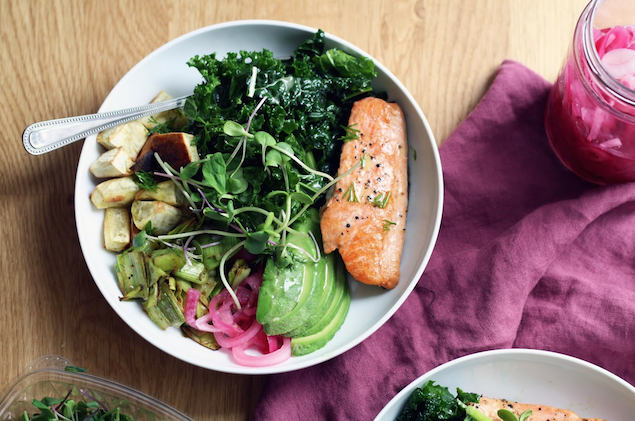 Spring has finally arrived (!!!!!) and dinner has to reflect that – colourful, tangy, crunchy and doused in a lemon-dill vinaigrette.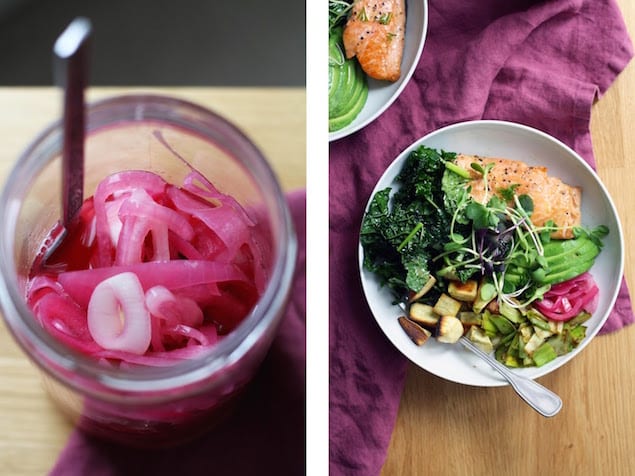 Try this salmon bowl complete with roasted sweet potatoes, pickled red onions, a lemon-dill vinaigrette, and avocado.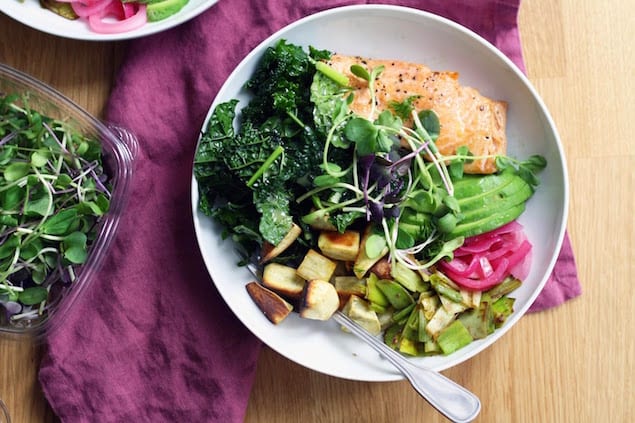 Salmon with Pickled Onions, Spring Leeks, and Pea Shoots
A bowl of spring goodness doused in a lemon-dill vinaigrette and finished with avocado. Roasted sweet potatoes add rich flavor to the fresh flavors. The onions need min. 1 hour to pickle, but best 24 hours later, so plan accordingly!
Ingredients
2 servings fresh salmon, arctic char or trout, seasoned with salt and pepper
½ T grapeseed oil
1 sweet potato, peeled and diced
1-2 leeks (depending on their size), sliced lengthwise and chopped
olive oil, salt and pepper, divided
pickled red onions
1 red onion, cut in half and thinly sliced
½ tsp sugar
½ tsp kosher salt
¾ cups rice vinegar (/white wine vinegar/apple cider vinegar)
1 garlic head, peeled and halved
5 black peppercorns
5 all spice berries
lemon-dill dressing
juice from ½ lemon
½ T dijon mustard
½ tsp maple syrup
½ T rice vinegar
2 T dill, chopped
¼-1/3 cup olive oil
for serving
2 large handfuls of greens (kale*, spinach, romaine)
pea shoots
half an avocado, sliced
Instructions
pickled red onions
Bring 2-3 cups water to boil in a kettle. Add the sugar, salt, vinegar, garlic, peppercorns and all spice to a large glass jar. Seal and shake vigorously to dissolve. Place the sliced onions in a colander in the sink. Pour the boiling water over the onions and let drain. Transfer the par-boiled onions to the jar, seal and shake. Let sit for minimum 1 hour, but best after 24 hours.
lemon-dill dressing
Combine all the dressing ingredients in a glass jar. Seal and shake well to combine.
Toss the diced potatoes with ½ T olive oil, salt and pepper. Roast on an aluminum foil lined baking sheet for 30 minutes.
While the potatoes are roasting, sauté the leeks over medium heat with ½ T olive oil, salt and pepper for 5-8 minutes, until they begin to brown. Set aside.
Warm a cast iron skillet with ½ T grapeseed oil over high heat. Once hot, add the salmon flesh side down (it should begin to sizzle and splash oil, so be careful). Sear for 1-2 minutes, depending on the thickness of the piece. Gently flip each piece (skin side down) and transfer to the hot oven for 5 minutes.
To serve, combine everything in a low bowl and top with a generous portion of dressing.
Notes
*if using kale, remember to massage with some olive oil and salt
Shelley Ludman
Shelley is the voice and photographer behind the food and travel blog, Sevengrams. When not at her day job as an Architect in Toronto & Montreal, Shelley can be found cooking in her kitchen, strolling through the nearby market, or escaping on weekends with her boyfriend (aka the in-house taste tester).