Homemade banana pudding with fresh whipped cream, bananas, and vanilla wafers is a southern classic that is perfect when you want something other than a chocolate dessert.
By Mary Haymaker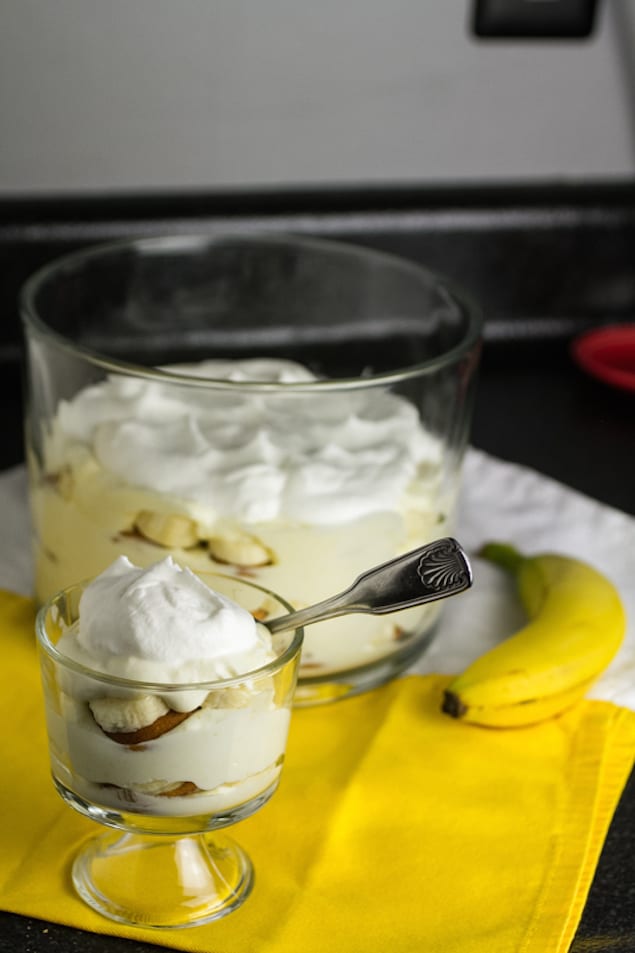 I love desserts of all shapes, forms, and fashions, but no pie, cake, or cobbler can hold a candle to banana pudding, at least not in the encyclopedia of Southern cooking. Not in my mind anyway. You will not go to a church potluck or a family reunion south of the Mason-Dixon line and not find a bowl heaped with banana pudding: vanilla pudding, bananas, and vanilla wafers. Cold (my version, anyway-we'll talk more about that in a minute!) and creamy, banana pudding hits on everyone's desire for something a little lighter and fruitier than the rich chocolate desserts they've been gorging on all winter.
Another fact about banana pudding that I found surprising is that warm banana pudding is considered traditional in the Southern U.S., while cold banana pudding is considered native to the North. Um…I grew up in Tennessee. In fact, I have not lived outside of Tennessee at all ever and I have never, ever been served a warm banana pudding. I didn't know they existed until a few years ago! A survey of my Facebook followers found a pretty even split between cold and warm pudding lovers. I like things the way I like them…I suppose I will have to try it warm someday, but for now I think I'll stick to cold banana pudding (my sister and her husband, whose mom makes her banana pudding warm, pointed out that warm banana pudding must be eaten immediately as it doesn't keep/reheat well…so we'll call it basic economics. Waste not want not.
See Also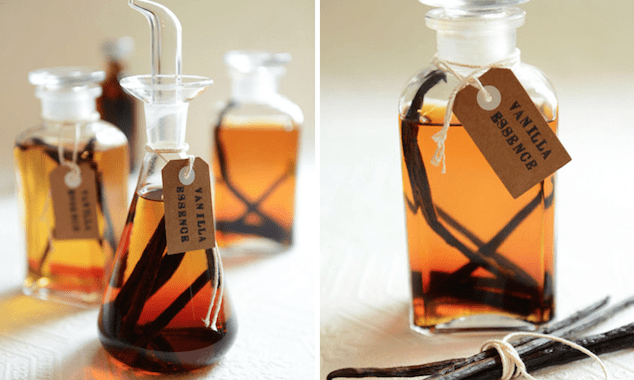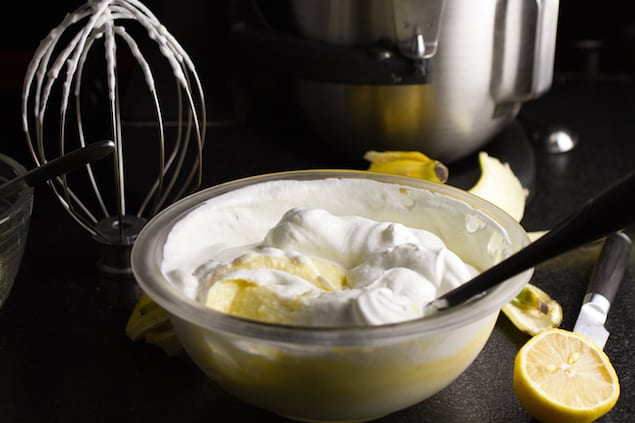 It won't surprise anyone who regularly reads my blog that I have to deviate from the traditional instant pudding + Cool Whip version that I grew up with. I mean, if someone makes it for me, I'm definitely going to eat it…but I wanted to make it from scratch, with real whipped cream. A little something extra that my sister started doing is folding the whipped cream into the pudding to make it fluffy. She gets a ton of compliments on her banana pudding…it's pretty amazing. By the way, if you don't like bananas (I know a lot of people can't really deal with the texture) this pudding would also be delicious with pineapple or strawberries.
What's your banana pudding vote-warm or cold?

Fluffy Banana Pudding
Author:
Adapted from Good Eats Volume 3 by Alton Brown
Ingredients
¾ cup plus 3 tablespoons sugar
3 tablespoons cornstarch
¼ teaspoon kosher salt
2 large eggs
1 large egg yolk
2 cups whole milk
3 tablespoons unsalted butter, cut into 6 pieces and chilled
½ teaspoon vanilla extract
1 box vanilla wafers
4-6 just ripe bananas (yellow, not brown!)
1 tablespoon lemon juice
1½ cups heavy whipping cream
Instructions
Combine ¾ cup sugar, cornstarch, and kosher salt in a medium saucepan. Add the eggs and egg yolk and whisk until well combined. Slowly whisk in the milk until well combined. Cook over medium-low heat until thickened and about 175 degrees. Remove from heat and whisk in the butter, one piece at a time. Add vanilla and whisk to combine. Use a spatula to scrape into a bowl. Press wax or parchment paper down over the surface and refrigerate until completely chilled.
Slice the bananas into ¼ inch slices. Toss with the lemon juice in a small bowl and set aside.
Using an electric mixer, whip the cream with the remaining sugar until it reaches soft peaks. Carefully fold ⅔ of the whipped cream into the chilled pudding until light and fluffy.
Place a small amount of the pudding into the bottom of a medium bowl. Follow with a layer of vanilla wafers and a layer of banana. Top with ⅓ of the pudding. Repeat twice, finishing with a layer of pudding. Top with remaining whipped cream. Refrigerate until ready to serve.
Mary Haymaker
Mary Haymaker is a teacher by day and a cook, food writer, and photographer by night. She has lived in the Chattanooga, Tennessee area her entire life and is dedicated to supporting the growing local food movement there. You can read more of Mary's writing at her blog, chattavore.com.