Sago Gula Melaka is a typical Malaysian dessert. Simplicity best describes this dessert because you just need 3 simple ingredients and it can be prepared in 15 minutes.
By Shannon Lim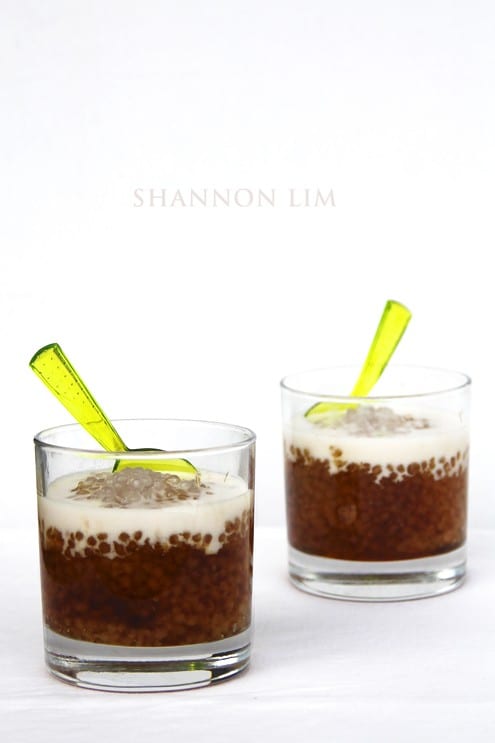 The insipid sago pearls when drenched with creamy coconut milk and rich sweet flavour of palm sugar syrup becomes a wonderfully rich dessert you want to tuck into over and over again.
Both sago pearls and gula melaka (palm sugar) are common ingredients in making Malaysian dessert. Sago is a form of starch extracted from the pith of sago palm stems which are commercially produced in the shape of 'pearls'. These pearls take the form of dry opaque balls not more than 2 mm in diameter and are commonly used in desserts.
Gula Melaka is palm sugar which is extracted from the sap of the flower bud of a coconut tree which then boiled until thickened and packed into bamboo tubes forming its cylindrical shape. It has richer flavour and the colour is darker than Thai palm sugar and Indian palm jaggery.
Sago reminded me of my trip to Monsopiad Cultural Village, a traditional village of Kadazandusun people of Sabah Borneo. We were shown how to scrap the sago tree sap on nails to produce the sago powder. Besides sago, the tree produces another Kadazan delicacy.. Sago worms! These worms are nutritious protein supplements for the Kadazans, the worms are usually eaten alive or grilled. Eewwww factor to the max! No way I will try! As part of the Malaysian culture, how could I not share this story? :P
See Also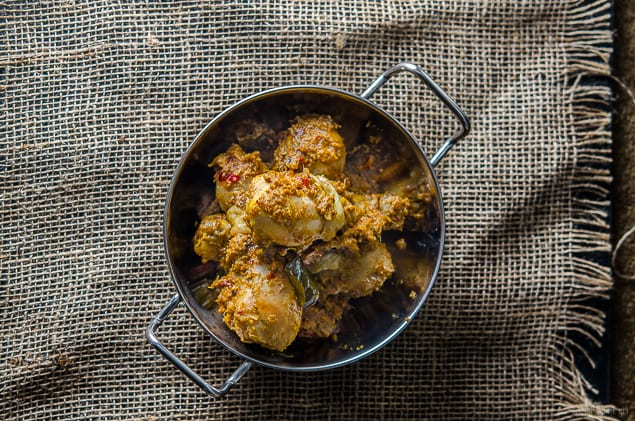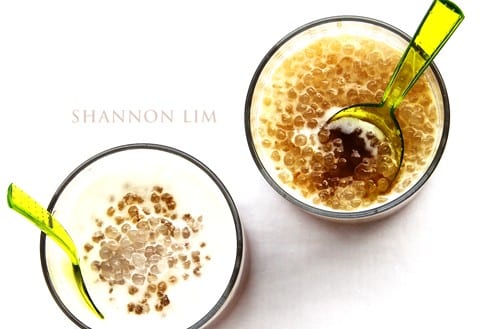 Now back to the dessert..  It's handy to have a few glasses Sago Gula Melaka in the fridge during scorching days like this. Ah.. what a perfect sweet treat to cool myself down at the end of the day.

Sago Gula Melaka (Sago Pudding with Palm Sugar)
A wonderfully rich Malaysian dessert of Sago drenched with creamy coconut milk and rich sweet flavour of palm sugar syrup.
Ingredients
200g Sago Pearl
200g Gula Melaka (Palm Sugar)
250ml Coconut Milk
1 Pandan Leaf (Screwpine Leaf)- shred with a fork & tie into a knot
700ml + 2 tablespoon Water
A pinch of Salt
Instructions
Bring water in a medium pot to boil and add in sago. Cook about 10 minutes until sago pearls become translucent (no more white dot in the middle) and stir constantly.
The water will turn starchy, strain the sago in a sieve and wash away excess starch in running cold water.
Scoop sago pearls into individual small glasses and Put in the fridge to chill.
In a small pot, pour in coconut milk with the pandan leaf and a pinch of salt. Boil at low heat and stir constantly. When it starts to boil, remove from heat and strain into a bowl then set aside to cool.
In another saucepan, melt the gula melaka with 2 tablespoons of water on a low heat. Once become it become syrup, set aside to chill.
Serve sago with drizzle of palm sugar syrup and coconut milk.
Shannon Lim-de Rooy
Shannon's kitchen is her playground and creative outlet, where she loves to experiment with recipes. As a Malaysian, her food influences are mainly Malay, Chinese and Indian cuisine but her curiousity in other culture lead to cross cultural cooking. On her blog JustAsDelish.com, she pursue her mission in creating healthy and delish food.