Rum, Maple and Pecan Topped Brie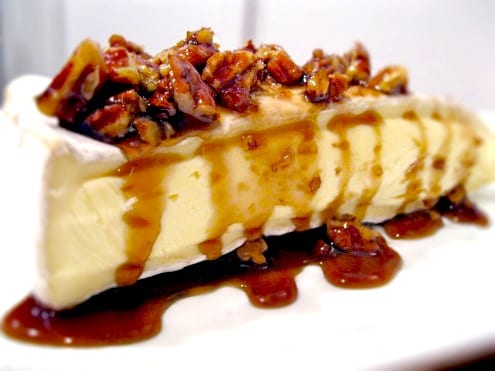 A Folly Cove Rum-inspired brie topped with maple syrup, pecans and brown sugar. A sweet, savory appetizer with a kick.
By Kara and Marni Powers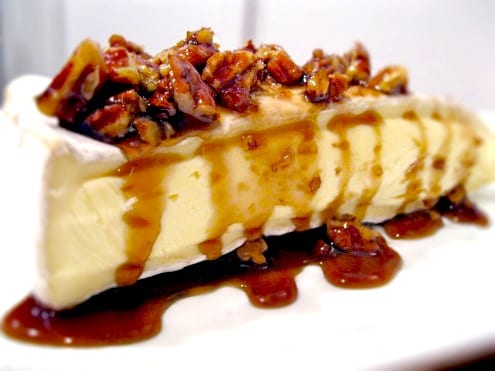 When trimming the tree, we like to setup a cheese board on our coffee table that people can grab while focusing on the activity at hand. For a festive update on the classic cheese and cracker platter,  we were inspired to add a sweet topping with a twist.  After sampling Ryan & Wood's Folly Cove Rum up in historic Gloucester, MA, our minds churned with ideas of how we could use this dark, robust flavor in cooking. Like the distillery, we decided to tie in New England influences to create a rum-inspired brie topping by incorporated Vermont maple syrup, brown sugar and mixed nuts.
Rum, Maple and Pecan Topped Brie
A Folly Cove Rum-inspired brie topped with maple syrup, pecans and brown sugar. A sweet, savory appetizer with a kick
Author:
Kara and Marni Powers
Ingredients
8 ounce wedge of Brie cheese
3 Tablespoon dark rum
3 Tablespoon brown sugar
3 Tablespoon pure maple syrup
½ cup toasted chopped pecans
1 box ginger snap cookies
Instructions
Preheat oven to 350 degrees Fahrenheit.
In a small saucepan over medium heat, combine the rum, brown sugar and maple syrup.
Simmer until sugar is dissolved, about 3-5 minutes.
Add the pecans.
Pour atop the Brie in an ovenproof dish and bake for 5-7 minutes until the Brie is soft.
Serve with ginger snaps (sliced apples or toasted baguettes work too!)
Kara and Marni Powers
Kara and Marni Powers are twin sister cooks, dining and blogging their way through Boston's North End and beyond. They see the act of cooking and entertaining as a form of creative expression, an art that encourages the mixing of flavors, spices, techniques and stories. Their interest in cooking dates back to their Greek grandmother's open-arms approach, letting them taste her savory creations like her famous spanakopita. Kara and Marni's fascination with food and culture continued during their travels abroad in Europe where they saw firsthand the limitlessness of cooking.