Try this deliciously beety take on a classic South Indian dry stir fry curry.
By Chitra Agrawal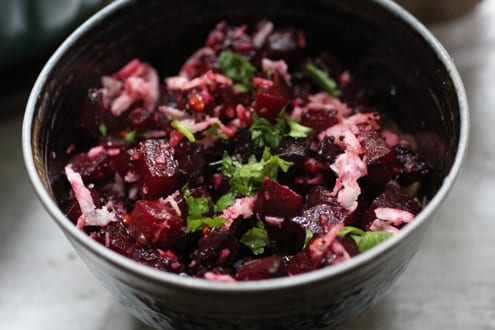 Palya is the name for a dry stir fry curry that's made in the southern Indian state of Karnataka where my mother is from. She gave me this recipe, but I have modified it a bit to tone down the spices for my tum. This style of curry usually consists of seeds and dry dals that are fried with chili and curry leaf.
Beets are another vegetable that I love and they also happen to lower acidity in the body. Beets are just really good for you in general and if you are vegetarian they are even more important because they include a great deal of iron.
Since I was very young, I always enjoyed and was intrigued by this vegetable because of the coloring it would leave behind on my plate. The coloring is so strong that you can actually dye fabric with it and apparently a lot of items in my kitchen (cutting board, dish towel, floor, stove, etc.).
Beet Palya (South Indian Stir Fry)
beets fried up with Indian spices, coconut, lemon and cilantro.
Ingredients
3 cups beets, cubed
2 teaspoons oil
pinch of hing (asafoetida )
½ teaspoon mustards seeds
½ teaspoon cumin seeds
1 teaspoon urad dal
1 teaspoon chana dal
2 fresh curry leaves (I usually freeze my leaves to keep them longer)
1 dry red chili (optional)
½ teaspoon turmeric
salt to taste
1-2 tablespoons frozen fresh grated coconut (optional since beets are pretty sweet)
lemon (optional)
cilantro for garnish
Instructions
Cut beets into small cubed pieces.
In a pan heat oil under a medium flame.
Put in a good pinch of hing.
When it is golden, add the seeds and dal.
When the urad dal starts to become brown, add the curry leaf and the chili broken in half.
To this add the cut beets and turmeric.
Mix it all up and continue to cook.
Cover and check on them every few minutes. Add a few tablespoons of water to make sure the beets do not stick to the pan.
Cook them for about 15-20 minutes until they are tender.
Turn off the heat and add salt, lemon and coconut and mix.
Garnish with cilantro.
Chitra Agrawal
Chitra writes the food blog, The ABCD's of Cooking, which chronicles her adventures cooking American Born Confused Desi recipes. When she is not recipe blogging, Chitra can be found hosting her online cooking show and a supper club featuring Indian-inspired, vegetarian cuisine. She also teaches cooking classes and sells Indian street foods (sometimes yummy Indian tacos!) at events and artisanal markets in Brooklyn. Her cooking has appeared in the New York Times Dining Journal and she is a contributor to The Huffington Post, Gojee, The Daily Meal and Brooklyn Based.