A very traditional roulade cake served with a berry sauce for added freshness.
By Kalle Bergman – Photo by Mads Damgaard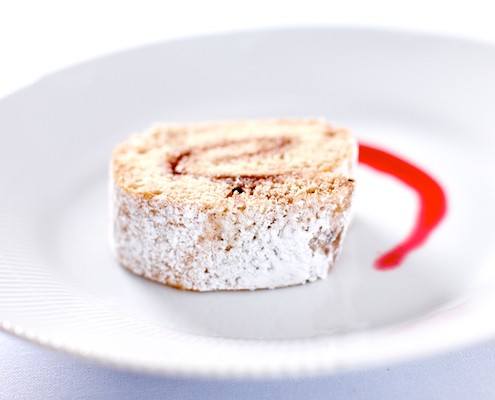 Many people would probably traditionally associate roulade cakes (or Jelly Rolls) with a visit to Grandmas house, and rolled cakes are abundant in horrible versions in supermarkets all across the world at discount prices.
I personally think this is a shame, because baked light and airy and served with a sauce from fresh berries it would just be wrong to archive it under "old fashioned and boring".

Roulade Cake with Berry Sauce
A traditional jelly roll with a berry sauce for added freshness
Ingredients
Cake
2 Free range eggs
⅔ Cup of sugar
1 Cup of flour
1 1?2 Teaspoons of baking powder
1 Tablespoon of cold water Icing sugar for decoration
Strawberry filling
1 1?4 Cups of jam sugar 30 Oz of strawberries
Berry Sauce
16 Oz of fresh berries 1?2 Cup of icing sugar 1?2 Lemon
Instructions
Line a pan with waxed paper, coat with cooking spray and preheat oven to 450 F°
Beat eggs and sugar until light. Stir flour and baking powder together in a large mixing, then add tablespoon of cold water and blend. Fold in egg mixture and spread batter evenly in pan. Bake for about 5 minutes until it bounces back when touched. Turn pan upside down and release the cake onto damp cloth.
Rinse and trim the strawberries. Mix strawberries and sugar in a large saucepan and heat slowly for 15 minutes. Shake the pan gently every once in a while, but do not stir it. Remove any foam.
Remove jam from heat and leave to rest for 15 minutes or until it has cooled down.
Spread jam across the cake, and roll up. Sprinkle the outside with icing sugar.
Rinse and blend fresh berries together with icing sugar and lemon in a blender.
Cut cake into 2 inch slices, and serve one slice of rolled cake surrounded by a little berry sauce on each plate.