This focaccia is surprisingly simple to make and makes a delicious replacement for a basic dinner roll.
By Jovina Coughlin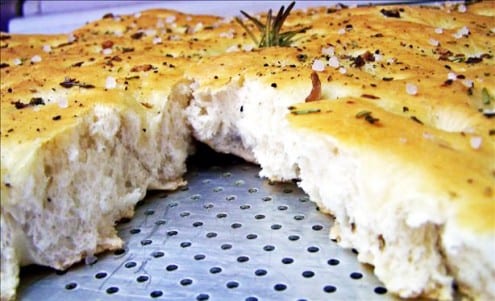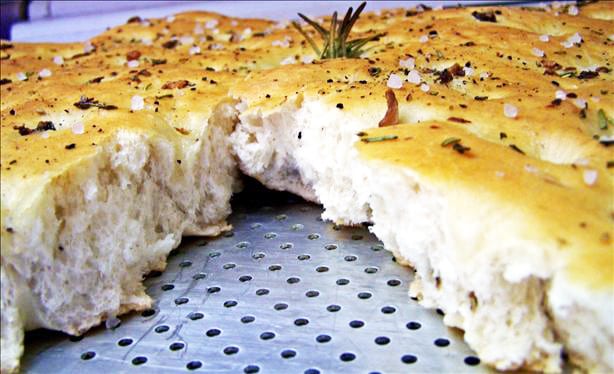 Rosemary and Sea Salt Focaccia
This focaccia is surprisingly simple to make and makes a delicious replacement for a basic dinner roll.
Ingredients
Dough:
1 cup of warm water
1 tablespoon active dry yeast
3 cups of all-purpose flour
2 tablespoons of olive oil
1 teaspoon of salt
1 teaspoon of sugar
Topping:
3-4 tablespoons olive oil
Fresh rosemary chopped
Sea Salt
Crushed red pepper flakes
Instructions
To make the dough:
Mix the water and olive oil with the dry yeast (you're looking to dissolve the yeast) in a medium bowl or measuring cup.
Thoroughly mix the remaining dry ingredients in the bowl of an electric mixer and add the yeast mixture.
With the paddle attachment mix for 2-3 minutes.
Switch to the dough hook and knead the dough for 5 minutes; you're looking for a fluffy/not too dense dough.
Form the dough into a ball and coat the exterior with a bit of olive oil and place in a large bowl, covering the bowl with a kitchen towel.
The dough should rest 30-45 minutes or until it doubles in size.
To make the focaccia:
Add one tablespoon of olive oil to a 10 by 15 inch cookie sheet and thoroughly coat the bottom with the oil.
Stretch the dough on your cookie sheet (you're looking for a thickness of about ¾ of an inch).
Next, create dimples in the dough with your fingertips and drizzle a bit more olive on the dough.
Next, add fresh rosemary and sea salt and crushed red pepper flakes.
Preheat the oven to 400 degrees F. and bake the focaccia for 20-25 minutes, depending on how thin or thick your dough is. You're looking for a golden brown top and a somewhat crunchy bottom.