These surprisingly light and flavorful corn fritters come together without the use of a deep fryer.
By Jill Nammar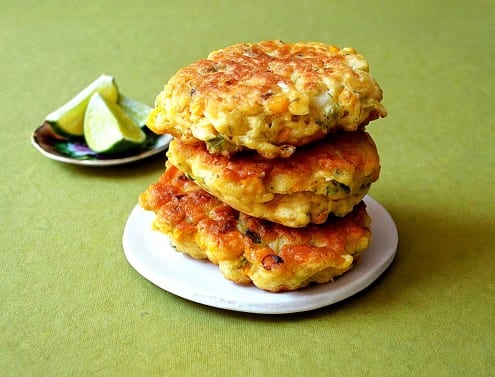 This recipe is a Southeast Asian take on an American classic. The bold, bright flavors present in Thai coconut curries show up here too. If you like Thai curries, give these fritters a go.
These fritters can also be made many different ways by following the basic recipe of corn, self rising flour, milk of your choice, veggies, herbs and eggs. So be creative and use whatever herbs and ingredients float your boat. I've made these with dill, scallions and 4 cups of corn or basil, sundried tomatoes and 3 1/2 cups of corn. The ingredients should complement each other. So use the correct oil to pan fry them and select the right milk to make everything cohesive. I use almond milk in the batter and olive oil to pan fry when doing them with dill and scallions or basil and sundried tomatoes. You can also add some cheddar cheese to the fritter batter. Again, if using the cheese make sure everything makes sense and leave out the shredded coconut and coconut milk beverage if making the Thai fritters. Instead, use rice milk, almond milk, soy milk or regular milk and a neutral-tasting oil to pan fry them. But I like them without the cheese… very poofy, much lighter and more fluffy.
Take care when making these fritters that you don't squish them down with a spatula and flatten them while cooking. Adjust the heat so they're browning nicely and poofing up. Then flip over and brown on the other side. They'll be so high, fluffy and scrumptious this way.
Sweet corn kernels pop in your mouth against the fluffy, moist center and crispy exterior. Coconut adds an additional layer of mild tropical flavor. Scallions and a generous handful of peppery Thai basil give them a final flavor boost.
The sauteed corn with the peppers, chili, coconut and Thai basil makes a nice dish alongside a piece of grilled fish, chicken or tofu. So consider that an option if you're not in the mood to make the fritters.
For this recipe, I used a red bell pepper and two tiny Thai bird peppers. Bird peppers are very hot. But they lend a tropical heat to these fritters that I adore. You can also use a jalapeno. Remove the seeds if you like less spicy food.
I think you can make them vegan by using a vegan egg replacer.
Serve with a side of freshly steamed Jasmine rice, tomato salsa recipe and lots of lime wedges for a light vegetarian dinner. Enjoy!
Thai-Style Crispy Corn Fritters
These surprisingly light and flavorful corn fritters come together without the use of a deep fryer.
Ingredients
8 ears of corn, kernels taken off the cob (about 3-3½ generous cups total). You can also use frozen.
1 bunch of scallions, about 6-8, diced. Use only the dark green part in the fritters. Reserve the white part if you're making the tomato salsa.
1 bell pepper, diced, you pick the color
A handful Thai basil, chopped or cilantro
1-2 small Thai chili peppers, diced or you can use a jalapeno pepper.
1 inch piece of ginger grated. I use a microplane zester to grate it. (optional)
½ cup of finely shredded unsweetened coconut
2 large eggs
1½ cups of self rising flour
½ cup of coconut milk beverage or regular low fat milk or other non-dairy milk of your choice
Oil for cooking. I used coconut.
Sea salt to taste
Lots of lime wedges and tomato salsa for serving
Instructions
Saute the bell pepper and the Thai pepper in a little oil with a pinch of salt.
When the pepper is tender, add the corn, grated ginger and the scallions.
Add a little more oil and saute until the veggies are tender-crisp, about 5 minutes.
Place in a large bowl and set aside to cool.
Once cool, stir in the chopped Thai basil, the flour, a dash more salt, the coconut milk beverage and the eggs.
Stir to combine. The batter will be thick and full of vegetables. It shouldn't be dry, though. So add a little more milk if it seems too dry.
Drop by ¼ cup fulls onto a medium hot nonstick fry pan coated with oil.
Pan fry until golden brown on one side and then flip. Fry until golden brown on the other side and cooked in the center.
Serve with lime wedges and/or my simple fresh tomato salsa.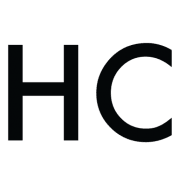 Jill Nammar
Jill has been cooking and serving meals for most of her life. As she was growing up, he parents owned a restaurant and an ice cream parlor where she became immersed in food. The kitchen is truly her comfort zone. Jill's recipes are influenced by France, the Mediterranean and Morocco, and often the bright flavors of Southeast Asian cuisine, too. She cooks to inspire others to whip up flavorful food in their own kitchens. Each recipe has a notes section with helpful tips, techniques and secret ingredients to follow. Taste and see how easy it is to create delicious meals.