Rosemary being intensely aromatic perfectly accentuates this purple tuber united with the characteristic pungency of garlic.
By Radhika Penagonda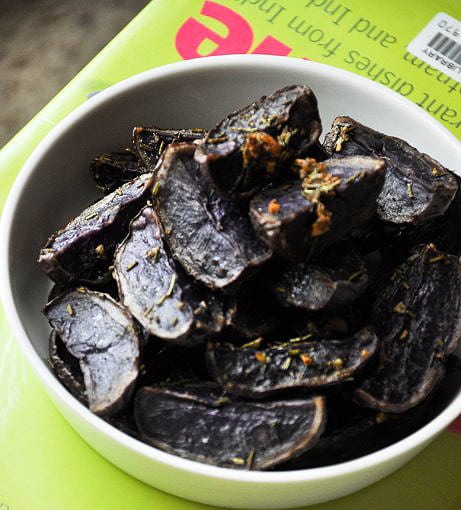 Rosemary and Garlic Roasted Purple Potatoes
Rosemary being intensely aromatic perfectly accentuates this purple tuber united with the characteristic pungency of garlic.
Author:
Radhika Penagonda, adapted from epicurious.com
Ingredients
1 lb purple potatoes
1-2 tbsp extra virgin olive oil
1 tsp fresh rosemary leaves (about 1 sprig), minced
2 garlic cloves or per taste
freshly ground black pepper
sea salt
Others
baking tray
aluminium foil to line the tray
Instructions
Preheat oven to 400°F
Line baking tray with aluminium foil and either brush or spray some olive oil.
Wash, dry and quarter the potatoes into wedges. To easily release rosemary leaves, hold the end of the sprig in one hand and pull the leaves backwards in a swift motion. Hold them all together to chop.
To easily mince garlic, let's use the "smash the garlic clove with the knife" trick. Place the chef's knife sideways on the garlic clove with one hand and smash it against the cutting board with the other palm as the hammer. Then peel and run your knife back and forth like a saw to chop/mince it.
In a large mixing bowl, quickly combine all the ingredients, salt being the last (to avoid sogginess) making sure that all the potato wedges are well coated with olive oil, herb and spices.
Arrange the wedges facing up on the baking tray and bake for 20 mins or until edges are brown and crisp and fork tender.
Do not over bake or leave the potatoes in the oven longer than the baking time or they'll shrink.
Notes
Thyme can also be used along with or instead of rosemary. Fingerlings and gourmet potatoes work equally well with this recipe and result in crisp on the outside and buttery on the inside wedges. White and red skinned potatoes work fine as well but not the russet potatoes.
Radhika Penagonda
Radhika Penagonda is a vegetarian food blogger, ardent photographer and enthusiastic cook who loves to explore new ingredients and believes strongly in eating with our eyes first. Passionate about home-made food prepared from natural ingredients, minimally processed and close to nature, she shares through her blog how home style or not 100% vegetarian food can be lip smacking tasty and simply delicious.