Learn how to make a traditional Naples snack, a simple pizza made elegant with interesting toppings.
By Michelle M. Winner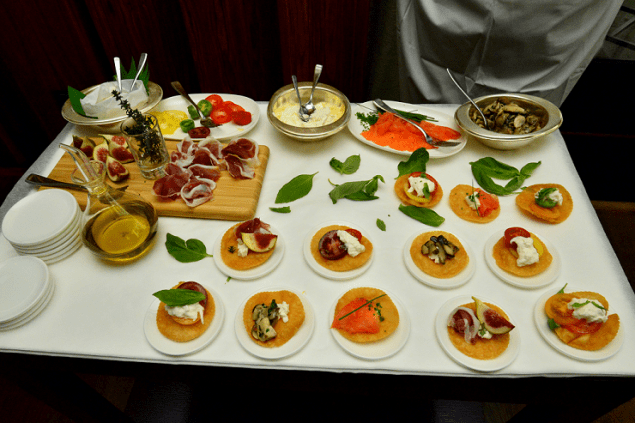 Kurt Winner
This recipe is from the new cookbook "Pure Italian Cuisine" by Roberto Payer and his Executive Chef Franz Conde of Roberto's Restaurant Amsterdam at the Hilton Amsterdam, and cookbook talent Jonah Freud with photos by Jan Bartelsman. It is a delightful arm-chair culinary travel read or an inspiration to the home cook to create the beautiful food of Italy with recipes created by Chef Conde who also provides wine pairing suggestions. "Pura Cucina Italiana," as Roberto explains, "is not a concept but how we cook in Italy. We used what was on hand from the garden, the cupboard the field or farm." And true to the cuisine of the award-winning Roberto's Restaurant and Mr. Payer's philosophy in the kitchen, the pure ingredients shine in the simple to understand recipes that take you on a culinary tour through the regions of Italy. The hardcover cookbook is published by Terra and available in English.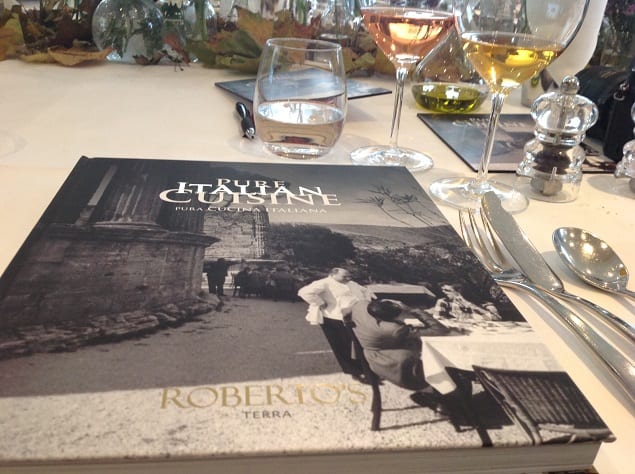 From the cookbook, these mini pizza called "Sophia Loren's Small Pizzas" where inspired by Sophia Loren's own book In cucina con amore. The original pizzas where a snack in Naples using only the cheese and tomato sauce. Roberto's restaurant has taken this simple snack and added a little bit of flair to it creating an elegant cocktail bite. . . or as intended, a snack worthy of the great Italian actress Sofia. For a cocktail party you can lay out a table with the pizza bases and an array of toppings on small plates as the guests help themselves to customize their own pizzas. Buon Appetito.
See Also
Print
Roberto's Amsterdam: Sofia Loren's Small Pizza's
In the new cookbook " Pure Italian Cuisine" Restaurateur and hospitality pro Roberto Payer shares his love of simple ingredients and his native Italy. the recipes are perfectly executed by Executive Chef Franze Conde with delightful writing by Jonah Freud. For the cook or armchair traveler!
Author:

Roberto Payer and Chef Franz Conde

Yield:

4

1

x
Category:

Snack or appetizer

Cuisine:

Italian
The Dough

¼ ounce

grams dry yeast

0.8 ounces

water

9 ounces

flour

3.4 ounces

water
Pinch of salt

25 ounces

oil for frying (peanut is best as it takes the highest heat)
Toppings
Tomato sauce* recipe below
Buffalo Mozzarella
Grated Parmesan cheese (imported is best)
Anchovy filets in oil
Prosciutto and Figs
Mushrooms
Mascarpone and Salmon
Mascarpone and Truffles
*Tomato sauce

2 ounces

extra virgin olive oil

2

cloves garlic crushed but whole

17 ½ ounces

*Passata
Passata
This is tomato sauce that has been strained to remove the seeds.
I recommend imported tomato sauce (but domestic will work in a pinch.)

3

sprigs each of Basil and Parsley tied with bouquet garni (

3

sprigs parsley,

2

sprigs rosemary

1

bay leaf tied together)
Salt to taste
Pinch of sugar
Instructions
To make Passata:
Saute garlic in olive oil, be careful not to burn or it will be bitter.
Remove the garlic after it begins to brown slightly, remove from the pan and add the passata. Simmer for 5 minutes and add the bouquet garni salt and sugar and remove the pan from the heat.
Let the herbs infuse for 5 minutes.
Remove the herbs and the sauce is ready.
Pizza Base/Dough:
Mix the yeast and water in a bowl, cover and let rest for 5 minutes.
Put all of the dough ingredients in the bowls of a stand mixer.
Using a dough hook mix until you have a smooth dough.
Cover again and let rest for 5 minutes.
Divide the dough into 20-25 balls about ½ ounce each.
Flatten the dough with your hands or a rolling pin.
Fry the dough at 350-375f until golden brown and have risen.
Remove from the oil, drain and serve immediately with your choice of toppings
Michelle M. Winner
Michelle was born with a fork in her hand. As a culinary travel writer and confirmed foodophile she delights in the world-wide discovery of new flavor profiles, spices, salts and herbs. Based in one of the world's foodie meccas; Portland, Oregon, not far from "Pinot Noir Heaven" Michelle shares culinary travel and chef's recipes. Her photography has appeared in Saveur Magazine and she has contributed culinary travel articles to Forbes online, WSJ online, Business Insider, Condé Nast Digital Media, Islands magazine and many others. A confirmed globetrotter, she still keeps her bags packed and fork in hand (well . . . except through airport security.)