Khalilah Ramdene with a salivating new take on a classic flavor pairing.
By Khalilah Ramdene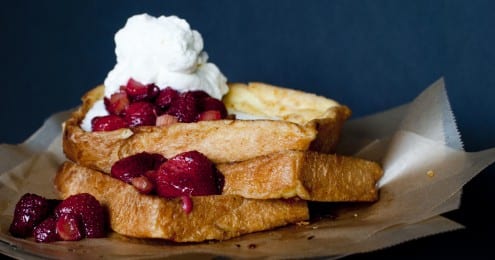 Once May begins to creep into June, my thoughts become clouded with dreams of strawberries and rhubarb. This early summer duo has been featured in pies, cobblers, crisps and tarts, and even jams and jellies, all in the pursuit of the sweet-tart flavor this combination is known for. Strawberries, as the earliest of the summer berries, seemed destined to pair well with late-spring rhubarb and this marriage of fruit and vegetable (rhubarb is a vegetable after all) continues to enchant us with every bit we take.
For something a little different I toss my strawberries and rhubarb with honey and crystallized ginger before roasting. You get layers of warm notes in between the sweet strawberries and tart rhubarb. Try it spooned over your favorite recipe for French toast or pancakes. Please note that topping it with a generous dollop of cardamom whipped cream is absolutely required.
See Also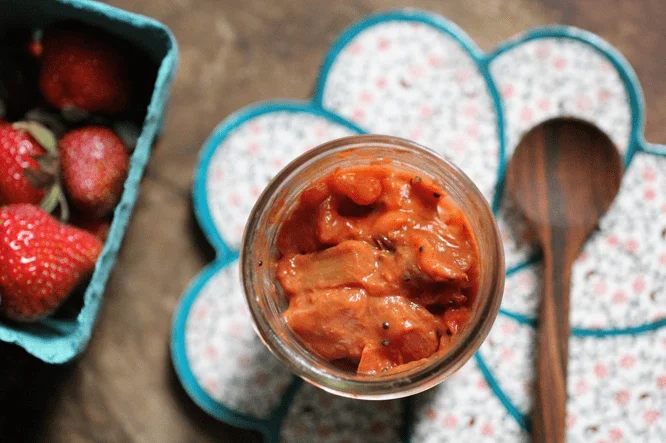 Roasted Strawberries and Rhubarb with Cardamom Whipped Cream
A new take on a classic pairing
Recipe Type:
Dessert, Breakfast
Ingredients
1 pint of strawberries, hulled & halved
½ cup chopped rhubarb
1 heaping tbsp honey
candied ginger to taste, minced
1 cup heavy cream
1 tbsp sugar
½ tsp ground cardamom
Instructions
Toss strawberries and rhubarb with honey and candied ginger and roast in a 250 degree oven for 15 minutes. Strawberries and rhubarb can be served as is, or pureed into a sauce in a blender.
To make whipped cream combine sugar and heavy cream in a chilled bowl. Beat with a mixer until stiff peaks begin to form. Fold in cardamom.
Serve roasted strawberries and rhubarb with the whipped cream or add pureed sauce to French toast, top with whipped cream and enjoy!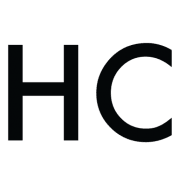 Hali Ramdene
Hali Ramdene is a food editor with Better Homes and Garden magazine. Her love of food stems from the subtle magic it brings to the everyday. She studied Gastronomy at Boston University and writes at HaliRamdene.com