October is National Pork Month; once considered "the other white meat," pork has come into its own as one of the most popular choices for top chefs. Heartland chef Howard Hanna works with the foremost heritage breeders throughout the Midwest to showcase the versatility and genuine flavor of this classic meat. This month Hanna shares his recipe for The Rieger Pork Soup – and the reasons why it is the only dish that has made the cut on every menu at The Rieger in Kansas City.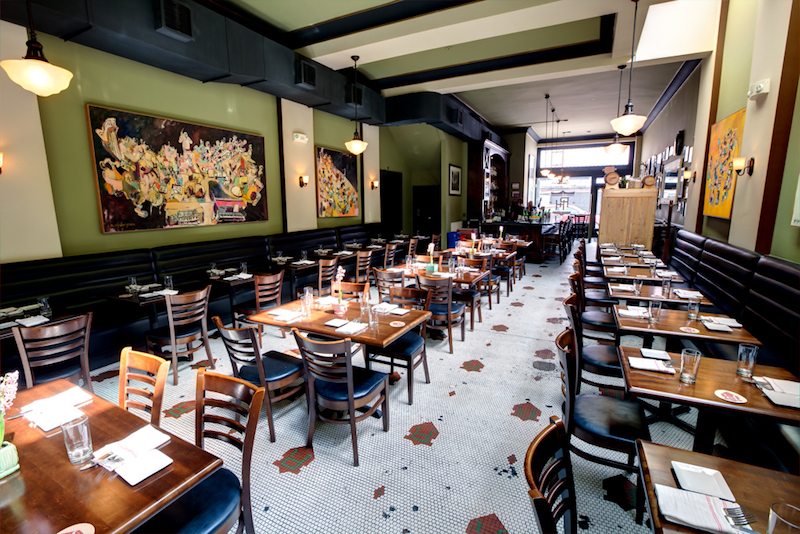 What makes pork such a great meat to work with?
Chef Howard: ?I think the obvious answer is that it's delicious, but more than that, pork is incredibly versatile. You can work with every different part of the pig, apply almost any type of cooking technique to it, and achieve an incredible variety of flavors and textures. Pork is great in various fresh cuts but is perfect for curing, smoking, making into sausages and terrines.
What are some of your favorite ingredients to use with pork dishes?
Chef Howard: ?I love that pork works well with humble ingredients. It offers so much flavor that it doesn't need uncommon or luxury ingredients to make it taste great. Pork is an affordable ingredient that is approachable and comforting to people all over the world in many different cuisines. It's great with onions, garlic, potatoes, chiles, and all different kinds of spices and flavor profiles.
Any tips on what home cooks should look for when purchasing pork and/or best ways to experiment with it?
Chef Howard: To me, pork should not be thought of as "the other white meat." We use pastured pork from heritage breeds like Berkshire, Duroc, and Gloucestershire Old Spot. They are rich in flavor, with robust dark meat, and plenty of delicious fat.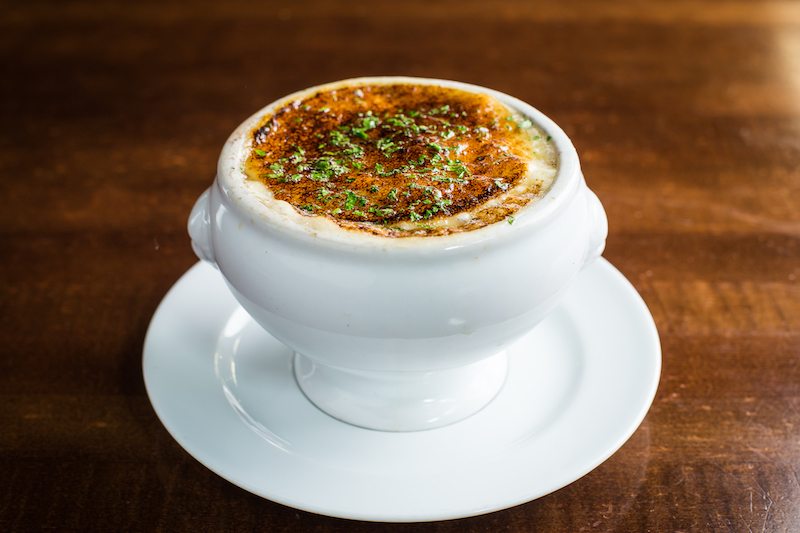 About the Dish:
See Also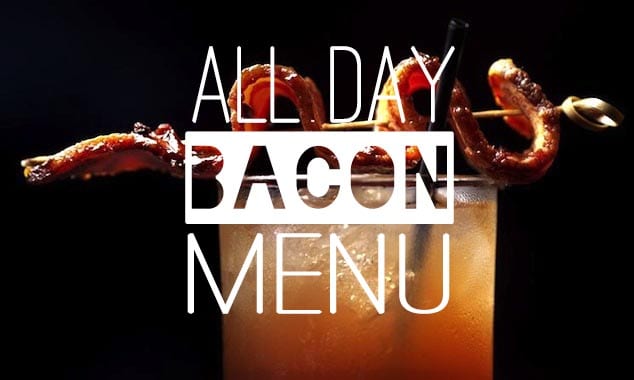 I created the base of this soup for a pork-centric competition called Cochon 555, which travels the country giving whole pigs to local chefs and turning them loose with them. I wanted to do a simple but delicious pork soup by making an amazing pork stock, reducing it down a bit, and enriching it with some trotters. For another dish, I made some pork confit and I had several heads of garlic left over. I decided to puree them into my pork broth and call it "pork and garlic soup." I garnished it with nettle pesto. It was deep and satisfying.
While dreaming of opening The Rieger, I had amassed some small wares and other restaurant equipment that I thought would come in handy someday. One such item was a set of footed lions' head bowls that the French use for onion soup. When I was writing our opening menu, I knew I wanted to use them but I didn't want to do an onion soup since there were other local independent restaurants that make awesome versions of them. My mind went back to the pork and garlic soup. With French onion soup in mind, I decided to add shredded-up pork confit, which would mimic the traditional onions, and to float a crispy pork skin on top in lieu of a crouton to hold up the oozy, melted Gruyere. Thus, The Rieger Pork Soup was born.
While it is extremely rich and hearty, the bitters and the vinegar balance it out and cut the fat, and the Gruyere smooths everything out. It was a smash hit the first winter we opened, but I thought I might take it off the menu in the spring. Now we've been through two long hot summers. The sales haven't slowed, and people continue to rave about it when they come in. It has become our signature dish, so it will definitely stay on the menu. I hope everyone likes it as much as we do!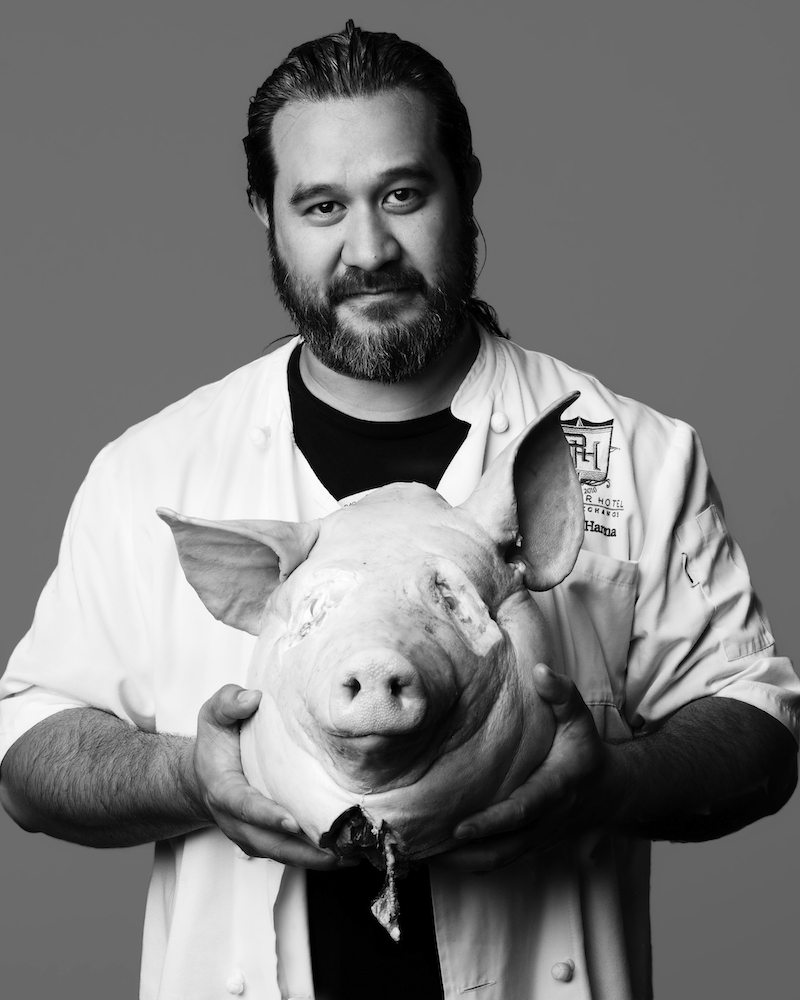 Print
The Rieger Pork Soup – A Heartland Classic for National Pork Month
October is National Pork Month, have a taste of this Midwestern favorite, the Rieger Pork Soup.
Author:

Chef Howard Hanna
2 qt

. Rich pork stock*

1 cup

Raised pork shoulder (shredded**)

1 cup

Roasted garlic (about

15

whole heads, smashed with a fork)

½ cup

Sherry vinegar

1/2 Tbsp

. Angostura bitters
Kosher salt (to taste)
Freshly ground black pepper (to taste)

8

each Chicharrones***

8 oz

. Gruyere (grated)

2 Tbsp

. Parsley (chopped)
Instructions
Preheat oven to 400º F.
Bring the pork stock to a boil in a medium-sized, heavy-bottomed stock pot over high heat. Reduce heat to medium and add the roasted garlic. Whisk thoroughly to incorporate, then season to taste with salt and pepper. Add braised pork, the vinegar, and the bitters, and whisk again to break up and mix in the pork. Let simmer for 10 minutes to allow the flavors to mingle, then taste again and adjust seasoning as needed.
To finish, pour soup into eight soup bowls, on a sheet pan, or baking sheet. Break up one Chicharron into each bowl, top with the Gruyere, and place the sheet pan into the oven. Cook for 5 minutes or so until the cheese is bubbly and starting to brown. Remove from oven, top with parsley, and serve.
Notes
*At The Rieger, we use pork bones and pork trim from other preparations along with carrots, onions, celery, and herbs to make a nice stock as the soup's base. We also add in some pigs' feet or trotters, which give a rich, gelatinous mouthfeel and a great body to the stock. If this isn't possible at home, use chicken stock to braise the pork shoulder. Then use it for the soup. You will still have a great result.
**On our menu, we call the meat in this soup "pork confit." It is pork shoulder that we cook sous vide with aromatics and a good dollop of lard sealed in a vacuum pouch. We poach it in a water bath at 85? C for 12 hours, and it becomes incredibly juicy and tender. At home, you can simply use braised pork shoulder that has been cooked until it is fall-off-the-bone tender and shred that up for the soup. Leftover carnitas or even smoked pork shoulder will also work well.
***Since we try to use whole animals at the restaurant, we like to make our own Chicharrones with the skins. To do this, we boil pork skin in salted water for an hour and a half, cool it completely, carefully scrape every bit of fat from it, and then dry it in a dehydrator overnight. At that point, it is brittle and glassy and can be stored for weeks. Before service, we break off a few pieces of the dried skin and fry them in the fryer, where they puff up magically, turn a beautiful clean white color, and become light, airy, and amazingly crispy. If this sounds like too much work for you, you can buy Chicharrones at your local Mexican market, other convenience stores, or supermarkets. Just look for the ones with the least artificial ingredients because we just want them for the texture – not for a lot of chile/lime or other flavors.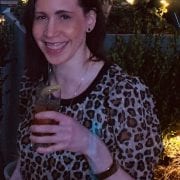 Stef Schwalb
A born and bred New Yorker, Stef Schwalb's love of everything culinary knows no bounds. Her claim to fame? Her Jameson-infused, dark chocolate chip oatmeal cookies. Fun facts! Stef was once a finalist in Dunkin' Donuts' Create Dunkin's Next Donut Contest, and she won a trip to New Zealand based on a 140-character Sauvignon Blanc tasting note Tweet. She is currently communications manager at Gregory White PR, where she writes about enticing food and wine experiences at wineries and wine regions across the globe.