There is nothing quite like unwinding to the beat of a slow-chugging engine, or dining in an elegant pre-1940 dining car filled with international travelers. Here's what it's like to ride aboard Rovos Rail in South Africa.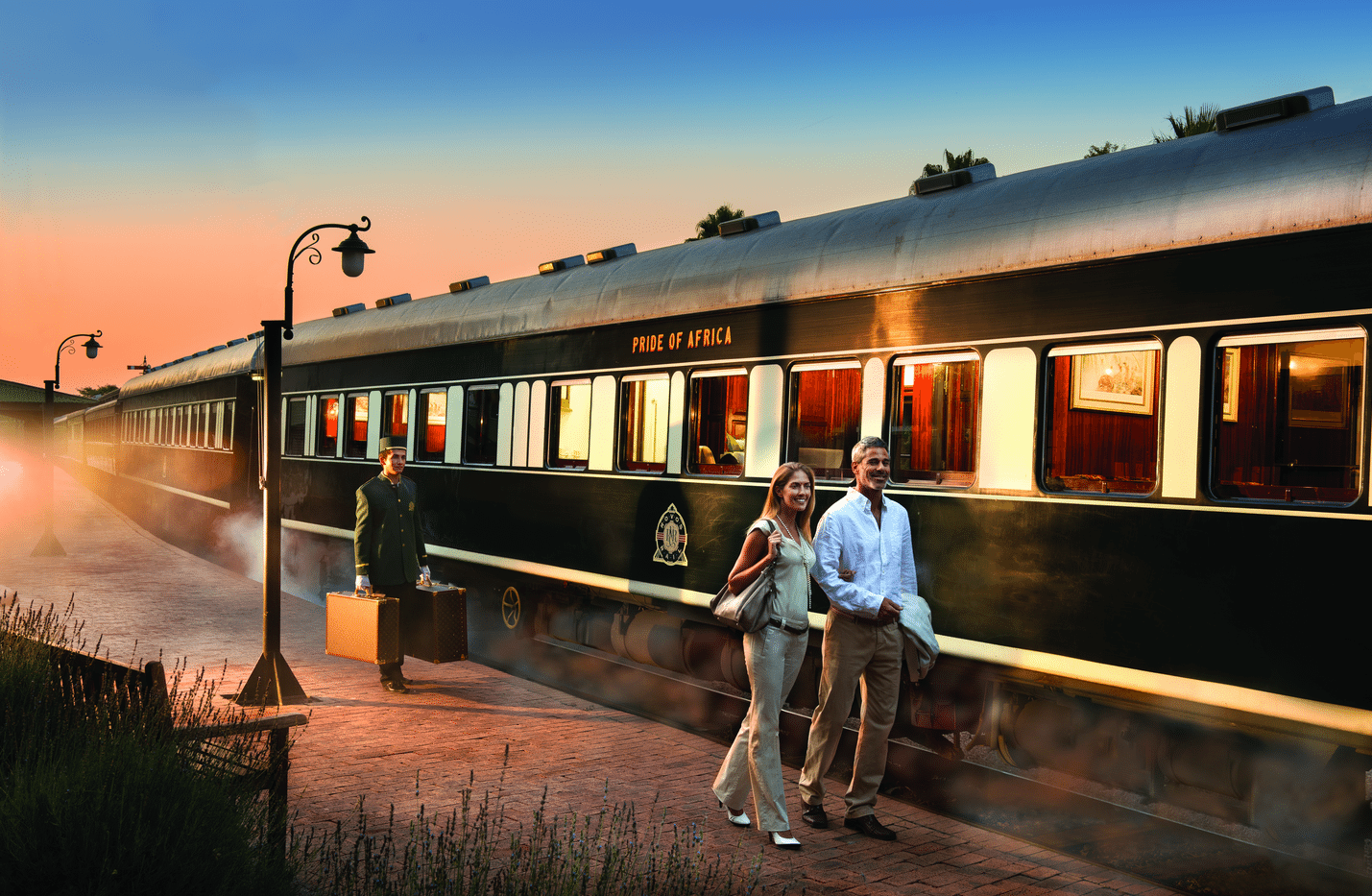 Before embarking on my Rovos Rail trip I would have said that I'm really not much of a train person since the bulk of my "train" experience consisted of being packed like well-past-their-due-date-sardines on NYC's subway trains. However, after my recent 3-day, 1,600 km., South African trip from Cape Town to Pretoria aboard The Pride of Africa, hailed as "The Most Luxurious Train in the World", I've become a total "trainy".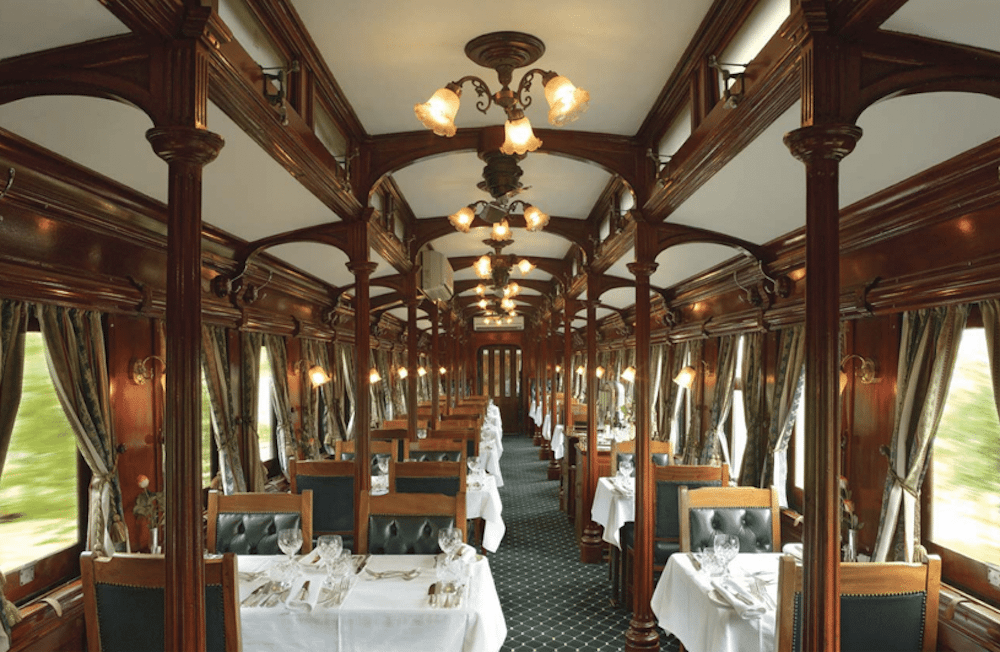 There is nothing quite like unwinding to the beat of a slow-chugging engine, or dining in an elegant pre-1940 dining car filled with well-traveled, well-dressed, and definitely, well-heeled, international travelers. Then there's the thrill of romance as you retire to your luxury suite on wheels, richly appointed with gleaming mahogany wood, period Edwardian features, fresh roses, chilled champagne and just a few welcome modern conveniences such as air con, shower, hairdryer and a safe. Your obliging personal attendant tends to your every need, from pressing or cleaning your evening attire to constantly re-stocking your room with favorite alcohol, evening tea, and biscuits, and don't even get me started on the food! Due to my calculations, Rovos Rail journeys are one part adventure, one-part glam accommodations, and three parts sumptuous food and wine, which certainly work for me.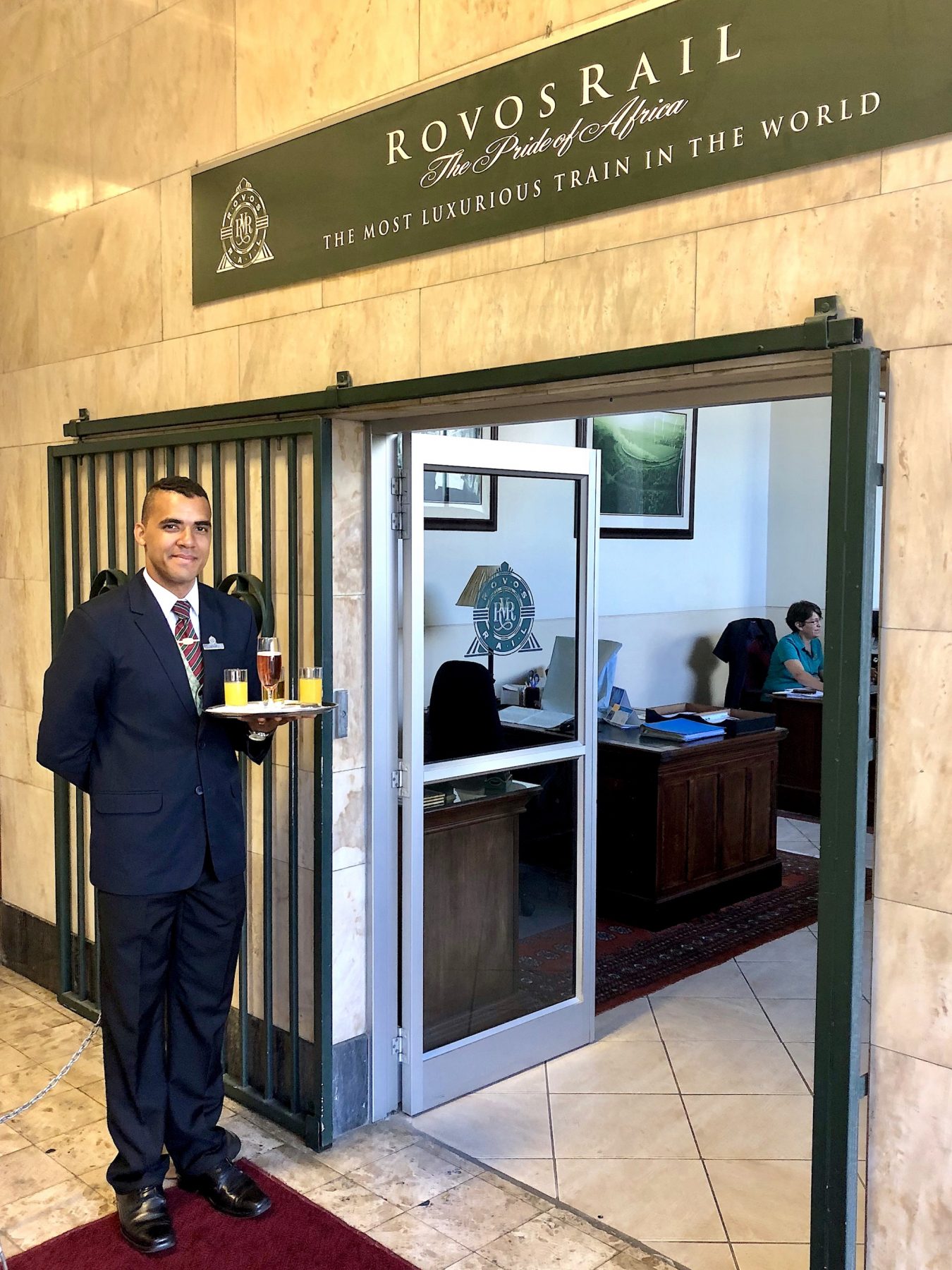 The journey began with a South African sparkling wine reception at Rovos's private departure lounge where I met some of the staff and other guests. I was astonished that our warm welcome speech was given by the charming, silver-haired, smartly dressed, founder of Rovos, Mr. Rohan Vos. Almost 30 years ago, Vos, who had always been passionate about vintage trains, decided to restore a couple of antique carriages to use for their family vacations. Over the years his hobby morphed into Rovos, a family-owned railway company with 400 employees, 20 restored carriages and an exciting roster of itineraries ranging from my three day trip from Cape Town to Pretoria to an epic 15-day journey through South Africa, Botswana, Zimbabwe, Zambia, and Tanzania. Mr. Rohan (as the staff calls him) succinctly explained the important rail rules: Never pull the emergency cord unless it really is an emergency. A jacket and tie are required for dinner-extra points for black tie! Keep windows shut when pulling into the station to guard against thieves. Cell phones and laptops are emphatically discouraged while engaging in enlightened conversation is highly encouraged. Delays are more the norm than the exception when it comes to train travel so keep your sense-of-humor handy. Since Rovos Rail's top speed is only 40 mph, the better for appreciating the ever-changing landscape, this was the epitome of "slow travel".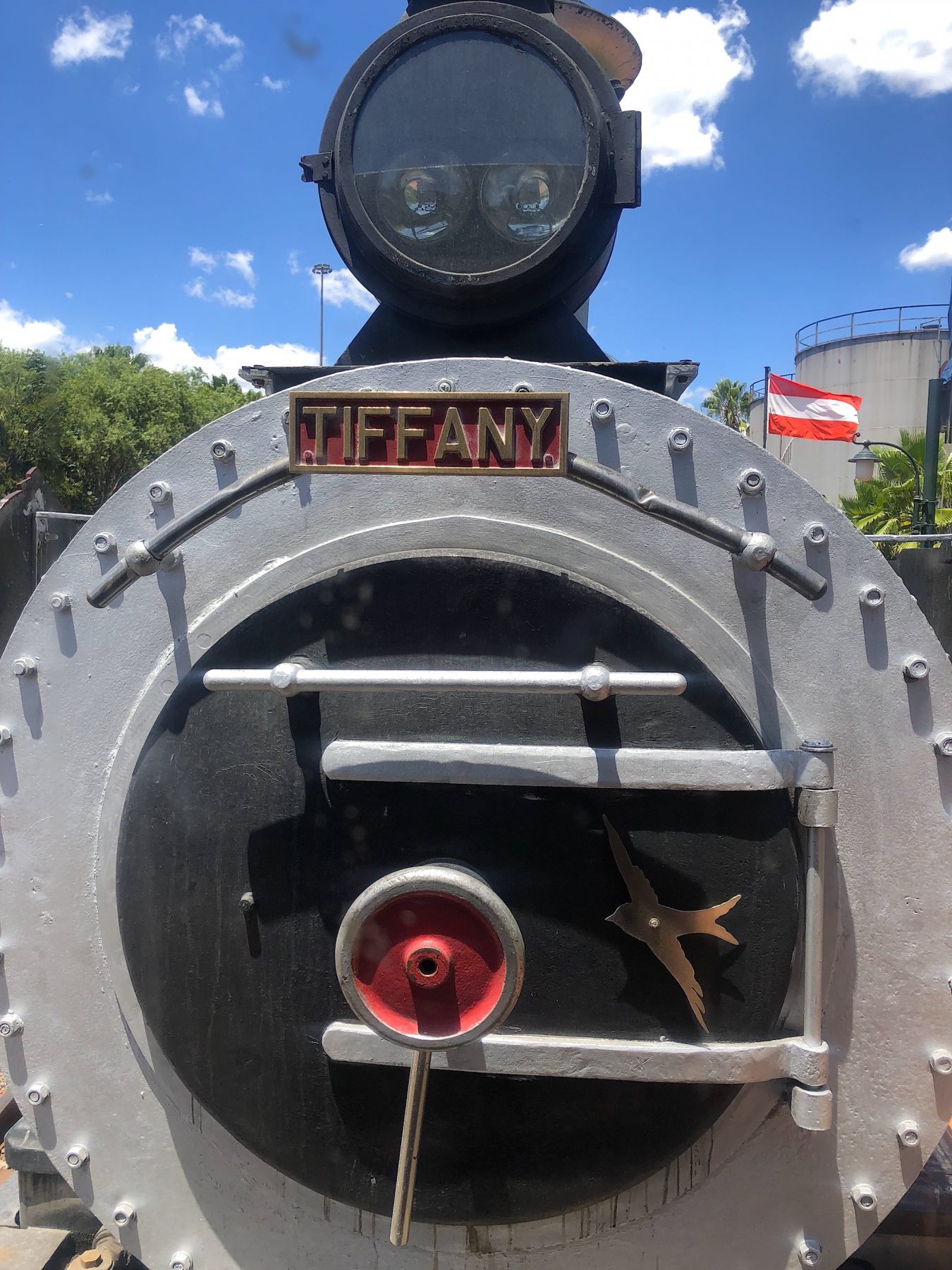 When one of the guests asked, "How did your family get into this?" Vos ruefully chuckled and said, "We just drink too much!" Then it was time to get this beauty of a steam engine rolling, fittingly named Tiffany, not after the store but after Rohan's daughter. I later found out that all the Rovos engines are named after the Vos children – Brenda, Bianca, Tiffany and Shaun.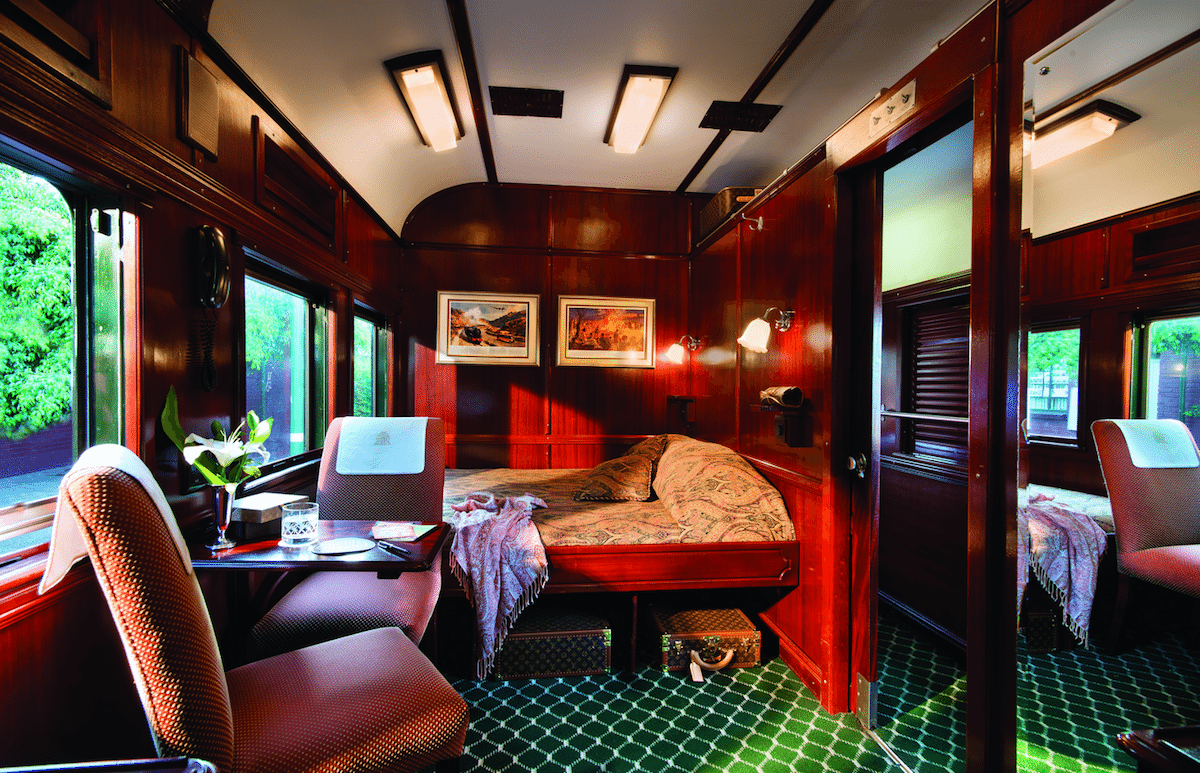 I entered my cozy, comfortable, deluxe suite filled with a wall-to-wall bed, writing desk, en-suite bathroom, accented by antique brass lamps and period artwork. A bag bursting with bathroom amenities, robe and slippers, coffee/tea pot and 24-hour room service complete the picture. I was a bit perplexed when I discovered the goggles until my attendant explained that I should wear them when putting my head out the window to prevent bugs or cinders from getting in my eyes. Now that's what I call attention to detail!
Note: If you want to soak in a Victorian claw-foot tub before donning your evening apparel you'll need to reserve one of the four roomy Royal Suites.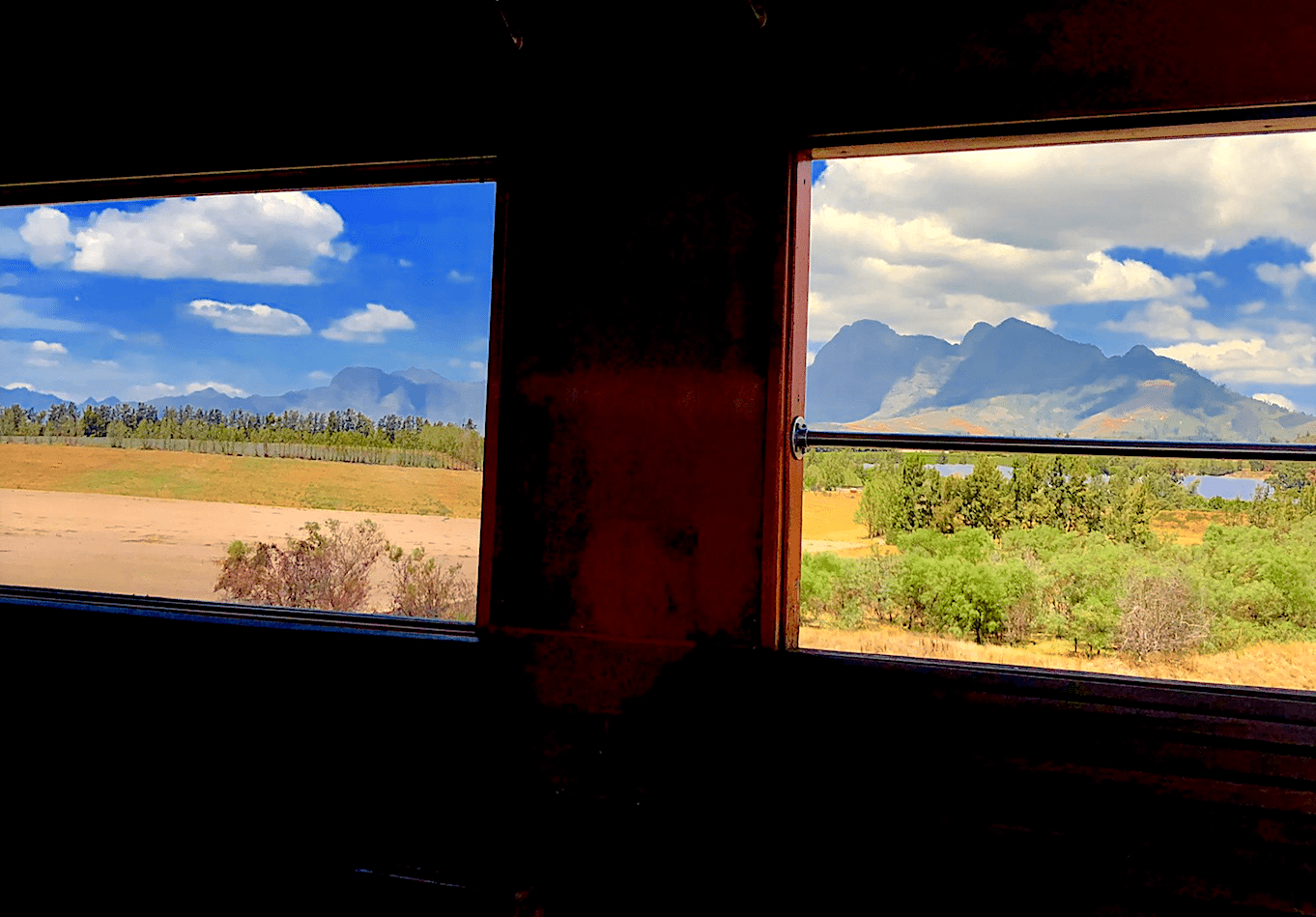 Next was a visit to the bar car which quickly became my spot of choice since I could easily while away the whole day languidly gazing at the constantly changing views of the lush wine lands, the stark barrenness of the desert-like Great Karoo, the dramatic mountain ranges, or observing the locals selling their wares, tending cattle, or just happily shouting out greetings, while sipping a glass of local wine, a Bloody Mary, a spot of sherry, or a cold beer. You get the idea.
If I was feeling sociable, the 60 or so other guests, mostly Europeans and a group of Americans who were taking a break from their around-the-world cruise on Oceania, could not have been more friendly and we had a great time swapping travel tales. However, the bulk of my time seemed to be spent in the elegant Belle Époque dining car, complete with tasseled-tied curtains, fresh flowers, fine crystal and starched linens where I happily feasted on the five-star cuisine paired with a selection of South Africa's finest wines. Ably assisted by the knowledgeable sommelier, I worked my way through the wine list, trying something new with each course, often discovering some memorable pairings such as a luscious Meerlust Rubicon with a slow-roasted Karoo lamb shank.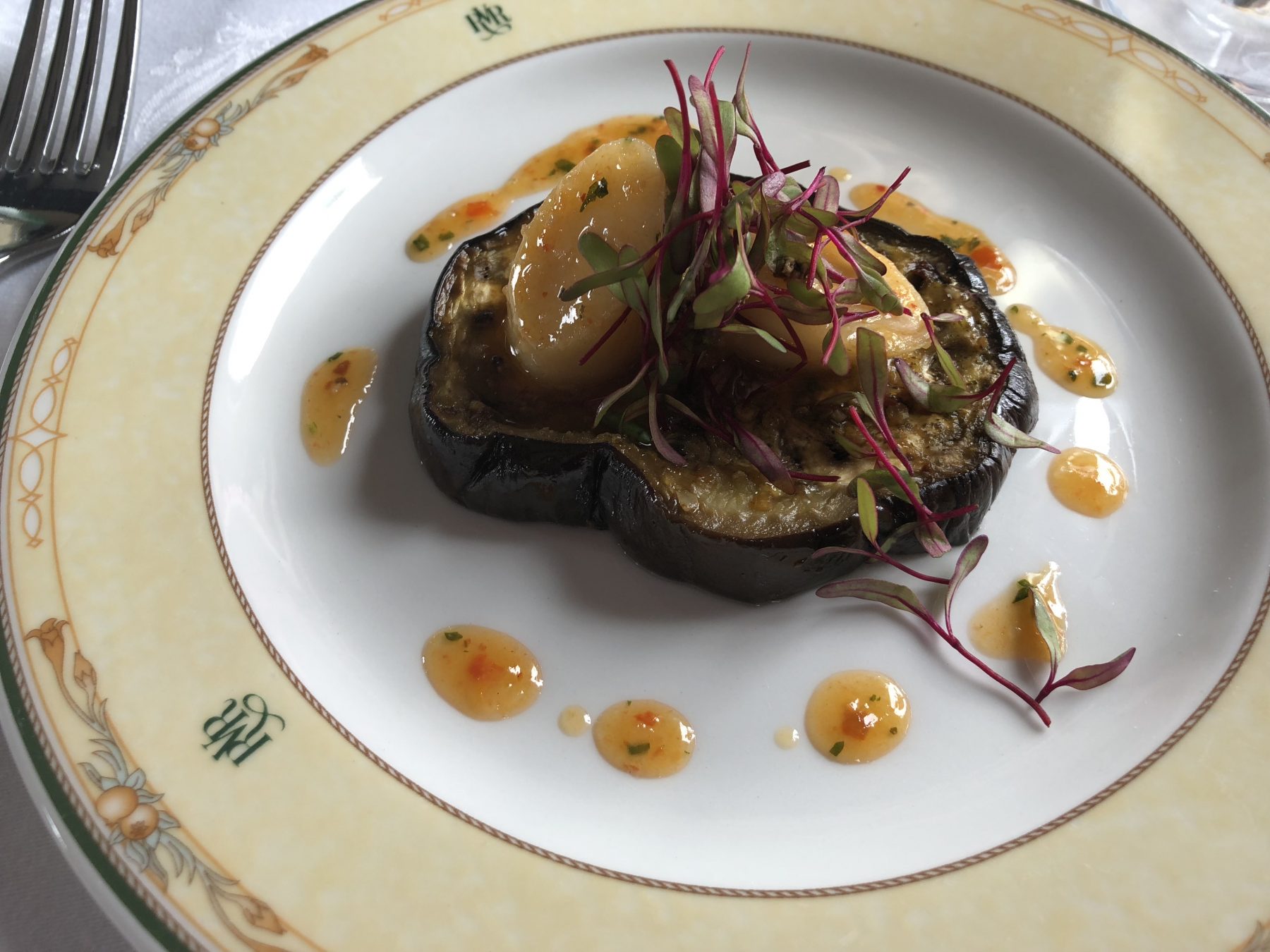 The chefs feature locally sourced ingredients (think ostrich, kudu, fresh seafood and regional cheeses) creating elevated versions of traditional faves such as a delicious South African Bobotie, a minced beef baked custard served with fruit chutney and a fragrant, off-dry, Thelema Riesling.
See Also
Lunch and dinner were four-course meals, including a beautifully plated cheese course, with a glass of port, perhaps? Breakfast included a helpy-selfy, mini-buffet of fresh fruit, cereals, and pastries, with made-to-order egg dishes. In between formal meals, there was high tea, with trays of finger sammies and sweets, and of course, cocktail hour with dishes of biltong (local jerky) fruits, nuts, and chips for your nibbling pleasure.
Other activities included off-train excursions in both Kimberley and Matjiesfontein. Since there was a problem the first morning, with a potentially loose wheel on our observation car, as a safety precaution they decided to unfasten the car and continue without it, which resulted in a three-hour delay. I skipped the stop in the historic village Matjiesfontein because due to the hold-up we didn't arrive there until late at night and I was already firmly ensconced in my comfy bed.
The next day's visit to Kimberley provided an opportunity to stretch my legs while visiting the Diamond Mine Museum and the world's largest man-made excavation, the Big Hole.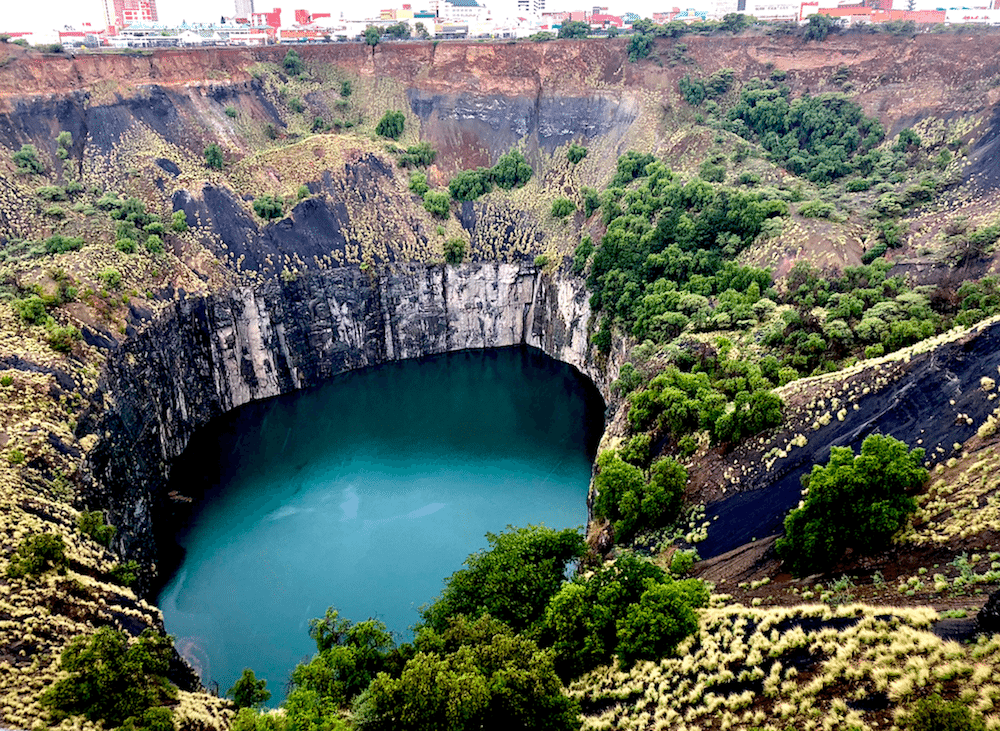 Since I often get antsy just sitting through a movie I had been worried that I would be bored out of my mind during this trip, particularly since I was "unplugged" for the duration. However, after disembarking in Pretoria, when I promptly turned my phone back on and waited for my backlog of messages to load, instead of feeling impatient I was suddenly a bit nostalgic for the good ol' days!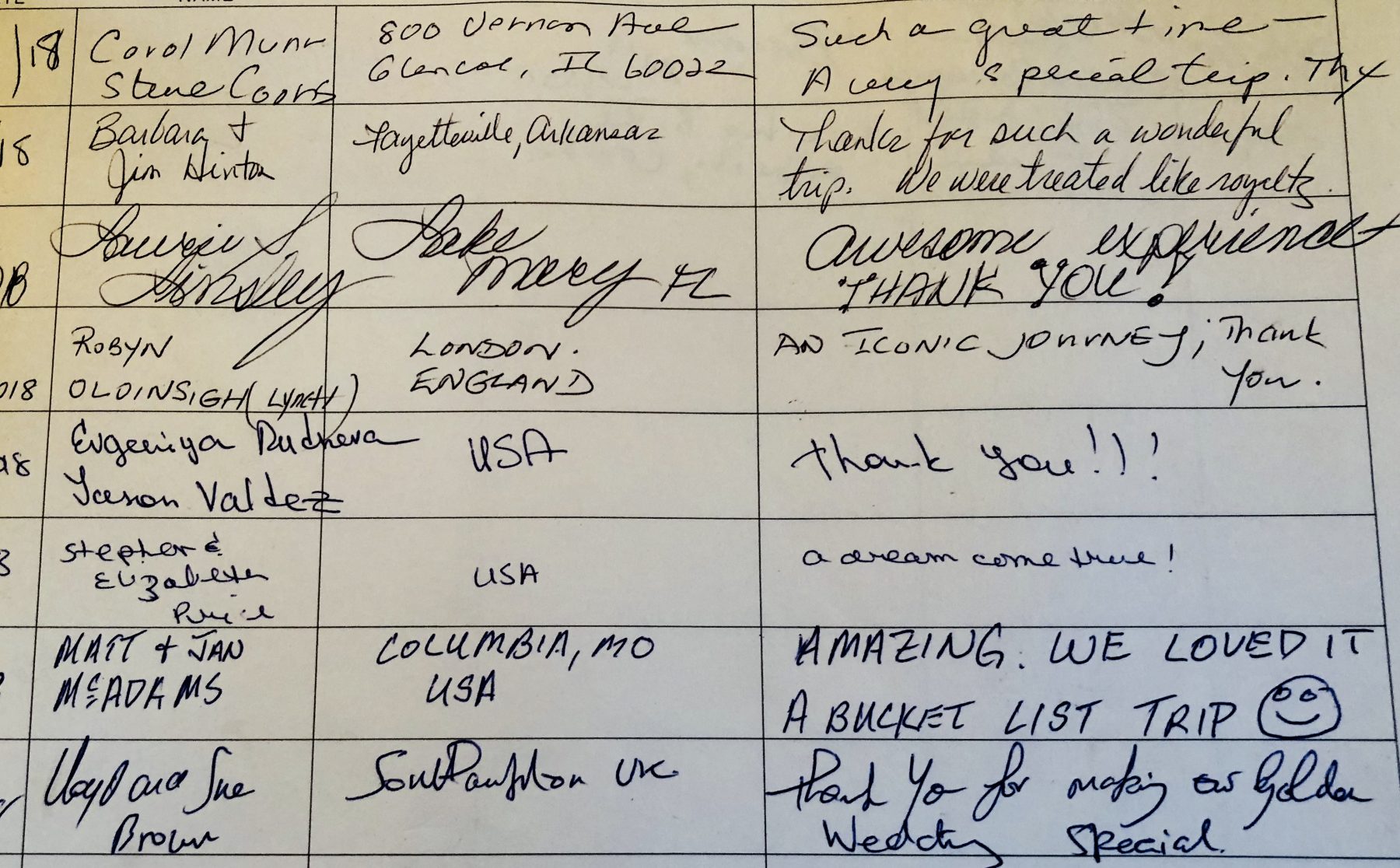 Trips can be booked through Rovos Rail.
Janice Nieder
Janice could be the love child of Indiana Jones and Julia Child. She was a specialty food consultant in NYC with a client list that included Tavern on the Green and Dean & Deluca. A culinary trendsetter, Janice has visited almost 100 countries searching out gastronomic adventures. She might be found sharing a smoked monkey dinner with Shuar Indians in the Amazon jungle or "running with the dogs" while truffle hunting in Marche, Italy. To keep things in balance, Janice also writes about her Girlfriend Getaways, including everything from luxurious city penthouses and Michelin starred meals to bespoke travel in remote destinations. You can follow her travels at www.janicenieder.com