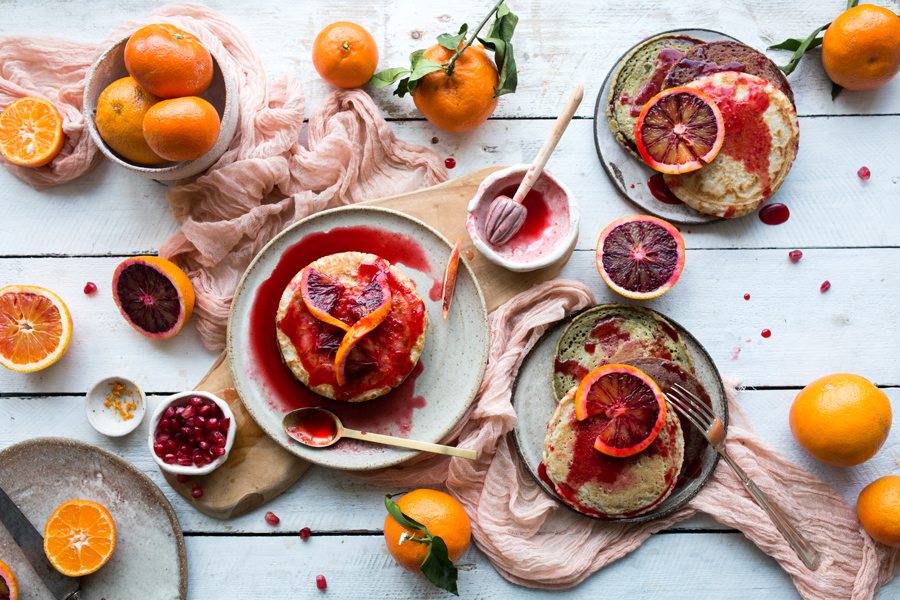 A recent trip to South America enabled me to meet the only (!!!!) other Colombian food blogger I know – Julian from Historias del Ciervo. We'd been instagram friends for a few years during which I gleefully watched his following grow exponentially and rejoiced when he was nominated for the Saveur Blog Awards in 2016. He is – to date, as far as I'm aware – the only South American blogger EVER to be nominated by Saveur. Can you imagine how inspiring that is? HUGELY!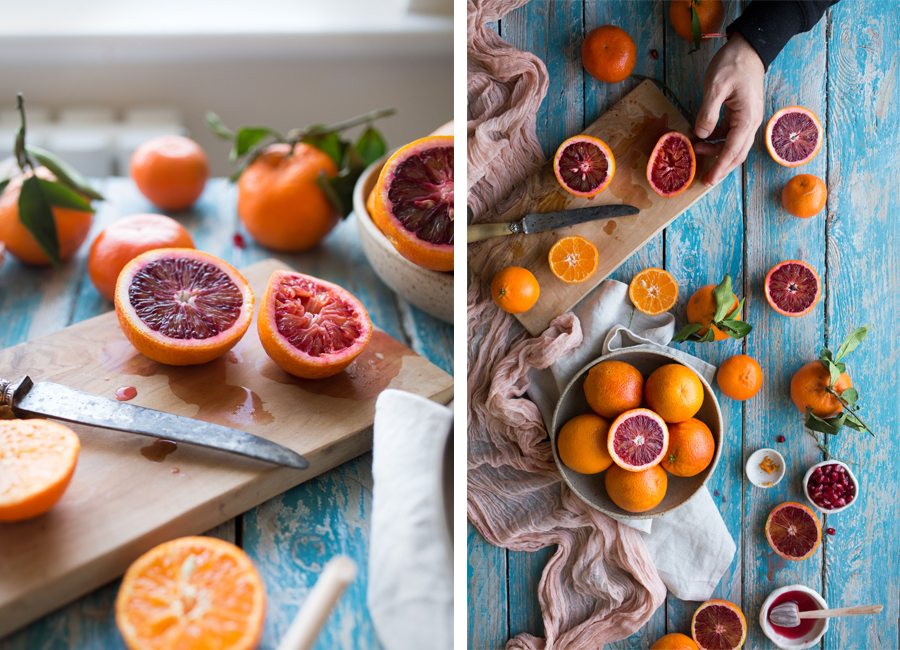 It was lovely we had a chance to hang out during my travels and I was utterly grateful that Julian made time for me and my family, advising us on where in Medellin we should go during our short pit stop there. Needless to say we also spent lots of time geeking out about blogging and photography, which was totally awesome.
I was delighted to be able to reciprocate the gesture and offer Julian advice on where to go and what to do when he came to London a few weeks ago. We also had enough time to hang out and create a recipe together and after some back and forth quickly decided on making these vegan pancakes with blood orange zest. SO GOOD! You can find his take on the day by clicking here. Do have a look because his photography skills are amazing!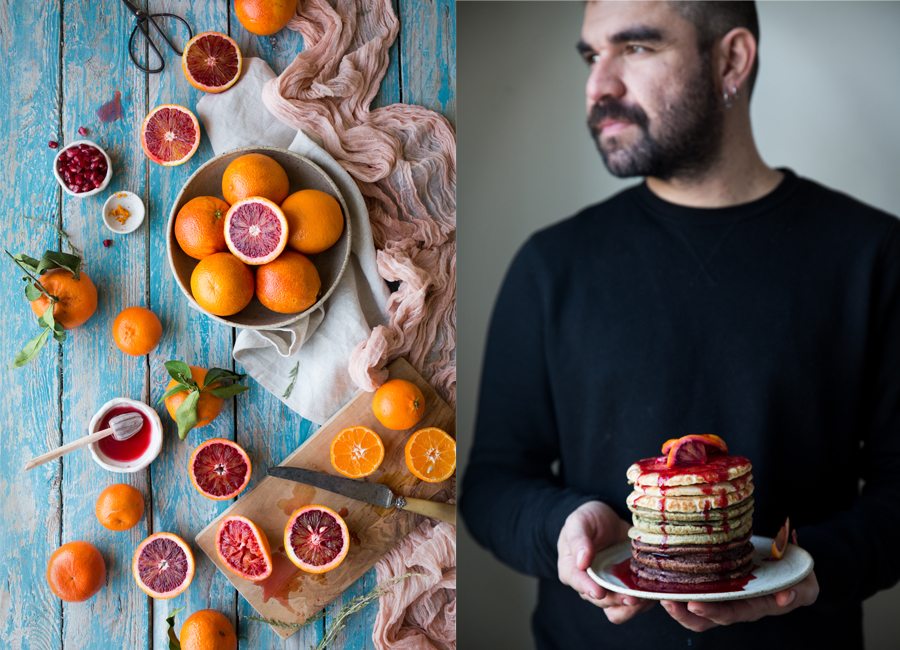 Back to pancakes… This is my go-to, work-every-single-time, just-use-basic-corner-shop-ingredients pancake recipe, which I adapted from a recipe I found in Gena Hamshaw's book VEGAN. Making 1/3 of the batter green with matcha power and 1/3 of the batter brown with cacao powder is LOVELY, but totally optional, so no worries if you don't have either to hand. So hope you enjoy these as much as Julian and I did…
See Also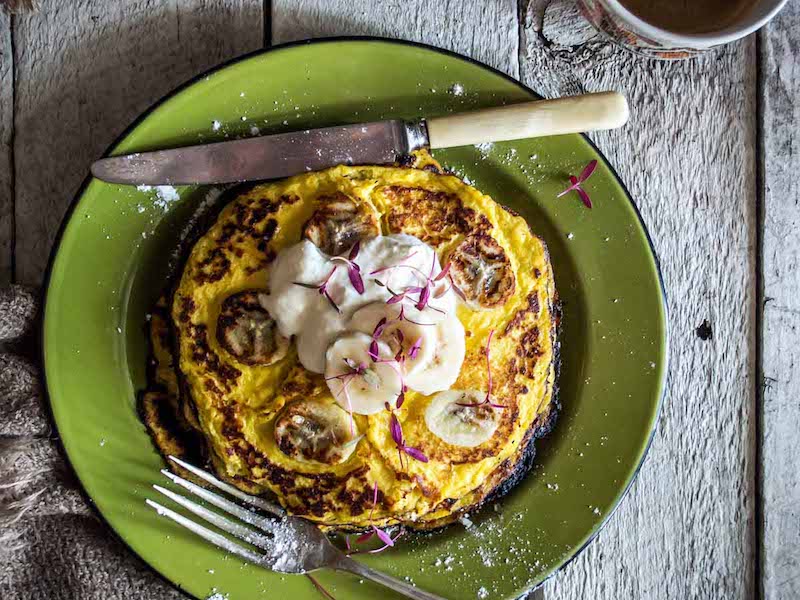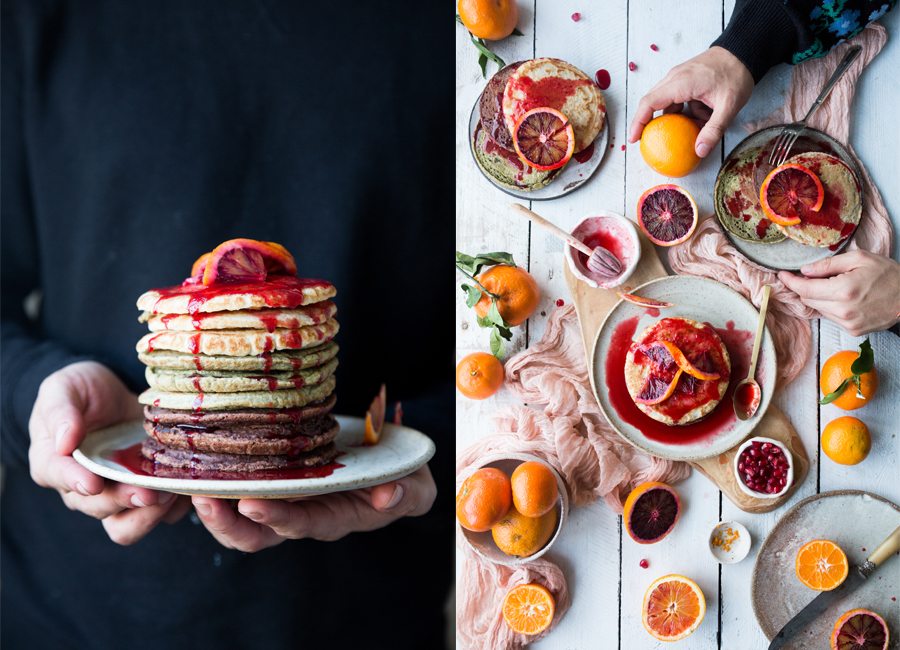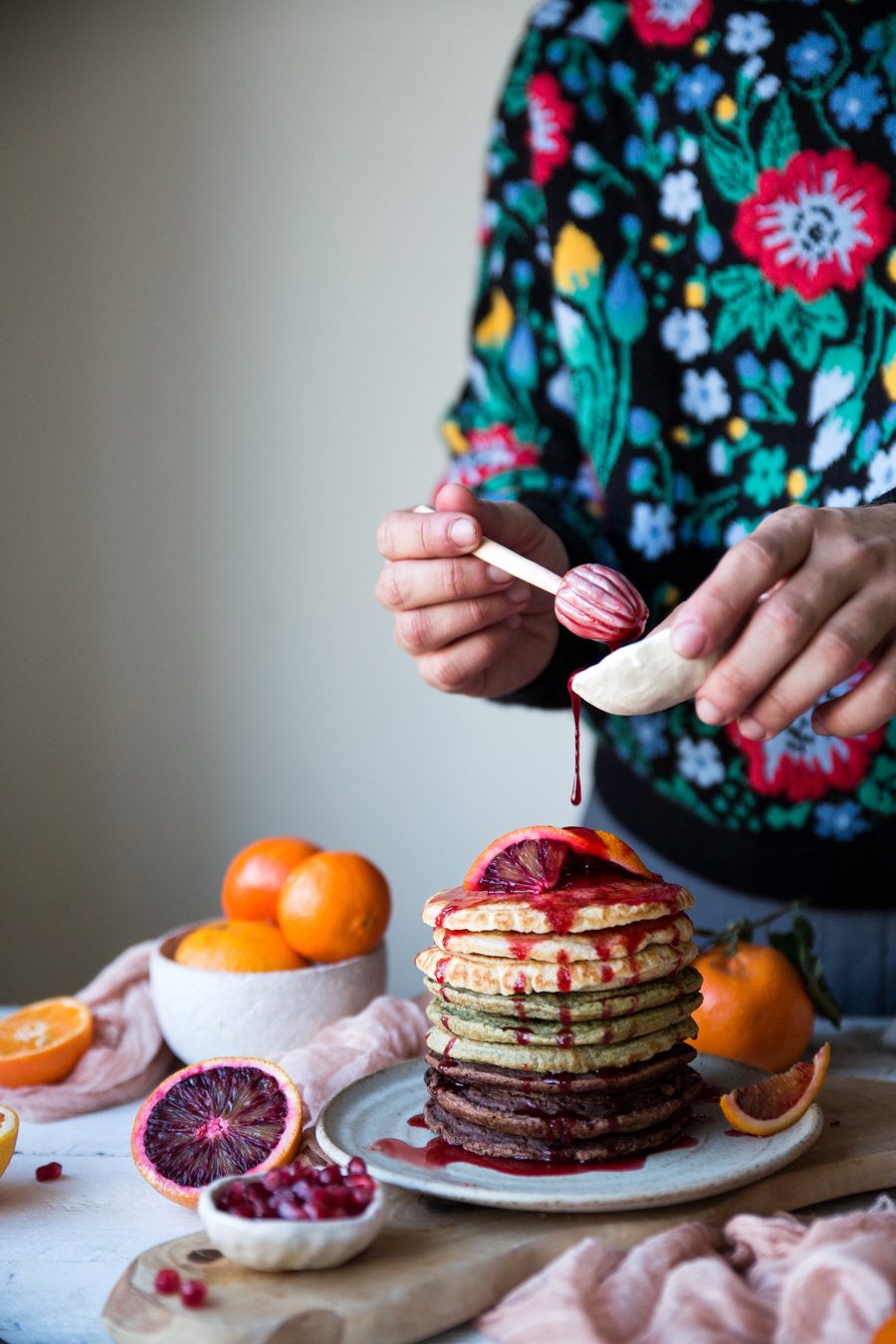 Click here for the blood orange syrup recipe.
Print
Vegan Blood Orange Pancakes
Author:

Kimberly Espinel

Prep Time:

10 minutes

Cook Time:

1 hour

Total Time:

1 hour 10 minutes

Yield:

12

to

14

pancakes

1

x
Category:

Breakfast

Cuisine:

Vegan
INGREDIENTS FOR THE PANCAKES:
2 1/4 cups

/530 ml plant-based milk (we used almond milk)

1 tsp

apple cider vinegar

3

tbs of melted coconut oil + more for frying
zest of

1

blood orange

2 cups

/250g plain white flour

2

tbs golden caster sugar

1

tbs baking powder

1/2 tsp

salt

2

tbs cacao powder (optional)

1

tbs matcha powder (optional)
INGREDIENTS FOR THE BLOOD ORANGE SYRUP:
Click the link above for the recipe.
Instructions
Place the wet ingredients (milk, apple cider vinegar, zest and melted coconut oil) in a large bowl. Set aside.
In another large bowl mix together the flour, sugar, baking powder and salt. Mix well.
Next combine the wet ingredients with the flour mixture until just combined. Divide the batter into 3 batches (about 1 cup each), placing each in a large enough bowl. Keep one batter mixture as is, add 2 tablespoons of cacao powder to the second batch and mix until combined. Add 1 tablespoon of matcha powder to the last batter stir until combined.
Heat a small pancake pan (12cm) over a medium heat, add some coconut oil to the pan when it's hot. Then pour the plain pancake batter into the pan, using about 60ml of batter at a time. When bubbles form on top of the pancake and the bottom side looks golden brown, carefully flip the pancake over and brown the other side. Repeat until all the batter has been used. Then prepare the matcha batter in the same way and finally do the same with the chocolate batter.
As the pancakes are cooking, place the blood orange juice together with the sugar in a small pan. Over a low to medium heat reduce the juice until it has the consistency of a syrup, stiring throughout – this took us about 10 minutes or so. Set aside.
Once the pancakes are done, serve immediately and top with the blood orange syrup. DELICIOUS! Enjoy!
Notes
Tip 1: To speed up the pancake making process, consider getting a pan where you can fry multiple little pancakes at a time.
Tip 2: To keep this nut free, please use soya milk or a seed milk instead of the almond milk.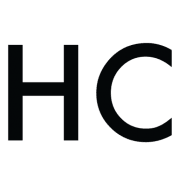 Kimberly Espinel
My name is Kimberly and I live in London, England. I'm a mom, wife, yoga teacher, student nutritional therapist AND the blogger behind The Little Plantation. Oh, and did I mention that I'm a tiny bit very obsessed about plant-based food? Its mind-blowing potential to nourish us from the inside out and make us feel happy is just so awesome! So much so, that I've made it my mission to show that vegetarian, vegan and raw vegan family recipes can be sexy, simple, fun, healthy and oh so delicious...