PARTNER POST: Reinvent potato recipes to be fresher and lighter in the new year. Make it your resolution to try these dishes as nutritious packed lunch ideas.
Made without a drop of cream, this rich potato leek soup is surprisingly smooth, silky and a warm delight.
By Taylor Kadlec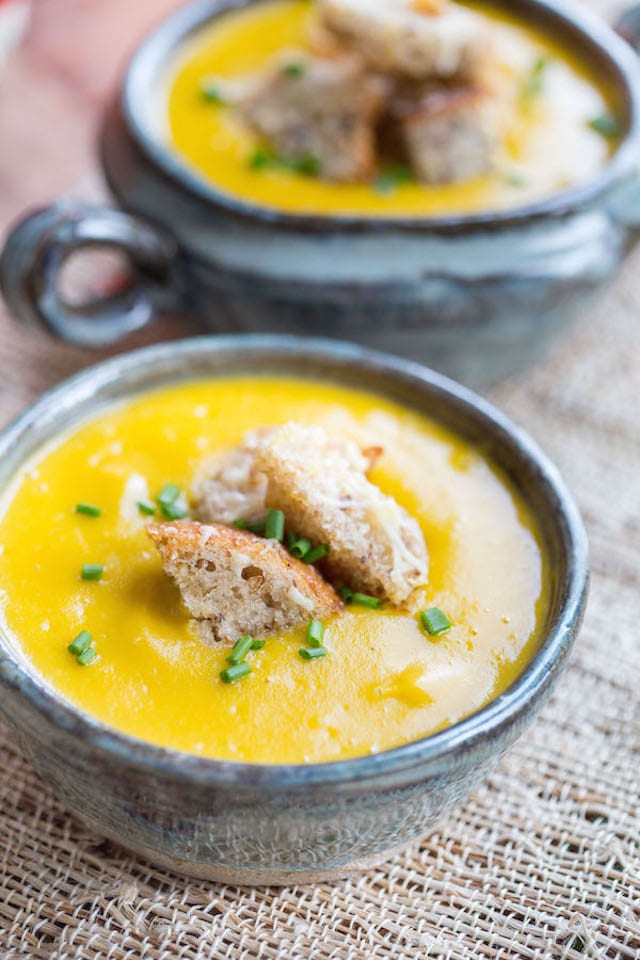 Is anyone else still frozen? It reached -30 degrees yesterday and is actually still below freezing here in Minnesota today which means what? It's time to make soup, of course.
Since I have a goal to eat more veggies (healthy new year challenge at work) and also to keep us healthy and from catching all those bugs from going around, I am shoving all the veggies I can into my diet.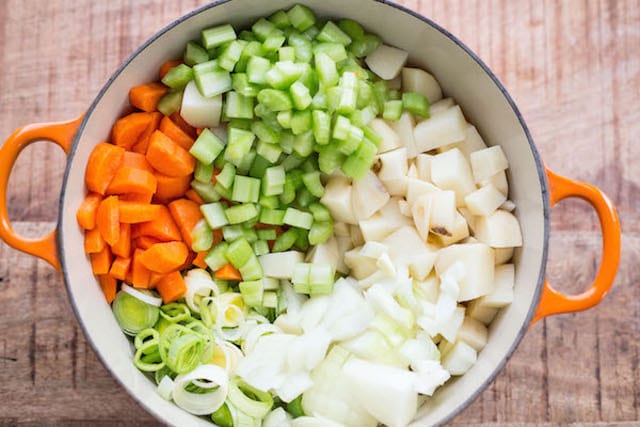 Kale in my morning smoothie, a couple handfuls of spinach in my leftover Chicken Tortilla Soup, and spiralized veggie noodles for dinner.
Another way I've been getting my veggies in is this rich potato leek soup. Oh how I love potato leek soup. It's so simple, yet has so much flavor. We loved this soup so much that I actually made it twice last week. Paired with a salad and a huge handful of Parmesan crusted whole wheat croutons.
So how did I get the soup so creamy without a bunch of cream? It's all in the potatoes. The potatoes give the soup a luxurious creamy feel while keeping it light and healthy. Not only do the potatoes help the soup cut back on calories (one potato only has 110 calories!), but they are a great source for potassium, B6, Vitamin C, iron, and fiber.
Aside from the potatoes, this soup is really a very simple combination of leeks, carrots, celery, fresh thyme, and vegetable broth.
I always have to add some sort of crunch to my creamy soups, and this time I went with homemade parmesan crusted whole wheat croutons. They're super easy to toss together and can be made while the soup is simmering. They'll be done just in time for you to pop a couple back while pureeing the soup, and using the rest to soak up all that delicious soup.
For another warm potato dish, perfect for brunch, try this frittata.
Rich Potato Leek Soup
Made without a drop of cream, this rich potato leak soup is surprisingly smooth, silky and a warm delight.
Ingredients
3 tablespoons olive oil
1 onion, diced
3 leeks, white and light green parts sliced
3 carrots, peeled and diced
3 stalks celery, finely chopped
3 cloves garlic, minced
5 small or 3 medium potatoes, peeled and diced
salt and pepper, to taste
1 tablespoon fresh thyme, chopped
5 cups vegetable broth
For the Parmesan croutons:
2 cups whole wheat bread cut into 1" chunks
2 tablespoons olive oil
¼ cup shredded Parmesan cheese
salt and pepper, to taste
Instructions
In large soup pot, add olive oil over medium-high heat.
Add onion, leeks, carrots, celery, garlic, and potatoes, season with salt and pepper, and cook until softened, about 10-12 minutes.
Add thyme and vegetable broth, and bring to a simmer.
Reduce heat and let cook for 15 more minutes, until potatoes are softened.
Using an immersion blender or high-powered blender, puree until smooth.
To make the croutons:
Preheat oven to 375 degrees F.
Add olive oil to a bowl, then add bread cubes, tossing to coat.
Toss with cheese and season with salt and pepper.
Place on baking sheet and bake in preheated oven for 8-10 minutes, until golden.