Refreshing Watermelon and Feta Salad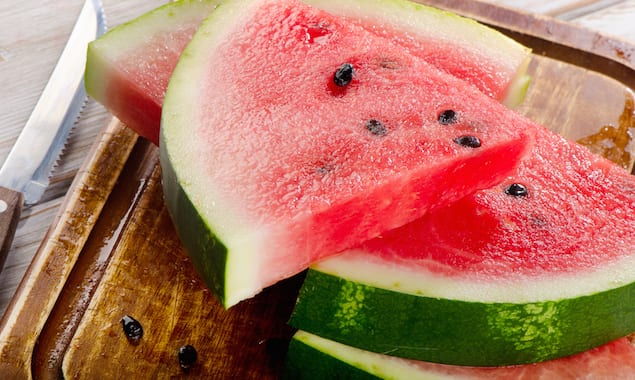 No cooking required, make a juicy, crunchy watermelon salad with a touch of parsley, cucumbers, and a pinch of salt.
By Mitch Weinstein
I remember, back when I was a kid growing up, me and grammy and grampy would sit out on the back porch, grampy having just harvested a big, old 30 pound watermelon. We'd just sit there, them in their rockers, me on the steps, with the sweet juice running down our chins, seeing who could send those pits the farthest, meanwhile the hogs would gather round, 'cause they really loved the rinds and any fruit we might share with them.
Grandma and Papa were in a 4th-floor walkup, off Gun Hill Road, in the Bronx. And watermelon was a real treat, if there was any at all (I don't remember any). More likely, it was helzel, or if we were lucky, chicken feet. And Grandma could make a mean potato latke.
And now, it's summer once more, my season of complaining a lot – and cooking as little as possible. So yesterday, when my local grocery store had cut watermelon on sale for a mere 49 cents a pound, I bought a big wedge. Normally, I just bring it home, and keep it in the fridge – it's a good dessert for Sig Eater and me, when we pretend we're trying to be healthy.
But I wanted to make dinner, and without "cooking," that can be a challenge. Looking around the fridge, in addition to the watermelon, I noticed I had some organic parsley and cucumbers. Some feta. And on the counter some reasonably nice tomatoes. Bingo – salad time.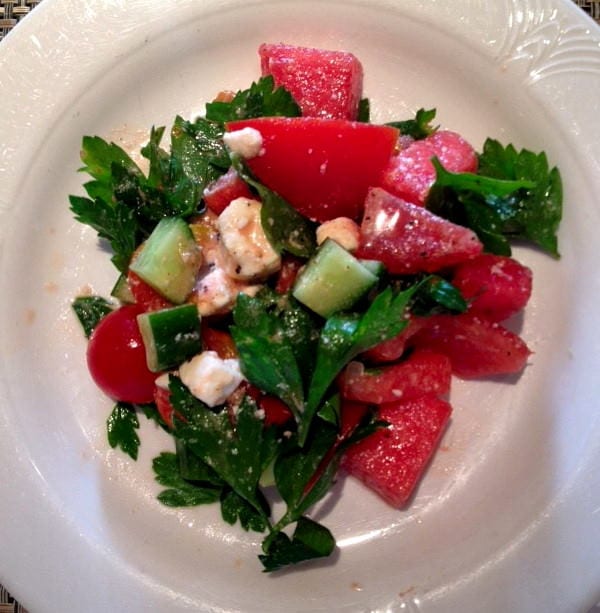 Since the watermelon and tomatoes are so nice and juicy, the dressing can be kept to a minimum. A drizzle of good extra virgin olive oil and some fine Spanish dry Oloroso vinegar from Despaña, and we were good to go. Well, we did need something crunchy.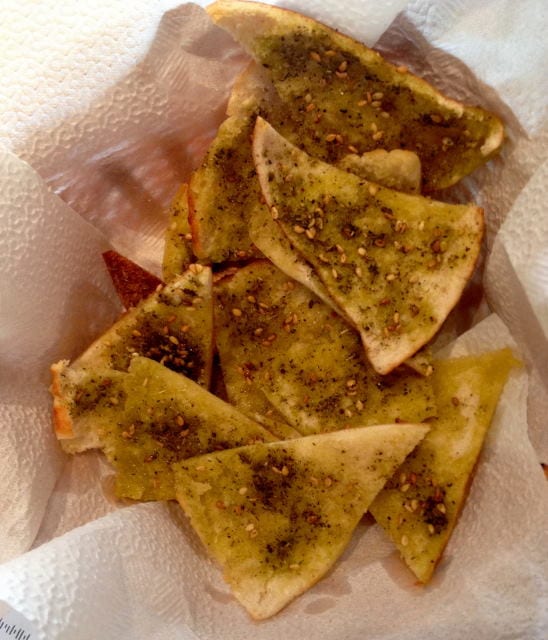 So I cut a pita bread in half, cut the halves into triangles, brushed them with that olive oil, sprinkled them with za'atar and salt, and baked them in my toaster oven for about 7 minutes. Not a bad dinner, with (almost) no cooking.
Watermelon and Feta Salad
Watermleon makes for a nice salad. Especially with feta.
Recipe Type:
Salad - Main Course
Ingredients
Watermelon
Tomato
Cucumber
Parsley
Feta
Extra Virgin Olive Oil
Extra good vinegar
Salt and pepper
Instructions
Cut watermelon, tomato, cucumber and feta into bite-sized pieces.
Wash parsley and pick leaves off stems. Dry.
Make a salad.
Mitch Weinstein
Mitch Weinstein is an avid seeker of good food, culinary school grad and writer of the blog Tasty Travails. When not cooking at home, he is on the hunt for that next delicious restaurant meal, great market or maybe even a cocktail. He regularly contributes to the food and drink forums on mouthfulsfood.com, eGullet.org, Chowhound.com and others.