Grilled Radishes with Brown Butter and Thyme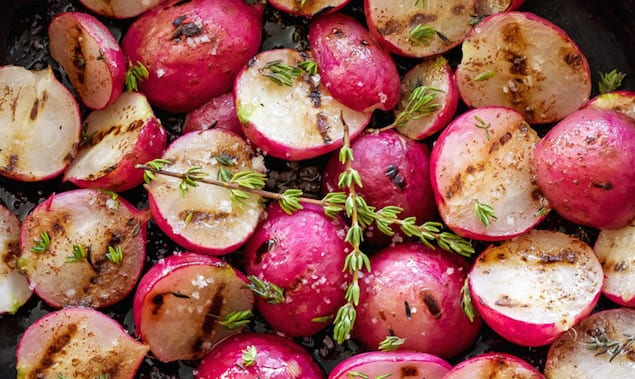 Drizzled with brown butter after being grilled to perfection, radishes take on a whole new flavor profile that is easy achieve without turning on the oven.
By Danae Halliday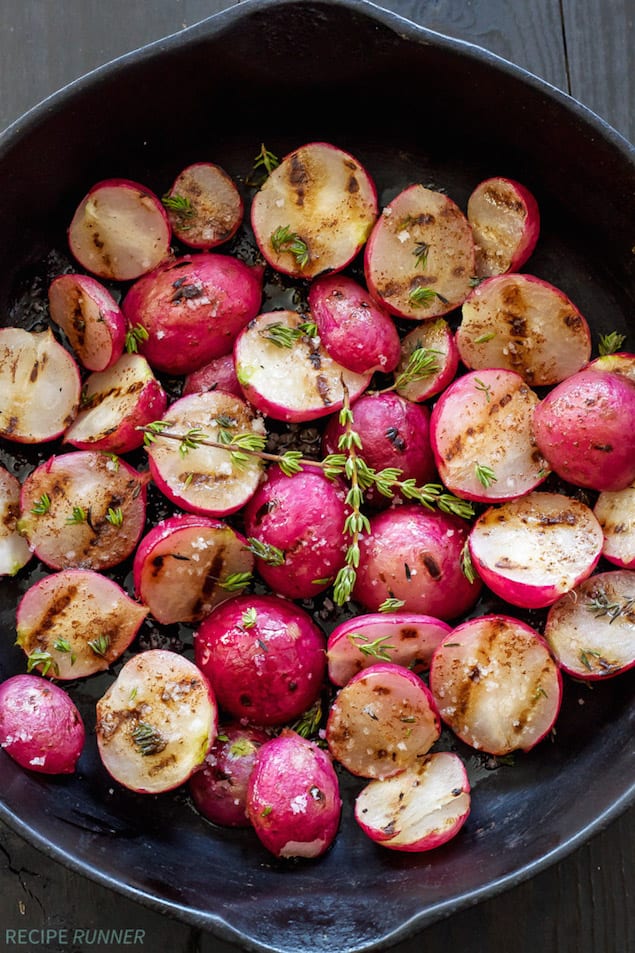 The flavor of grilled radishes is so good! They taste similar to when you roast them, but with that delicious open flame grilled flavor added in. To flavor the radishes even more I drizzled with a little melted brown butter which is always a good choice, fresh thyme, and sea salt. Eating radishes with butter and salt is nothing new, but the brown butter and thyme took them to a whole new level. I highly recommend using sea salt or kosher salt over table salt, not all salts are created equal.
For another quick vegetable side or appetizer, make prosciutto wrapped asparagus with a red wine reduction. Find the recipe here.

Grilled Radishes with Brown Butter and Thyme
Drizzled with brown butter after being grilled to perfection, radishes take on a whole new flavor profile that is easy achieve without turning on the oven.
Ingredients
3 cups radishes, stems removed and halved lengthwise depending on how big they are
1 tablespoon butter, melted and browned
1 teaspoon fresh thyme, chopped
Sea salt or kosher salt to taste
Instructions
Preheat your grill or a grill pan over medium high heat.
Spray the halved radishes with cooking spray or brush them with a little olive oil.
Place the radishes cut side down on the grill or grill pan.
If the radishes are too small to go on the grill use a grill basket to keep them from falling through the grates.
Grill the radishes for 3-4 minutes per side, they should just start to soften, but still have plenty of crunch.
Remove the radishes from the grill and place them in a serving bowl or platter.
Drizzle the radishes with the brown butter and sprinkle them with thyme and sea salt.
Danae Halliday
Hi, I'm Danae, the blogger, photographer, and recipe developer of Recipe Runner. Recipe Runner is all about my love of food, cooking, baking, and running. I hope that I can tempt you with my recipes and inspire you with my running stories! Enjoy!