The inventive dessert menu at one of Columbia, South Carolina's Main Street restaurants, The Oak Table, by Chef Charley Scruggs is taking us back to our childhood with desserts that invite us to dig in and blur the lines between sweet and savory.
By Annelise McAuliffe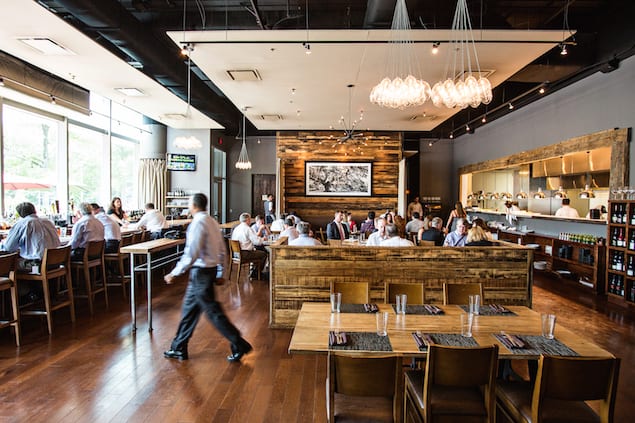 Overlooking the state's capital, The Oak Table attracts a wide array of people, from local eaters to traveling politicians either looking to discover something new or relax with a more familiar dish, like their Certified Angus Beef Bavette steak served with local vegetables. A part of The Indigo Road, a renowned restaurant Group, The Oak Table has a talented crew constantly whipping up new, creative bites.
In view of the buzzing kitchen, one can sip on interesting cocktails while they await their food. Take this time to watch the plates that are coming over the pass, flowing into the dining room and scope out what you want to order. As one of the first Main Street anchor restaurants in Columbia's Downtown area, The Oak Table has set the bar high, evident after one look at their menu.
A house-made charcuterie board, complete with locally sourced and house-made chicken liver, and a roasted beet salad with fresh buttermilk ricotta and strawberries pickled by the team, sets dinner off to a fabulous start. After that, the dishes can become a wonderful blur that, if you live in Columbia, you will be tempted to come back to relive the wonderful adventure dangerously often. Fresh ravioli, trofie pasta with a soft farm egg, fried whole Maine lobster, and pan seared seafood with South Carolina's produce on display are popular items to grace the table for entrees. While the entire meal is superb, the sweet surprise comes at the end of the night in the form of intriguing desserts by Chef Charley Scruggs.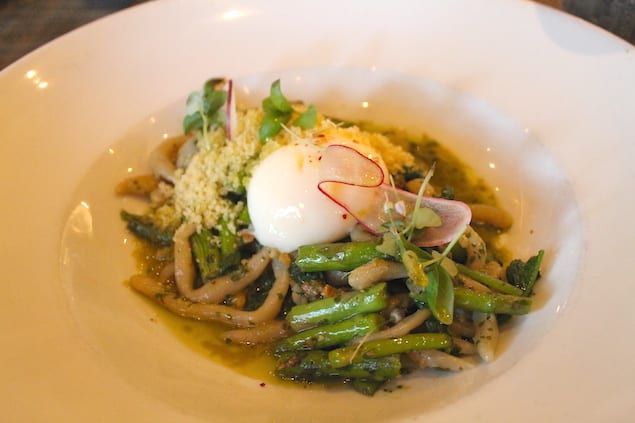 Not only are his pastry creations delicious, but they encourage diners to interact with each other and the food in a new way. We dove into a selection of new menu items Chef Charley had been working on and were delighted by his summer desserts. Titled, Them Bones, the dessert is a playful showcase of bone marrow that can be misinterpreted at pretentious, but is quite simply delicious, no matter what you make of the presentation. A chocolate bone marrow ice cream is served beside a smoked chocolate cake that has been baked right inside of the bone. Salted hazelnut praline tops it off and adds a touch of seasoned crunch to complete the dish.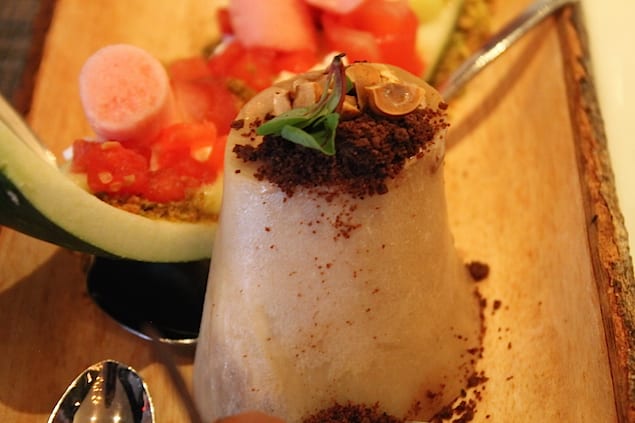 Not only do the desserts have a perfect combination of flavors, but Chef Charley  flawlessly uses the experience to transport diners and their emotions beyond the restaurant. Such an encounter makes food not just a form of sustenance, but a meeting point to connect with others and a vehicle for adventure. Charley created the King Cone, a brown butter-thyme cone filled with South Carolina peach ice cream, molasses ganache, and a topping of pecans, as a bite of nostalgia. It is an instant reminder of chasing after the ice cream truck on a hot summer day as a child. We love this memory, but also love that we don't have to run for this cone and the flavors blew way past the classic vanilla and chocolate drumstick.
A new rendition of a s'more also leads diners back to the campfire, but this time with a larger dose of rich chocolate in hand. Complete with a milk chocolate pudding, graham cracker cream, charred honey marshmallow, and cocoa nib tuile, we were pleased to dig in and find the outdoor classic to have gone deliciously rogue. Showcasing South Carolina's sweet summer watermelons, Charley has broken a slice down into a dessert that is served right in the rind. Compressed watermelon, fresh watermelon, pureed watermelon rind, watermelon sorbet and complimentary ingredients like Lebanese yogurt create a fruity dish that screams of a southern summer.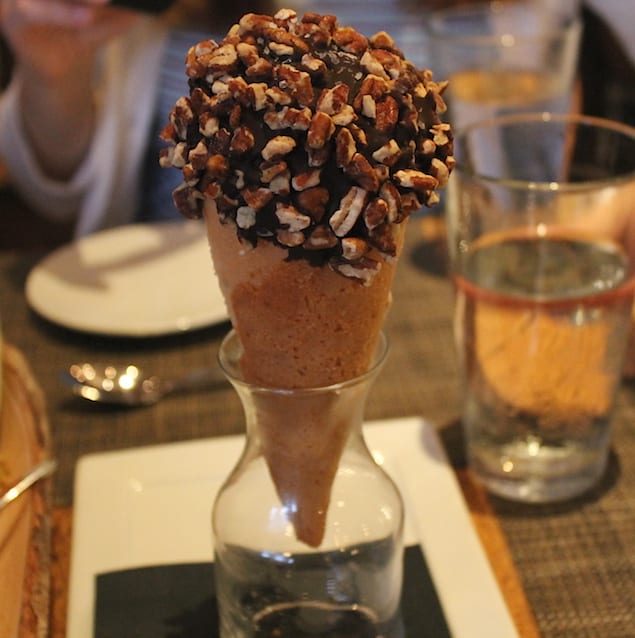 Don't consider yourself to be a dessert person? Lacking a sweet tooth? That's ok, Chef Charley admits he isn't a big dessert eater either. Sticking in the "grey zone" between sweet and savory, Charley says he likes to incorporate ingredient and flavor crossover to balance out his desserts. Not only does such a combination create flavorful intrigue, but it also helps our palates from becoming overwhelmed with pure tastes of sugar.
Playing with the blurred lines between sweet and savory, Charley has become a lover of charcuterie, a salty break from his sweet pastry bench. Curing and preserving has become his hobby and is just as much of a science as baking and pastry, so it easily relatable. Just like the smokiness that presents itself in some cured meats, the same elements are crossing over into his desserts, too. Evident in the cake of Them Bones and the smokey strawberry sorbet, diners are asked to forget the strict categories of sweet or savory, and should happily recognize both in one bite.
It's Charley's playful and always-experimenting attitude that truly makes The Oak Table's dessert menu shine. With dishes like the King Cone, he encourages diners to ditch the silverware and dig in with their hands. That's how we did it when we were kids, right?
Discover The Oak Table as a first taste of Columbia's ever-growing Main Street for a great view with a menu that offers something for everyone, complete with whimsical sweets that will make you rethink dessert.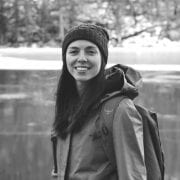 Annelise McAuliffe
Mandatory family outings to the Detroit farmers' market and nightly home-cooked meals cultivated Annelise's respect and curiosity for food. A graduate of The Culinary Institute of America, she spends her free time in New York City recipe testing, eating breakfast all day, and dreaming up international culinary adventures.