This is a sassy comfort food with a healthy dose of red wine in it, just to elevate that chocolate flavor.
By Amrita Rawat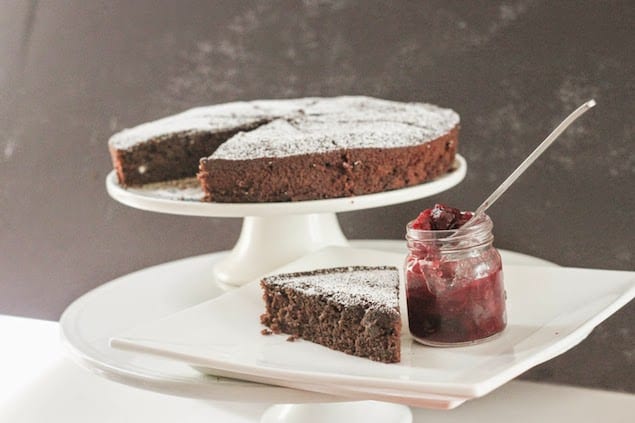 I made this for Sauce a while back and it was devoured so quickly at a dinner party, especially with the compote I added to it (the first time was with some fresh cream, which was delicious too, but the compote added a touch of sweet floral notes).
Sometimes you just need something chocolaty, you know? On top of that, this has a healthy dose of red wine in it, just to elevate that chocolate flavor. It adds a sort of "je ne sais quoi" to it. This is the just the thing to whip up when you're having a classy dinner party, a girl's night in, or when you just want something romantic for you and your sexy better half. It's a sassy comfort food, almost like a true red velvet cake.
This recipe is largely a classic chocolate cake except buttermilk is replaced with red wine, but the result doesn't necessarily taste boozy. Instead, it's a dense, moist, and richly flavorful.
Any red wine, regardless of price point or type, produces a unique flavor. I've used a Cabernet Sauvignon as well as a Malbec; even the Trader Joe's "Two-buck Chuck" tasted great in this cake.
And the best part: You already have an open bottle of the perfect dessert wine pairing.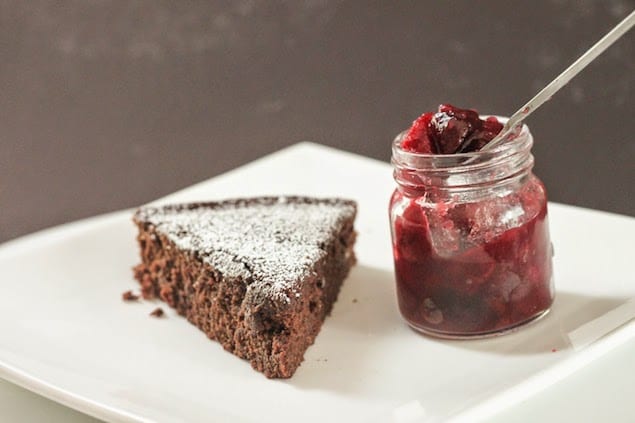 Red Wine Chocolate Cake with Cherry and Lavender Compote
This is a sassy comfort food with a healthy dose of red wine in it, just to elevate that chocolate flavor. Adapted from a recipe by Smitten Kitchen
Ingredients
Cake
6 Tbsp. room temperature butter
¾ cup packed brown sugar
¼ cup granulated sugar
1 large egg
1 egg yolk
¾ cup red wine
¾ tsp. vanilla extract
1 cup plus 1 Tbsp. flour
½ cup high quality cocoa powder
⅛ tsp. baking soda
½ tsp. baking powder
Pinch kosher salt
¼ cup powdered sugar, plus more for dusting
2 cups heavy cream
Cherry-Lavender Compote (Recipe follows.)
Cherry-Lavender Compote
1½ lbs. cherries, pitted
2 Tbsp. cornstarch
Juice of one-quarter a lemon
½ tsp. lavender extract
A pinch plus 1½ tsp. table salt, divided
⅓ cup granulated sugar
Instructions
Cake
Preheat the oven to 325 degrees. Coat a 9-inch cake or pie pan with nonstick spray.
In a large mixing bowl, use a hand mixer to beat the butter, brown sugar and granulated sugar 5 minutes, until combined.
Add the egg, yolk, red wine and vanilla separately, beating well between each addition.
Use a spatula to gently fold in the flour, cocoa powder, baking soda, baking powder and salt until combined.
Pour the batter into the cake pan and bake 25 to 30 minutes, until a cake tester or toothpick inserted into the center comes out clean. Let cool before turning it out of the pan and dust with powdered sugar.
Meanwhile, in a small mixing bowl, beat the heavy cream and ¼ cup powdered sugar together with a hand mixer until stiff peaks form.
Serve with the Red Wine Chocolate Cake, along with the Cherry-Lavender Compote.
Cherry-Lavender Compote
Coarsely chop the cherries and toss in a large bowl with the lavender extract, cornstarch, lemon juice, a pinch of salt and ⅓ cup granulated sugar.
Adjust the sugar to taste.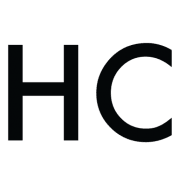 Amrita Song
Amrita Rawat is the author of the blog Chai and Dumplings. Born in India and a lifelong resident of Atlanta, she recently moved to Saint Louis. Her love for food stems in part from its ability to bring cultures together and in part from how darn good it feels to eat a delicious meal. She loves traveling and has eaten her way through cities like Hong Kong, Paris, Budapest, Mumbai, and Shangri-la. Amrita is also a contributor to Sauce Magazine in St Louis.