Red Fruit Crumble with Rhubarb, Cherry, and Pomegranate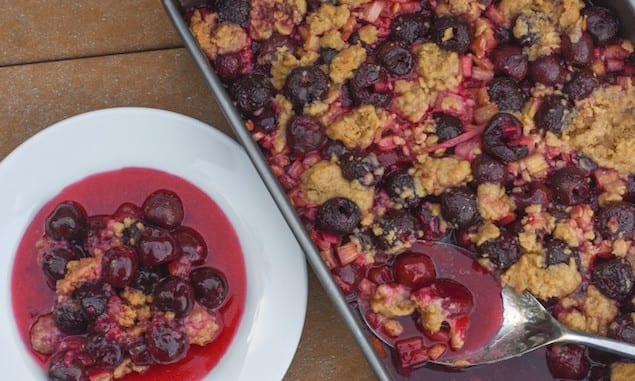 Tart and sweet, this ruby-colored treat is an easy-to-make, undeniable stunner.
By Tami Ganeles Weiser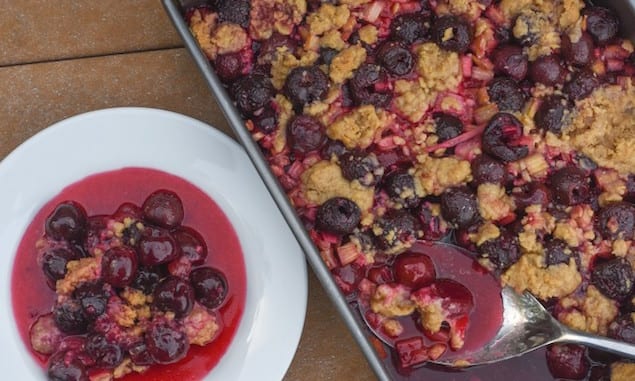 Red Fruit Crumble with Rhubarb, Cherry, and Pomegranate
Tart and sweet, this ruby-colored treat is an easy-to-make, undeniable stunner.
Author:
Tami Ganeles Weiser
Recipe Type:
Dessert, Baking
Ingredients
⅔ cup brown sugar
¼ teaspoon salt
3 tablespoons cornstarch
2½ pounds cherries, pitted, Bing preferred
1½ stalks rhubarb, trimmed, peeled and cut into ¼-inch dice (see Kitchen Tips)
3 tablespoons pomegranate molasses
2 teaspoons vanilla bean paste
Topping:
2 cups (160 grams) rolled or old-fashioned oats
1 cup (130 grams) unbleached, all-purpose flour
1¼ cups (254 grams) brown sugar
1 teaspoon (2 grams) ground cardamom
¼ teaspoon (1.5 grams) salt
2 sticks (1 cup/227 grams/16 tablespoons) unsalted butter, chilled and cut into ½-inch cubes
Instructions
Preheat the oven to 385°F. Spray a 13- by 9-inch baking dish with nonstick vegetable oil spray and set aside.
Prepare the filling: In a mixing bowl, combine the brown sugar, salt, and cornstarch and whisk to combine.
Add the cherries, rhubarb, pomegranate molasses, and vanilla bean paste to the brown sugar mixture, stirring to coat the fruit thoroughly. Scoop the mixture into the prepared baking dish and spread lightly to form an even layer.
Make the crumble: In a medium-sized bowl, combine the oats, flour, brown sugar, cardamom and salt. Add the butter and cut it in with a pastry cutter, 2 knives, or your very cold fingertips and gently rub until the most of the mixture forms small "pearls." Taking a handful of crumble at a time, top the the fruit mixture with it, without patting.
Bake for 30 to 35 minutes, until the cherries are soft and the rhubarb is completely collapsed and cooked through. If the crumble topping remains too pale, bake for an additional 5 minutes at 400ºF. It will be very juicy.
Notes
To trim rhubarb, first cut off the leaf ends, discarding the tips of the stalk and all the greens, as they are toxic. Then trim off the root ends. Trim the strings by making a small cut at one end of the stalk just below the surface; pull down lengthwise—almost as though you were peeling a banana. Using this method, work your way around the stalk, removing the fibrous strings. To see step-by-step photos of this process, click here.
Tami Ganeles Weiser
I am Tami Weiser—food writer, food anthropologist, and culinary professional. Join me in finding a genuine expression of your heritage through food, incorporating who you were, who you are and who you want to be. At theweiserkitchen.com I offer original, globally-inspired, seasonal, kosher-style recipes, culture and history made relevant and a dollop of kitchen wisdom to take you and your cooking from good to great.