Red Currant Chitranna Rice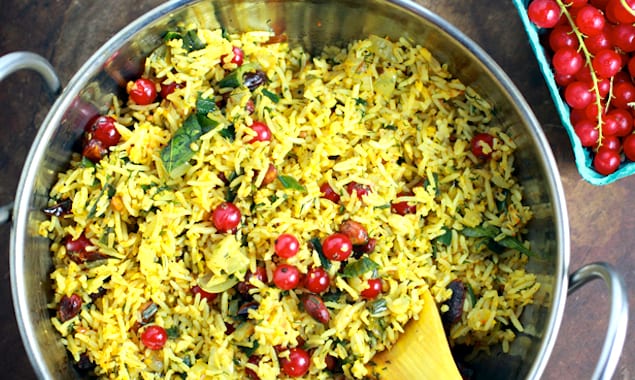 Chitranna is a South Indian lemon peanut rice. Fresh currants add a burst of tart that complements the fried peanuts, sweet grated coconut and spicy red chili of the dish. With a dollop of plain yogurt on top, this rice is magic and the perfect summer picnic food.
By Chitra Agrawal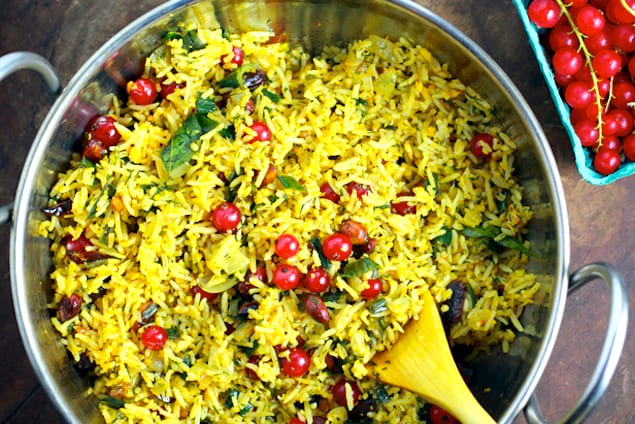 You can't walk around the Greenmarket these days without running into bright red currants on the tables, sometimes accompanied by their golden white counterparts. The white currants tend to be a little sweeter, but I really love the color of the red ones – kind of like delicate red pearls. They're commonly used to make tarts, jams and I love sprinkling them into plain yogurt with a drizzle of honey.
When I get a carton of them, I also end up throwing them into a number of savory dishes like salads and my personal favorite chitranna, South Indian lemon peanut rice. The currants add a burst of tart that complements the fried peanuts, sweet grated coconut and spicy red chili in the rice. With a dollop of plain yogurt on top, this rice is magic and the perfect summer picnic food.

Red Currant Chitranna Rice
Chitranna is a South Indian lemon peanut rice and tart currants add a burst of tartness. With plain yogurt, this a magical summer picnic food.
Ingredients
1 cup basmati rice
¼ cup red currants, few more for garnish
2 cups water
¼ teaspoon turmeric
1 tablespoon oil + 1 tablespoon oil
¼ cup raw peanuts
pinch hing (asafoetida)
1 teaspoon black mustard seeds
1 dried red chili, broken in two (alternative is chopped green chilis which adds more spice)
4 fresh curry leaves
juice of 1 lemon
handful frozen fresh grated coconut, thawed
cilantro for garnish
salt
Instructions
Cook the rice in a rice cooker or on stove with water and turmeric mixed in. To make the rice not stick I sometimes add a little oil. Set cooked rice aside.
In a small pan heat 1 tablespoon of oil and put in peanuts under medium heat. Fry peanuts until they are fragrant and turn golden brown. Put peanuts aside. (They will get crunchier as they sit out.)
In a wok, heat 1 tablespoon of oil under medium heat. To test the oil is hot put in a couple mustard seeds and they should start sizzling. Then add the rest of the mustard seeds and hing. Shake up the pot and cover (this is so the mustard seeds don't pop out of the pan and burn you!) Once they pop for a few seconds, add the dried red chili and curry leaves (rub leaves between your hands a little before putting in pan to release oils). Coat them with oil and fry for a few seconds. Add the rice into the wok and mix well. Fry for a few minutes.
Turn the heat off and mix in the lemon juice and coconut. Gently mix in the peanuts, red currants and salt to your taste. Garnish with cilantro, few more currants and serve with yogurt raita.
Chitra Agrawal
Chitra writes the food blog, The ABCD's of Cooking, which chronicles her adventures cooking American Born Confused Desi recipes. When she is not recipe blogging, Chitra can be found hosting her online cooking show and a supper club featuring Indian-inspired, vegetarian cuisine. She also teaches cooking classes and sells Indian street foods (sometimes yummy Indian tacos!) at events and artisanal markets in Brooklyn. Her cooking has appeared in the New York Times Dining Journal and she is a contributor to The Huffington Post, Gojee, The Daily Meal and Brooklyn Based.