True love is behind this Raspberry Mazarine, as the creator of the recipe is actually allergic to it herself.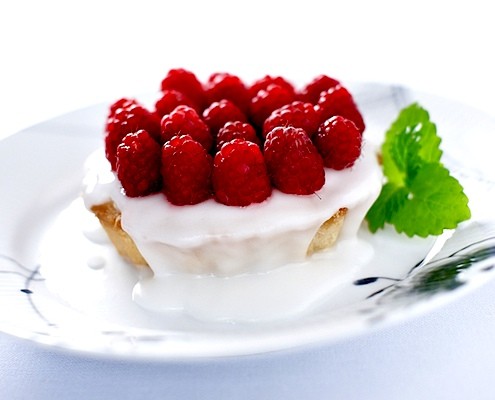 A mazarine pastry is a type of French dessert that is similar to a tart or a small cake. It is typically made with a sweet, buttery crust and a filling of fruit, nuts, or other ingredients. Some variations of mazarine pastry include a layer of almond paste or frangipane in the middle, which gives the dessert a nutty flavor and a moist, tender texture. Other variations may include a layer of jam or fruit compote in the filling, or a sprinkle of nuts or other garnishes on top. Mazarine pastries are often served as a sweet treat or as a dessert at the end of a meal, and they are typically enjoyed with a cup of tea or coffee.
This fresh berry mazarine was first introduced to me by my wife, and even though she is allergic to almonds and subsequently have never even tasted it, she has agreed to make it for me on every once in a while. I guess that is what they call true love. To make a dessert that you are allergic to yourself for someone. I know I am a lucky man.
The sweet, buttery crust provides a perfect base for the creamy, nutty filling, which is made with a blend of almonds and butter. The combination of flavors and textures is truly heavenly, and the addition of fresh berries on top adds a burst of tartness and a pop of color.
BUT – don't wait for my wife to come by and make this dessert for you. It is not that difficult. There is a little bit of work involved (not difficult), I know, but the reward is that you will be able to serve a dessert that is going to tear down the house with praise.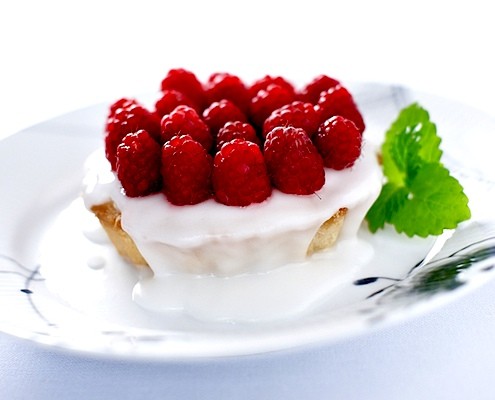 Fresh Berry Mini Mazarines

Kalle Bergman
Gorgeous, delicious, elegant and quite the indulgence - these raspberry mazarines are the perfect ending to a great dinner party.
Cuisine
Nordic, Scandinavian-inspired, Swedish
Ingredients
For the dough
3 1/2

oz

organic butter

unsalted

1

large

egg yolk

2

tbsp

icing sugar

1

cup

flour
For the filling
3 1/2

oz

almonds

peeled

3/4

cup

icing sugar

3

oz

organic butter

unsalted

2

large

eggs
Topping
1/2

cup

icing sugar

1

tbsp

water

more if needed

fresh berries
Instructions
1. Make the dough by mixing the butter and sugar until the sugar is completely dissolved. Add the egg yolk and flour and beat until smooth. Put in the refrigerator for 30 minutes.

2. For the filling, mix the butter and sugar until the sugar crystals are dissolved. In a food processor, blend the almonds until very finely chopped. Combine the butter/sugar and almonds and add the eggs – continue to blend for 5 minutes.

3. Butter mazarine or small pie dishes and put a little dough in each. Press the dough to all sides with your thumbs so that it covers the whole surface and sides. Pour in the almond filling, and bake in a preheated oven at 400°F (200°C) for about 20 minutes. Remove from oven and leave to cool off completely.

4. When cool, whisk together icing sugar and water and pour the frosting on top of the mazarines. When the frosting has almost stiffened, place the berries on the frosting and leave in the fridge until completely stiff.
Keyword
baking, dessert, pastries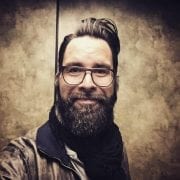 Kalle Bergman
Kalle Bergman is a food writer and media entrepreneur who is the founder of Honest Cooking. As a food writer, his writing has been regularly featured in publications like Gourmet, Los Angeles Times, Huffington Post and Serious Eats. He is obsessed with simple food, more often than not from his native Scandinavia.