True love is behind this Raspberry Mazarine, as the creator of the recipe is actually allergic to it herself.
By Kalle Bergman – Photo By Mads Damgaard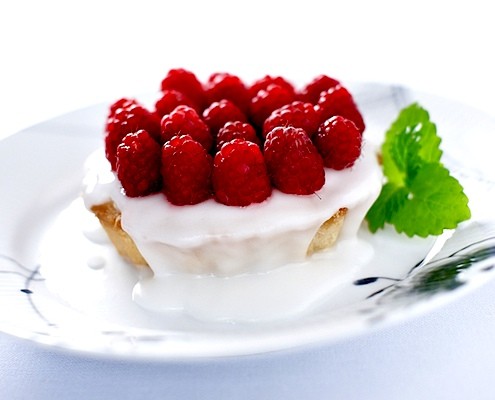 This fresh berry mazarine was first introduced to me by my wife, and even though she is allergic to almonds and subsequently have never even tasted it, she has agreed to make it for me on every once in a while. I guess that is what they call true love. To make a dessert that you are allergic to yourself for someone. I know I am a lucky man.
BUT – don't wait for my wife to come by and make this dessert for you. It is not that difficult. There is a little bit of work involved, I know, but the reward is that you will be able to serve a dessert that is going to tear down the house with praise.
HOW TO

Fresh Berry Mazarines
Makes 10-20 depending on the size of the pie dishes used
Dough
3 ½ Oz (100 g) of organic butter, unsalted
1 Large free range egg yolk
1 Tablespoon icing sugar
4 ½ Oz (125 g) of flour
Filling
3 1/2 Oz (100 g) of almonds, peeled
3/4 Cup (2,5 dl) of icing sugar
3 Oz of organic butter, unsalted
2 Large free range eggs
Frosting
½ Cup (1,25 dl) of icing sugar
1 Tablespoon water
Fresh berries for garnishing
1. Make the dough by mixing the butter and sugar until the sugar is completely dissolved. Add the egg yolk and flour and beat until smooth. Put in the refrigerator for 30 minutes.
2. For the filling, mix the butter and sugar until the sugar crystals are dissolved. In a food processor, blend the almonds until very finely chopped. Combine the butter/sugar and almonds and add the eggs – continue to blend for 5 minutes.
3. Butter mazarine or small pie dishes and put a little dough in each. Press the dough to all sides with your thumbs so that it covers the whole surface and sides. Pour in the almond filling, and bake in a preheated oven at 400°F (200°C) for about 20 minutes. Remove from oven and leave to cool off completely.
4. When cool, whisk together icing sugar and water and pour the frosting on top of the mazarines. When the frosting has almost stiffened, place the berries on the frosting and leave in the fridge until completely stiff.