PARTNER POST: We've teamed up with Bonne Maman to bring you the best homemade breakfast and brunch recipes to show Mom you care this Mother's Day and all spring long.
This Mother's Day, treat your mom to these green beauties, aka match crepes loaded with raspberry preserves.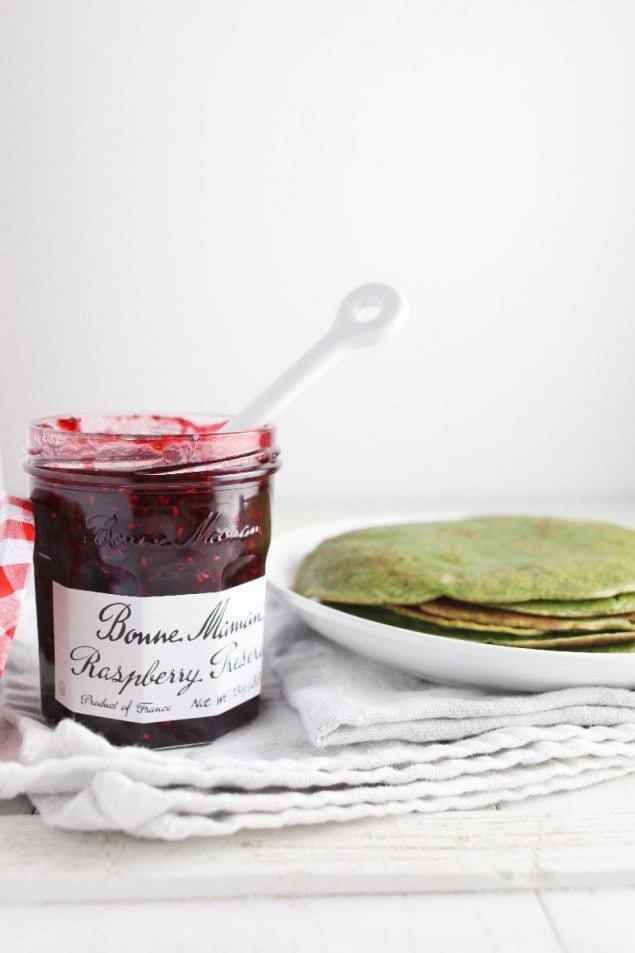 If you're anything like me, then it feels like every holiday kind of sneaks up on you. I like to think of myself as a pretty organized and together person but so many holidays (with the exception of my fav, Christmas) slip my mind until it's too late. Unfortunately, Mother's Day tends to be one of these holidays, but not this year! Let's be honest, moms deserve recognition everyday of the year not just one! But the least we can do is shower them with love, presents, and all the yummy food on this day of the year.This recipe for matcha crepes with raspberry preserves is dedicated to my mom- from Brooklyn to Philadelphia- I love you!
I have really wonderful memories of cooking breakfast with my dad on Mother's Day each year growing up. We always always always made Eggs Benedict. My dad doesn't cook a lot but when he does, it is a true labor of love. And our KILLER Eggs Benedict were no different. We always had to beg my mom to stay in bed (instead of jumping out to tackle her to-do list as she usually does) so we could hand deliver our perfect breakfast with fresh juice to her. And we had (still have?) this gorgeous brown wicker breakfast tray with a cup holder and magazine storage on the side, which we used to serve my momma.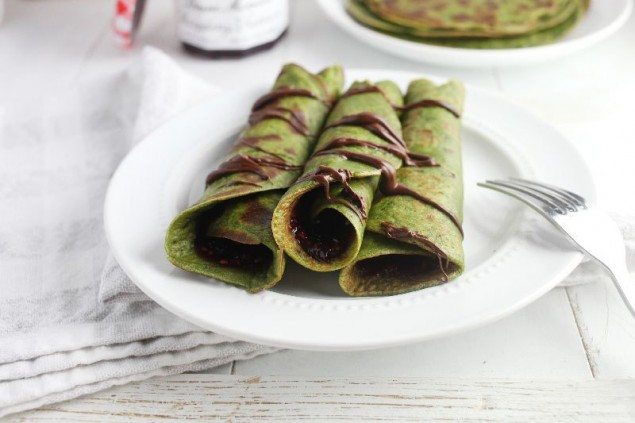 To be honest, these matcha crepes would likely never have made it on the breakfast menu since our eggs were too perfect and my parents are breakfast traditionalists. But, like I said, this recipe is in dedication. Plus, matcha is all the rage these days so I just had to play around with it. I wasn't sure how the matcha+raspberry+chocolate combo would turn out but it was so great and I will definitely be making these again. The hardest part of this recipe is waiting for each crepe to cook but I promise it's practically fool-proof as long as you don't burn them (which I may or may not have done…oops). Spread a little Bonne Maman Raspberry Preserves on them, drizzle them with some chocolate and you are good to go! The thing that I love about Bonne Maman Preserves is that they are made with simple recognizable (non-GMO!) ingredients that you likely have in your pantry. It's as if you made the preserves yourself.
So do your mom a favor and treat her to these green beauties this year!
Bonne Maman is giving away a gorgeous 12-piece set of Le Creuset cookware plus many other goodies (over 1,000 prizes!) on their website. Click below to enter! Who doesn't love beautiful cookware?!
For more recipe ideas, check out these fun toasts.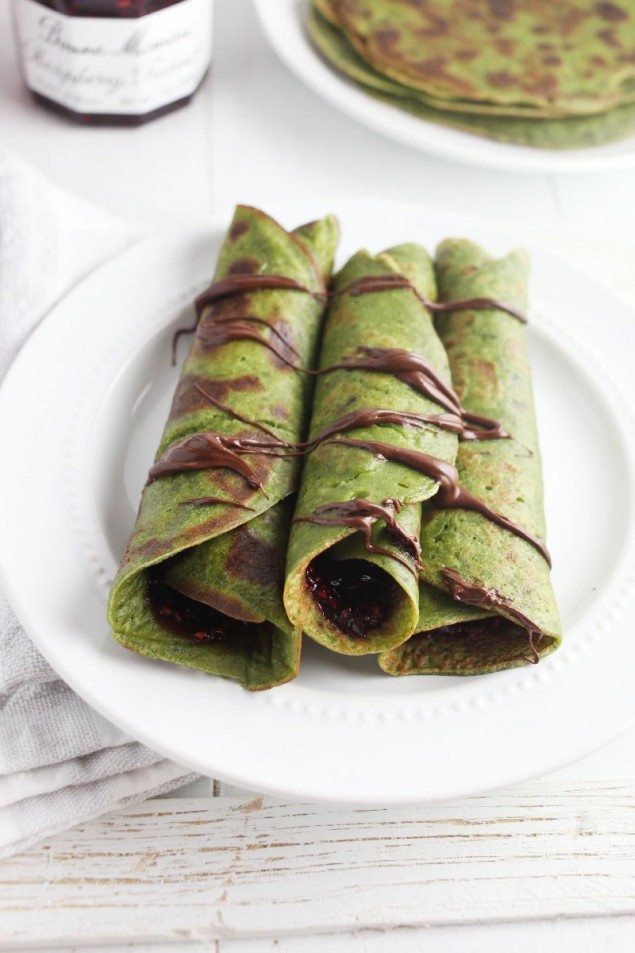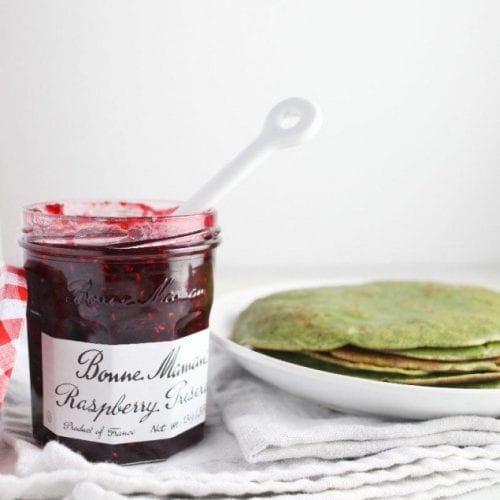 Raspberry and Matcha Crepes
Katie
This Mother's Day, treat your mom to these green beauties, aka match crepes loaded with raspberry preserves.
Ingredients
1

cup

whole wheat pastry flour

1

and 1/2 tablespoons matcha

1/4

teaspoon

salt

1

and 1/4 cup water

2

tablespoons

oil or melted butter of choice

2

eggs

whisked

1

tablespoon

honey

coconut oil spray

Toppings: Bonne Maman Raspberry Preserves

chocolate chips, whipped cream
Instructions
Add the flour, matcha, salt, water, oil/butter, whisked eggs and honey to a large bowl and whisk until just combined. You don't want to overmix and you want there to still be some clumps of flour. Let sit.

Heat a small non-stick pan over low heat and spray with cooking spray.

Spoon 1/4 cup of the mix onto the pan and spread evenly along the bottom of the pan. Cook on low until the edges set and the tops of the crepe have small holes.

Gently flip the entire crepe to the other side and cook for another minute or two.

Serve immediately with Bonne Maman Raspberry Preserves and melted chocolate. Whipped cream also highly encouraged.
Katie Oberwager
I started 24 Carrot Life after becoming obsessed with food blogs and wanting to show that eating healthy can be fun, simple, and delicious. Although I do not follow a specific diet, I experiment a lot with different styles of eating, always focusing on real and whole ingredients. Come follow along as I dirty up the kitchen!