SUSHISAMBA's introduces a new ramen menu inspired by Japan's classic noodle and broth staple with a Peruvian and Brazilian twist.
Noodle this! Re-imagine how you thought ramen to be, the Japanese soul food takes an international cultural turn with Chef Koji Kagawa at SUSHISAMBA, introducing the world to what is called SAMBA RAMEN by Koji .
A True Japanese native, ramen aficionado, and dynamic in the art of Brazilian capoeira,corporate Sushi Chef Koji Kagawa adds several elements of surprise to this Japanese staple. By adding contrasting textures, such as kale noodles and Peruvian corn with bold flavors such as bone marrow broth for the ramen base, the Samba Ramen by Koji is not only a worthy contender of your stomach. But a beautiful creation, executed with passion, precision and technique.
Launched on February 15, SUSHISAMBA's new ramen menu is inspired by Japan's classic noodle and broth staple with a Peruvian and Brazilian twist. Here are the new fantastic four ramen fusions to the menu:
Yasai Yasai (veggie, veggie), this VEGGIE-tarian heavy ramen is made of beet root, baby bok choy, honshimeji mushroom, peruvian corn, snow pea shoot, spicy garlic and yuzu skin features kale noodles and a complex vegetable-based broth to make you feel connected to mother earth.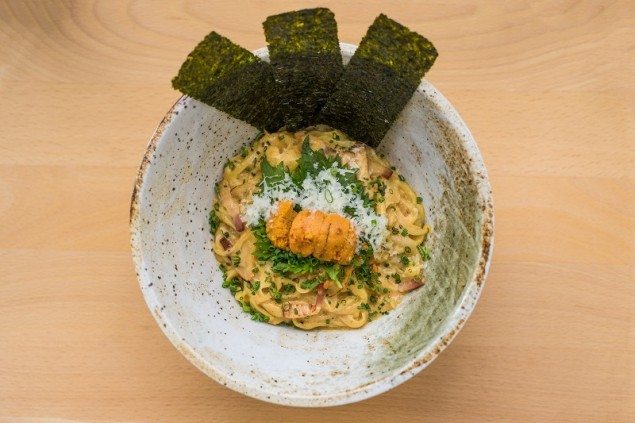 Shotoribu, made with the carnivores in mind, this ramen is made with bone marrow broth, short rib, Peruvian corn, baby bok choy, mushroom and egg. It reflects SUSHISAMBA's Japanese and Peruvian culinary DNA, offering classic umami flavor.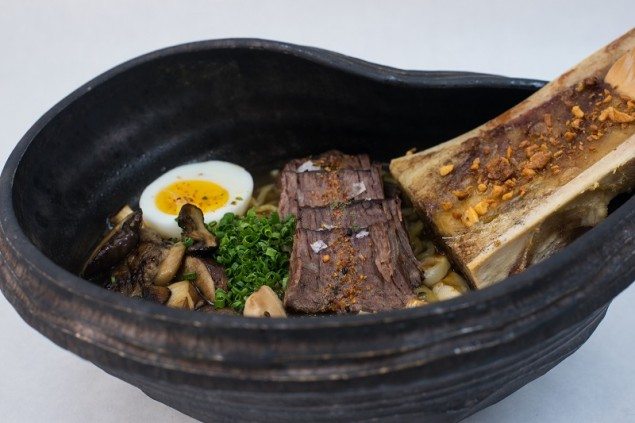 Bokon, Uni and Chizu, made for the adventurous eater, this is a unique broth less style ramen and a modern descendant of abura soba.( oil noodles, a type of soup-less Ramen usually mixed with vinegar, peanut seasoning, and topped with poached eggs, tenderly roasted pork, and seaweed.).
Tori Nu Su, a ramen for the sugar addicts, thankfully. Cinnamon-sugar crispy noodles punctuated with toasted ramen ice cream, hazelnut crème, and caramelized banana. Then all of this sugary goodness is topped with milk chocolate sauce and passion fruit-mango gelee.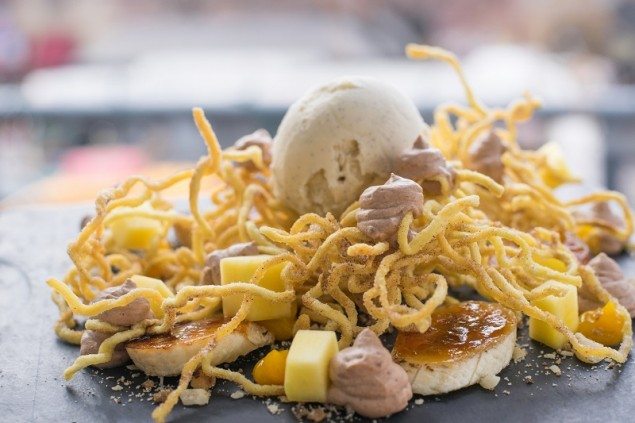 Please note, waiting to try these four distinct ramen is not an option. They will only be available till April 15th. Located in the West Village, on the corner of Barrow and Seventh Avenue South, the two-level restaurant is ready to serve its unique blend of Japanese, Brazilian and Peruvian cuisine to you.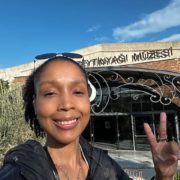 Alyssa Holder
Alyssa Holder is a writer specializing in food and travel topics since 2015.