Natalie McLaury considers herself a bit of a hoarder when it comes to magazines. Never one to pass up a good deal on a subscription, it's to the point where she now finds herself receiving a magazine in the mail several times a week. Most of the time, she rips out pages of recipes but fails to actually create the recipe in her kitchen. Not anymore! Join Natalie as she cooks the magazines!
By Natalie McLaury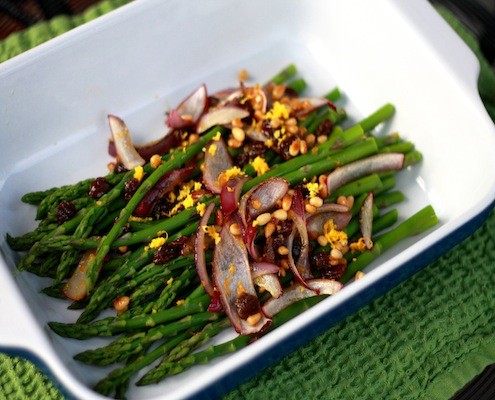 I have a bad habit of overlooking side dishes. More often than not, I load up on kale and make a batch of kale chips to accompany whatever our main dish is. Sometimes, I forget the side dish altogether. My mom, on the other hand, is a side dish master. Not only will she prepare an elaborate meal, but it'll almost always have several side dishes accompanying it. I remember a high school friend once telling me she loved coming to our house for meals because of the side dishes that were ever present at our dinner table.
Funny, then, that I first prepared this side dish with my mom. Last time she came to visit, we got together with some family friends and had a blast cooking dinner together. My mom and I had planned the menu on the phone the night prior and as I sat reading recipe titles from my Cooking Light magazine, this one jumped out to both of us.
Asparagus is one of my favorite vegetables and I look forward to each Spring when I can enjoy copious amounts of it. This particular asparagus recipe was a win; it's versatile enough to pair with a number of dishes and easy enough to make even while you're worrying about a complicated main dish. Since making it that first time with my mom and our friends, I've since prepared it a few more times, simply because I cannot get enough of the flavor combination! Don't let this Spring slip by without giving this one a try!
Raisin and Pine Nut Asparagus
From Cooking Light, April 2011
Ingredients:
1 pound asparagus (450 g), trimmed
2 tsp (10 ml) extra-virgin olive oil
1/3 cup (50g) sliced red onion
2 tbsp (30 ml) pine nuts
2 1/2 tbsp (37 ml) orange juice
3 tbsp (45 ml) raisins
2 tsp (10 ml) honey
1/4 tsp (1 ml) salt
1/4 tsp (1 ml) orange zest
1/2 tsp (2 ml) black pepper
Directions:
See Also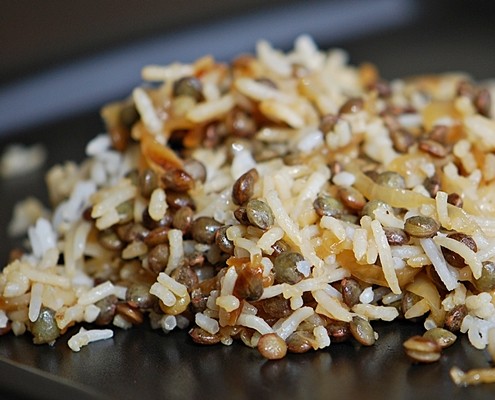 1. Cook asparagus in boiling water for 2 minutes or until crisp-tender. Drain and set aside.
2. Heat olive oil in a large skillet over medium-high heat. Add onion and pine nuts, cooking for approximately 4 minutes and stirring occasionally.
3. Add orange juice, raisins, and honey, cooking for an additional 2 minutes. Stir in salt and orange zest.
4. Place asparagus on a platter and top with onion mixture. Sprinkle with pepper.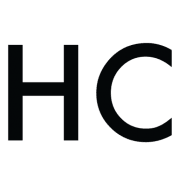 Natalie McLaury
Natalie McLaury is a St Louis based food writer with a passion for real food and experimenting in the kitchen. Her cooking ranges from healthy three course meals to decadent desserts, and she shares many of her food tips and recipes on her successful The Sweets Life blog . As an avid runner and fitness expert, she also gives the occasional tips on how to combine a serious interest in health with a sweet tooth.