This healthy wholegrain Finger millet chocolaty cake with a drizzle of Nutella sauce is a real delight.
By Sanjeeta Kk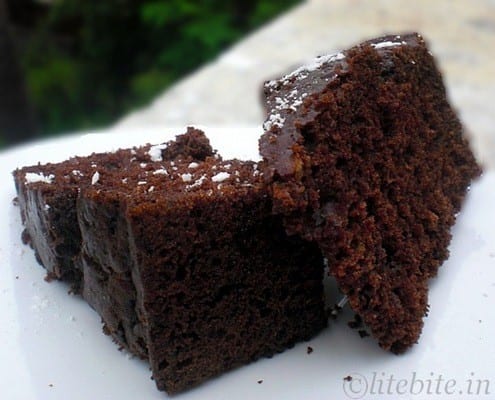 Ragi Chocolate Cake – A Perfect Combo of Taste and Health
A healthy egg free cake with finger millet and chocolate.
Recipe Type:
Egg free baking
Ingredients
½ cup Finger Millet flour
1 cup All purpose flour
1 tbsp. Cocoa powder
¾ cup sugar
½ tsp. baking soda
1 tsp. baking powder
¼ cup vegetable oil
½ cup curd/yogurt
¼ cup milk
1 tsp. cinnamon powder
Instructions
Sift the finger millet flour, all purpose flour, baking soda, baking powder and cinnamon twice in a large vessel. Take another vessel and add curd, oil, milk and sugar in it, beat the liquid mixture with a fork till the sugar is dissolved.
Preheat the oven to 190°C for about 10 minutes. Grease a round cake tin with oil.
Add the dry ingredients to the wet liquid mixture little by little and fold lightly making circular motions.
Pour the cake batter into the greased cake tin and bake for 30 minutes or till the cake is done. Check the cake by inserting a clean knife in it, if it comes out clean the cake is fully baked.
Dust the cake with powder sugar and enjoy the chocolaty treat.
Notes
1.Replace the finger millet powder with all purpose flour if you do not have it. 2.Try the cake with wholewheat flour for more healthier option. 3.The cake is not very sweet, increase sugar a little if you like sweet bakes.
Sanjeeta Kk
Sanjeeta kk is the author of food blog 'Lite Bite' which features vegetarian recipes. Her quest for egg free baking and healthy cooking is extensively shared though all her recipes. She likes to share stories behind the origin of her recipes which are easy and accessible. Homemade, unprocessed and healthy food is what she strives for each day. She defines food as nostalgic, comforting & an important factor to connect with people and make community