Karpatka, a Polish version of a vanilla custard slice is made with sheets of choux pastry filled with a creamy, light layer of custard cream.
By Martyna Candrick
True to the traditional Polish recipe, named after Karpaty (Carpathian Mountains), a 1500km long mountain range in Southern Poland.  Unlike the traditional French Mille-Feuille, it is made with choux pastry, which once cooled gives the slice its trademark Carpathian shapes of ridges and valleys.
See Also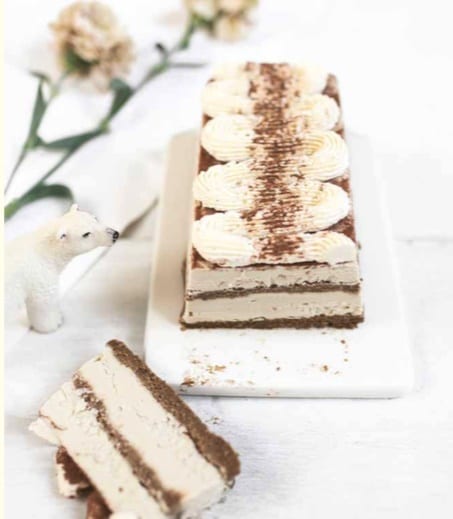 The filling is light and airy, not gloopy like some of the store-bought slices can be. The secret to this lies in the addition of whipped cream to the filling, which also helps to keep the sweetness in check.  Having said that, the dessert is completed with a light dusting of icing sugar that ensures the sugar-free choux pastry top tastes just a little sweeter.

Karpatka: Polish Vanilla Custard Slice
I used thick pouring custard instead of the traditional mixture of powdered custard, which helps keep sugar levels in check. You can bake the pastry form-free or if you happen to have a 30cm x 20cm cake tin, use that.
Recipe Type:
Dessert, Slice
Ingredients
For the choux pastry:
• 125g (4.4oz) unsalted butter, extra for greasing
• 1 cup plain flour
• 1 cup water
• 5 eggs
For the vanilla custard cream:
• 750ml (3 cups) thick pouring vanilla custard
• 2 eggs
• 2 tbsp vanilla extract
• 4 tbsp plain flour
• 2 tbsp cornflour
• 300ml (2 and ¼ cup) thickened cream
To serve:
• icing (powdered or confectioners') sugar
Instructions
Preheat oven to 220C (200C fan forced, 425F, gas mark 7).
To make the choux pastry:
In a medium saucepan bring water and butter to a boil. Add flour and mix vigorously with a wooden spoon until the mixture comes away from the sides and forms a ball. This should only take a few seconds. Transfer dough to a mixing bowl, add eggs one at a time and beat with an electric mixer until glossy and smooth.
Grease a large sheet of non-stick baking paper with extra butter. Spread pastry into a rough rectangle until the dough is only a couple of centimeters thick. Place in the oven and bake for 25 minutes. When ready, remove from the oven and allow to cool on the tray.
In the meantime, make the vanilla custard cream:
Place cream into a mixing bowl and whip with an electric mixer until it's fairly stiff – be careful not to overwork as it will turn into butter. Set aside.
In a large saucepan, combine custard, eggs, flours and vanilla extract. Whisk until smooth. Place over low heat and cook, whisking, until the custard thoickens.
Cool to room tempereature, whisking from time to time to prevent the skin from forming.
Add whipped cream to the mixture and whisk through.
To layer vanilla custard slice:
Using a sharp bread knife, cut the pastry in half, the two sides will be your top and bottom.
Spread custard cream over one layer, leaving a 1 inch edge around and top with another pressing down gently.
Trim edges if you want to get perfect squares. Otherwise skip this step if you prefer a more rustic look.
To serve:
Using a sharp bread knife, cut the slice into 8 even squares.
Dust with a little icing sugar and serve.
Notes
Tip: store the slice in the fridge and consume within 2 days. Bring to room temperature before serving. You may need to re-dust with some icing sugar.
Martyna Angell
Martyna is a Polish-born Australian recipe developer and food blogger. Her creativity and passion for good food shines through in many of the delicious and easy to prepare meals which she cooks, styles and photographs for her blog, Wholesome Cook. Fresh cream-filled eclairs are her only weakness.