Radish and Barley Spinach Salad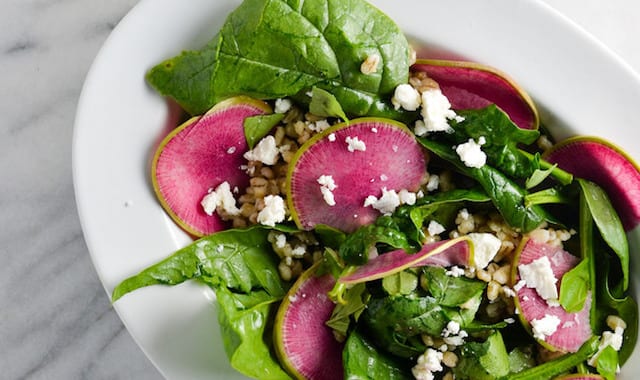 Brighten a winter meal with this stunning spinach and radish salad topped with barley and feta and tossed in a lemon dressing.
By Vicky Cassidy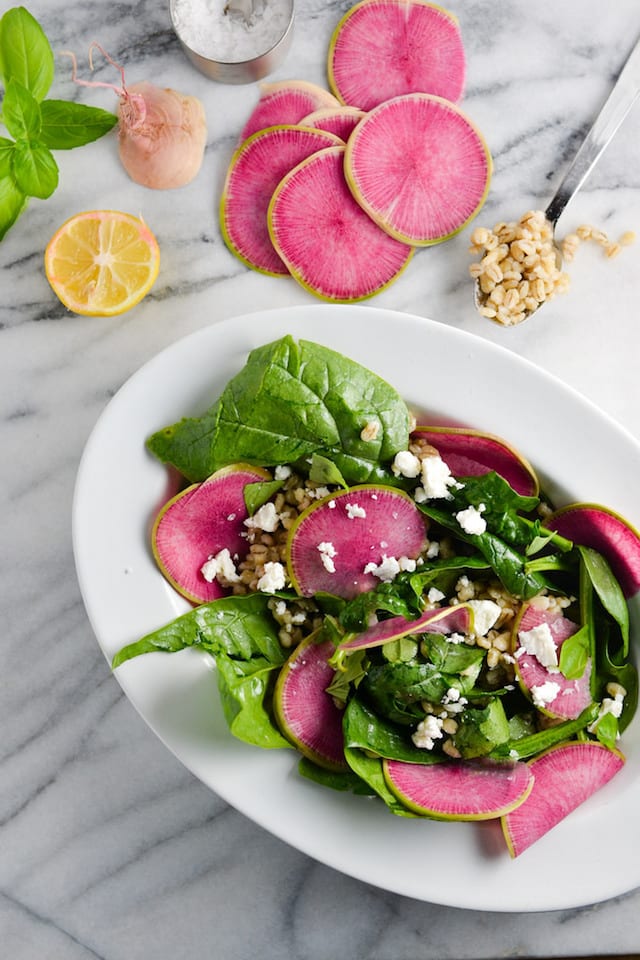 This is one of those salads that counts as an entree. With a simple dressing of olive oil, lemon juice, and lemon zest it is bright and citrusy, just what a winter meal needs. And in addition to being healthy, filling, and restorative, it really is a beauty to look at too.

Radish and Barley Spinach Salad
Brighten a winter meal with this stunning spinach and radish salad topped with barley and feta and tossed in a lemon dressing.
Ingredients
1 cup barley, dry
¼ cup olive oil
juice from 1 small lemon
zest from ½ small lemon
2 large handfuls spinach leaves
1 medium watermelon radish, trimmed and sliced thin on a mandolin
5-6 basil leaves, chopped
4 ounces feta, crumbled
Instructions
Cook barley according to packaging instructions. Let cool completely.
In a small bowl or jar, whisk or shake together olive oil, lemon juice, and lemon zest.
Combine spinach and barley in a large bowl. Pour dressing on top and toss. Add watermelon radishes, basil leaves, and feta. Toss well and serve.
Vicky Cassidy
Vicky Cassidy can usually be found in her Madison, WI kitchen with cumin or paprika in her hair and olive oil smudges on her camera. She is a self-taught cook and the occasional baker, and she loves oversharing stories about her kitchen and life on Things I Made Today.