In central Texas, it's the time of year when the smell of roasted chiles fills the parking lot of specialty food stores.
By Amber Massey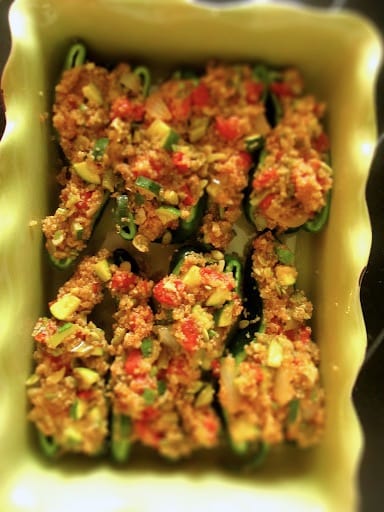 Hatch Chiles are at the peak of season, and if you haven't tried them.. you must make note of my recommendation and hop to it.  They resemble a banana pepper- you know- one of those yellow peppers with a twist of tang rather than heat that is typically piled with the other pepper varieties in the produce section. I counseled a client a couple weeks back and made mention of the Hatch chiles and he simply replied- "I'm from New Mexico. We have those all the time.." Well, alright then.
 
Originally I was going to create my meal aroung these seasonal peppers, but when I actually got to the grocery and realized they were a tad too small- my Fireman would have to get a portion of 4 or 5 pepper halves to get his fill at our dinner meal.  I'm afraid I would have to do the same- even though these two babies- now accounting for 1 whole pound each- prevent me from eating a normal sized portion of much of anything these days.  I am stuffed to the brim just looking at my food let alone actually consuming it. 
So, I decided on stuffing my other favorite pepper besides the Hatch-the poblano.  Love these ones.  I throw them into everything, making for an easy way to add spice and flavor without the actual pepper getting lost in translation (read; minced jalapeno). Salads, pasta, dips, bread- they go well in most anything you can think of- same goes for the Hatch chiles. 
 
I roasted off my tomatoes, onion, garlic, and chiles together while I waited on my quinoa to cook, so it wasn't a serious addition in cook time for this meal- and I think the roasted tomatoes add such a depth to flavor to the dish.  The peppers cook in a bath of tomato juice, softening the pepper shell and making for and easy way to get a bite of the pepper and the stuffing- because they go so well together, here.
 
Have you tried the Hatch chiles, yet?  You should.  They are awesome- and make your way to a store that hosts a festival in honor of the pepper- you'll get a taste of all the wonderful things that can come of this pepper- plus, you know what this time of year means?  It is almost fall.  Fall is my favorite time of year.

Quinoa-Stuffed Poblano Chiles
Ingredients
4 large poblano chiles
1½ cups water or vegetable broth
¾ cup uncooked quinoa
1 tablespoon olive oil
2 cups grape tomatoes
1 medium sweet yellow onion, rough chopped
2 Hatch chile peppers, rough chopped seeds and ribs removed (jalapeno can be substituted)
6 unpeeled cloves of garlic
Cooking spray
1 medium zucchini, chopped
2 tablespoons unsalted pumpkin seeds
½ cup minced green onions
1 tablespoon minced fresh cilantro
1 tablespoon low-sodium soy sauce
The juice of one lime
2 cups tomato juice
1 cup shredded reduced-fat sharp cheddar cheese
Instructions
Preheat oven to 350°.
Cut poblanos in half lengthwise; remove stems and seeds. Set aside. Combine water or broth and quinoa in a medium saucepan; bring to a boil.
Cover, reduce heat, and simmer 13 minutes or until liquid is absorbed. Set aside.
While quinoa cooks, combine 1 tablespoon olive oil, tomatoes, onion, Hatch chiles, and garlic cloves on a foil lined jelly-roll pan, tossing to combine.
Bake at 450° for 11 minutes or until tomatoes are lightly browned and begin to burst.
Remove from oven and once cool enough to touch, remove garlic from the papery shell.
Spray a large nonstick skillet with cooking spray; place over medium-high heat until hot.
Add zucchini; sauté 2 minutes.
Add in roasted vegetables, including the juices from the tomatoes. Continue cooking for another minute.
Add pumpkin seed kernels; saute 2 minutes.
Remove from heat; stir in quinoa, green onions, cilantro, soy sauce, and lime juice.
Spoon ⅓ cup quinoa mixture into each chile half.
Pour tomato juice into a 13 x 9-inch baking dish; place stuffed chiles in dish.
Cover and bake at 350° for 20 minutes.
Sprinkle cheese over chiles; bake, uncovered, an additional 10 minutes or until cheese melts and chiles are thoroughly heated.
Spoon tomato juice over chiles
Nutrition Information
Serve Size:
2 stuffed pepper halves
Calories:
360
Fat:
13.6 g
Carbs:
47.9 g
Fiber:
7 g
Protein:
20.4 g