Gently stirred together and served at room temperature, this is quinoa salad is a crowd pleaser.
By Carol Egbert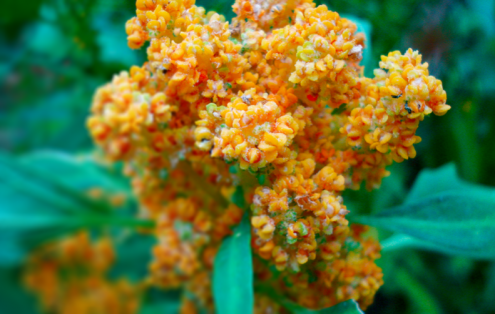 Quinoa Salad
Gently stirred together and served at room temperature, this is a crowd pleaser.
Ingredients
2 cups quinoa
2 cups vegetable broth
1 can soy beans, rinsed and drained
1 can white kidney beans, rinsed and drained
1 bunch flat leaf parsley, rinsed and chopped
½ cup sliced scallions
1 pint cherry tomatoes, halved
zest of 1 lemon
juice of 1 lemon
1 heaping Tablespoon grainy Dijon mustard
½ cup olive oil
salt and pepper to taste
Instructions
Rinse quinoa in cold water to remove bitter coating.
Put it into a heavy bottomed, shallow pan over medium high heat to toast for ten minutes, stirring constantly, until the seeds are light brown and aromatic.
Remove pan from heat, stir in vegetable broth, return to burner, increase heat, bring to a boil, then reduce heat, cover pan and simmer until al dente, about eighteen minutes.
Drain remaining liquid from the quinoa, set it aside, covered for five minutes, before fluffing with a fork and transferring to a large bowl to cool.
Add beans, the parsley, scallions, cherry tomatoes and lemon zest lemon.
For the dressing, combined lemon juice, mustard, olive oil and salt and pepper to taste.
Add dressing to quinoa/bean mixture, gently stir together and serve at room temperature.
Notes
Any canned beans will work, you may want to brighten the taste with the addition of a bit of wine vinegar, the parsley could be replaced with basil, purple onion instead of scallions, a minced chili pepper or a bit of cayenne pepper would add some heat. Add or subtract flavors to suit your palate.
Carol Egbert
Carol Egbert is a writer, painter, graphic designer and cook. Her studio is on a country lane in rural Vermont. During mud season she escapes, for a couple of months, to a flat in Sicily overlooking the Ionia Sea. Her newspaper columns, magazine articles and blog are illustrated with her watercolor paintings – Honest Cooking means beautiful food.