Quinoa with Lime Vinaigrette and Red Cabbage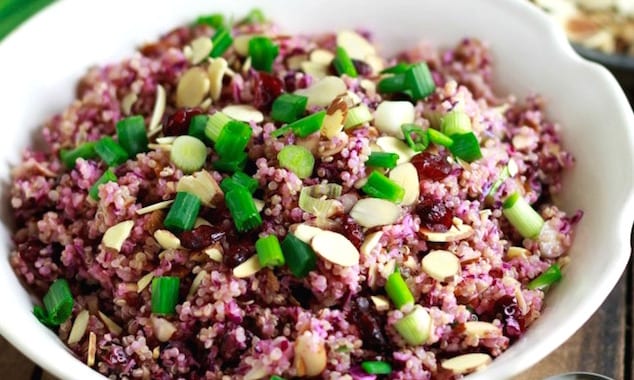 Like a sweet and tangy slaw, this quinoa has a kick of mustard and lime and bursts of fresh green onion, crisp toasted almonds and chewy-sweet dried cranberries. It's a vibrant, fresh salad that goes great with sandwiches and wraps.
By Gin Butters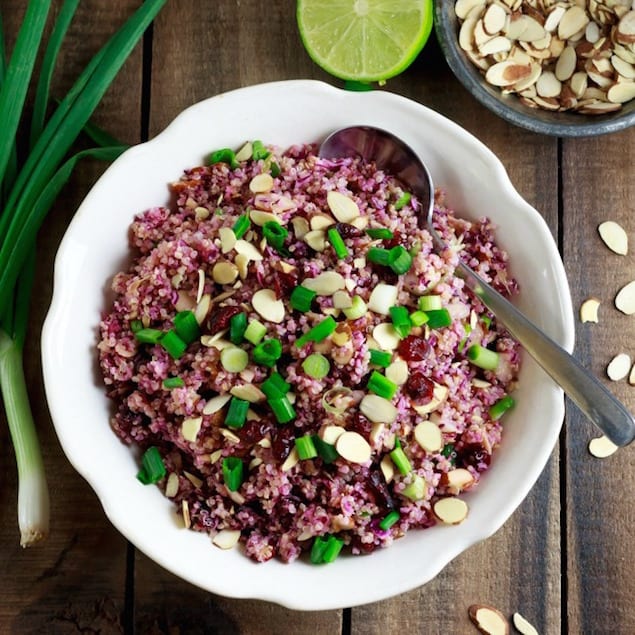 To get in a spring mood on I've been playing around with some frisky salads, like this red cabbage and quinoa salad. This is a salad I want to take on a picnic and linger over with a tall glass of lemonade. It's even colored like a warm spring day.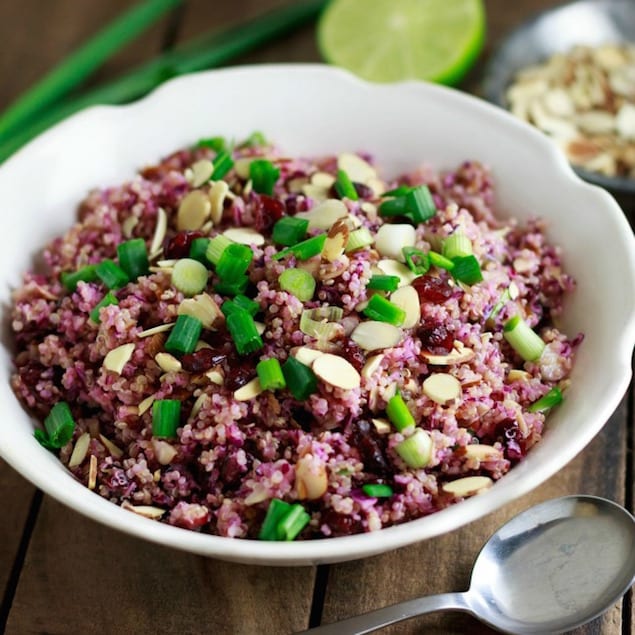 It tastes a lot like a sweet and tangy slaw, no surprise, because it's got a sweet and tangy-type dressing with a little kick of mustard and a big kick of lime. The cabbage and quinoa have a fairly fine texture and compliment each other, and they're set off by bursts of fresh green onion, crisp toasted almonds and chewy-sweet dried cranberries. It's a calm yet vibrantly fresh salad that goes great with sandwiches and wraps, and I love the pop of color it puts on the plate.
I haven't tried this on a sandwich or wrap yet, but I think it would be fun on either.
Eating this makes me feel fresh and ready for whatever fun a warm spring day might send my way. The cabbage and quinoa have tons of fiber, and the quinoa has some protein as well. Between those and the almonds, it's a great way to get full (which is pretty challenging for me). The cranberries are chewy little tart treats in there, and don't do much except look like jewels and be fun. Fun is even better for us than quinoa, so don't skip 'em.
Grab ideas for more creative salads here.
Quinoa with Lime Vinaigrette and Red Cabbage
Like a sweet-tangy slaw, this quinoa has a kick of mustard, lime and bursts of green onion and almonds. It's a vibrant salad that is great with sandwiches.
Ingredients
Dressing:
2 Tbs seasoned rice vinegar
1 Tbs cider vinegar
1 tsp spicy brown mustard
3 Tbs olive oil
1 Tbs agave (or honey)
juice of ½ lime
Salad:
3 c grated red cabbage
4 c cooked quinoa (cooked from 1 c dried according to your package's directions)
½ c dried cranberries
½ c toasted almonds (here's how to toast almonds)
3 green onions, chopped
¼ tsp salt
fresh ground black pepper to taste
additional green onion, almonds and cranberries to top (optional)
Instructions
Combine the dressing ingredients in a jar and shake well. Let stand while you make the rest of the salad.
Cook the quinoa unless you made it ahead, prep the veggies, toast the almonds. Combine all the salad ingredients in a large bowl. Pour the dressing over and toss to coat. Can be served chilled or at room temp.
Gin Butters
Gin's a crazy food romantic who's head over heels for big flavors and fresh, healthy ingredients. She's extra-inspired by Indian, Mexican and Indonesian cooking, and will put peanut butter on just about anything.