PARTNER POST – Get creative with any of Castello's uniquely crafted cheeses. Click here for a $1 off coupon to create your own gourmet masterpiece.
A delicious meat appetizer that comes with an edible cup made of crispy herbed cheese, perfect for March Madness.
By Dan George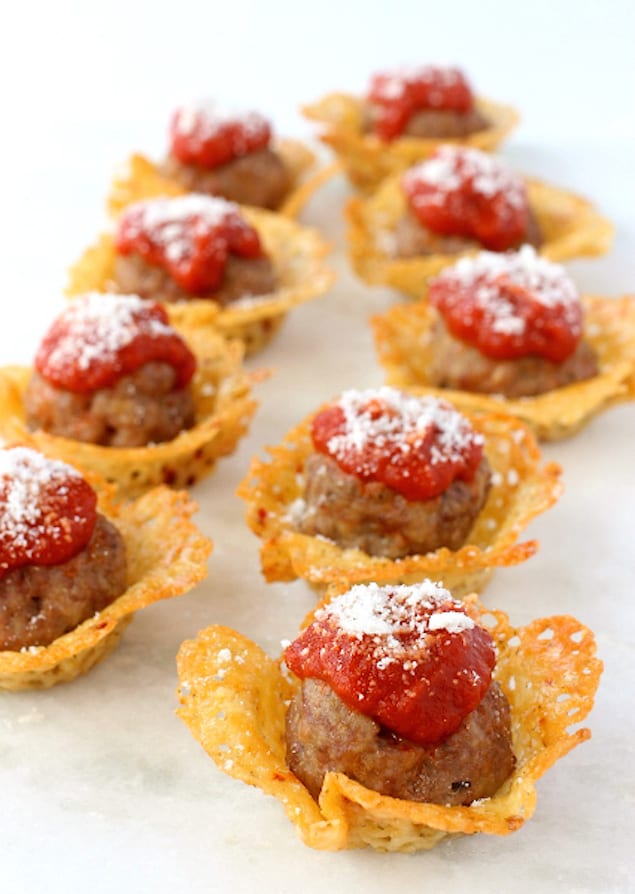 Forget about boring pigs in a blanket or the usual chips and dip…let's kick up your appetizers with these Cheese Crisp Meatball Shooters!
I'm talking about the perfect, bite-sized appetizer here. A two bite snack that combines a perfectly seasoned meatball with a tangy, havarti cheese cup.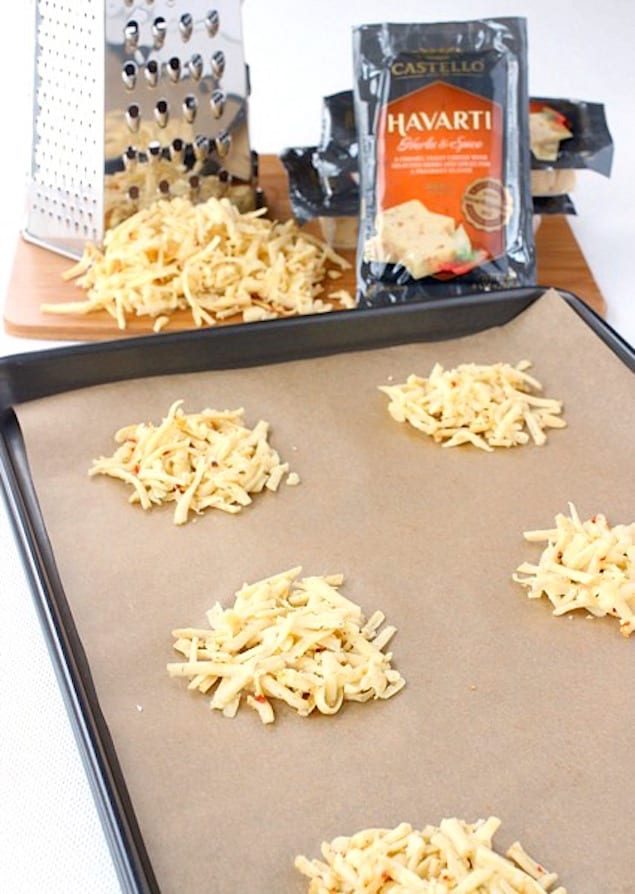 You could serve a tray of these Cheese Crisp Meatball Shooters to your friends for your March Madness basketball party or set them out for a more upscale dinner party with friends. Either way your guests are going to go nuts for these.
Castello Herb & Spice Havarti cheese was the perfect choice for these cheese crisp cups, this brand of havarti cheese is already seasoned with herbs and spices so it was ready to go as is. Just grate the cheese, place in piles on parchment paper and bake. That's it.
Try and not eat them all when they come out of the oven because they're totally addictive as they are. But to turn these cheese crackers into "cups" I placed the cheese crisps over an upside down muffin tin while they were still warm and let them sit until they firmed up. It only takes a couple of minutes for them to set.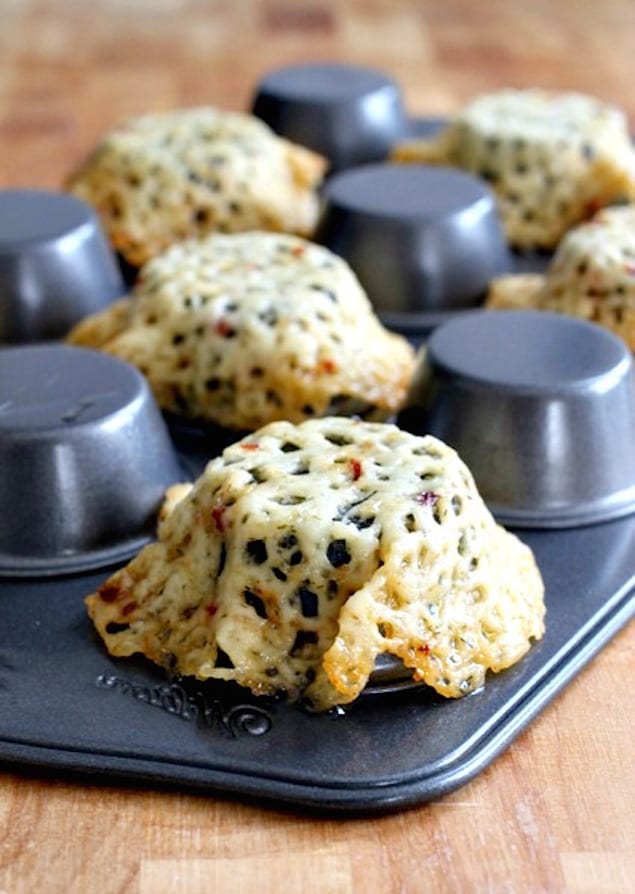 They can sit at room temperature while you get the sauce and meatballs ready to go.
You could definitely substitute your favorite jarred sauce if you want to take a short cut – no judgement here – but it only takes a few minutes to get going and you'll also have plenty left to freeze or for dinner another night.
To make the meatballs, mix all the ingredients together…roll them into golf-ball sized balls and bake in the oven for 15 minutes.
Now all that's left to do is assemble them and get them in your mouth! Just place a meatball inside your cheese cup and top with a spoon of sauce and some parmesan cheese.
The best party about this appetizer is that it doesn't only look impressive but it tastes even better than it looks. The havarti cheese cups will be slightly chewy so you can actually take a bite without the whole cup falling apart. Win win there – you don't want your guests covered in your marinara sauce.
Print
Feed Your Creativity — Cheese Crisps and Meatballs
---
Author:

Dan George

Yield:

about

24

appetizers

1

x
Description
A delicious meat appetizer that comes with an edible cup made of crispy herbed cheese, perfect for March Madness.
---
For the Sauce
2

T. olive oil

1/2

c. onion, chopped

4

cloves garlic, minced

1

t. salt

2

T. tomato paste

1

t. garlic powder

1

t. oregano

1/2

t. sugar

1

can (28 oz.) crushed tomatoes

1

can (28 oz.) tomatoe puree
For the Meatballs
2

lb. meatloaf mix (a combination of beef, pork and veal)

3/4

c. breadcrumbs

1/2

t. black pepper

1 1/2

t. salt

1 1/2

t. garlic powder

1 1/2

t. oregano

1 1/2

t. dried basil

1

c. grated parmesan cheese

3

eggs, beaten
For the Cheese Cups
8 oz

. shredded Castello® Havarti Herb & Spice cheese
---
Instructions
Start by making the marinara sauce.
Add the oil to a medium sized pot and heat over medium heat.
Once the oil is warm, add the diced onion and cook while stirring for 3-4 minutes.
Next add in the minced garlic and salt and stir for another minute.
Stir in the oregano, garlic powder, sugar and tomato paste and let cook for 2 minutes.
Pour in the 2 cans of tomatoes and stir well.
Partially cover and let simmer, stirring occasionally for 30 minutes.
Heat the oven to 400 degrees.
Add all the ingredients for the meatballs in a large bowl and mix well to combine.
Make golf ball sized meatballs with your hands and place them on a parchment lined baking sheet.
Bake for 15 minutes until the meatballs are just cooked through in the center.
Take the meatballs out and cover with foil to keep warm.
Place a fresh piece of parchment down on the baking sheet.
Place 2 T. mounds of the shredded havarti on the baking sheet. These will spread so you'll want to space them out, I only did 6 per sheet.
Bake for 6 minutes then take out and let cool for one minute.
Using a spatula, carefully lift up a cheese crisp and place it in on a muffin tin upside down to cool. Using your fingers, slightly press the cheese around the muffin tin to form a cup.
Let cool for 5 minutes then repeat with the next batch.
Assemble the cups by placing one meatball in each cheese cup and topping with a spoonful of the sauce and some grated parmesan cheese.
Notes
If you want to get this done ahead of time, make the sauce and meatballs up first and put them in the refrigerator until you're ready. Then come party time, just make the cheese crisps while you warm up the sauce and meatballs.

Get creative with any of Castello's uniquely crafted cheeses. Click here for a $1 off coupon to create your own gourmet masterpiece.

Dan George
Born and raised in New Jersey, Dan started the web site Mantitlement as a way to learn how to cook for the first time from his wife, Christie. Christie has always been the primary cook in the household and Dan got used to having her three-course, restaurant quality meals for dinner every night. Well, it was time he learned how to do some cooking on his own, and that's how Mantitlement got started. Dan believes that everyone is entitled to having great food and drinks at home...and he can show you how to make them with his collection of recipes!