Quick Overnight Pickle: Jalapeño Radishes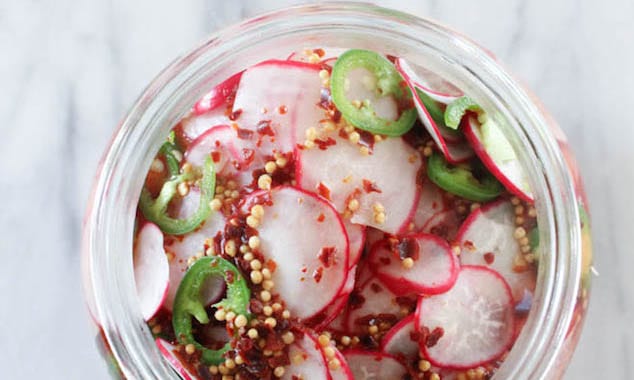 A perfect crunch, a touch of tangy, and a hint of spice make for a topping ideal on tacos, in martinis or straight out of the jar.
By Robin Runner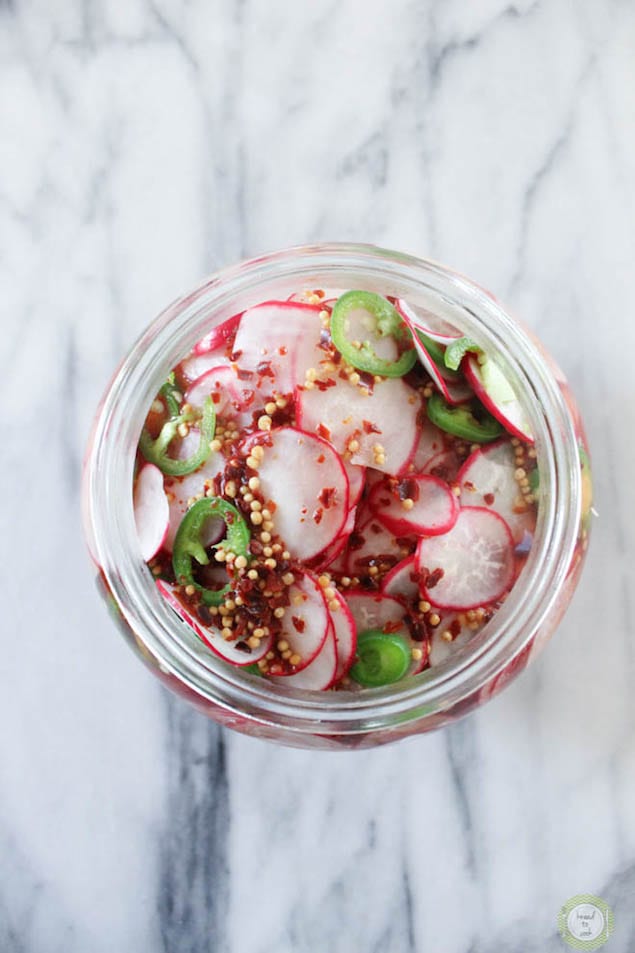 If you know me, you know I'm a spicy freak. I also love pickles, so after buying a bunch of lovely radishes at the farmer's market- my brain went right to this favorited recipe that I've had for years. Pickled radishes are great in martinis, on meat or veggie burgers, on salads or straight out of the jar (how I eat them). You can control the heat with the addition or subtraction of the jalapeños. I hope you LOVE this recipe! We used these on our tacos last night and they were soooooo good! The crunch, the heat – it was perfection. Just wanted to share another fun idea for these with you.

Quick Overnight Pickle: Jalapeño Radishes
A perfect crunch, a touch of tangy, and a hint of spice make for a topping ideal on tacos, in martinis or straight out of the jar.
Ingredients
2 lbs of fresh radishes, washed and both ends trimmed
1 cup of apple cider vinegar (I used Bragg's)
1 cup of water
2 jalapeños, washed and sliced (omit if you don't wish for a spicy version)
3 tablespoons of maple syrup
2 teaspoons of salt
1 teaspoons of red pepper flakes
1 teaspoons of mustard seeds
Instructions
Using a mandoline with the hand-guard (I stress using this so you don't slice through your hand) – slice each radish on the thinnest setting 1/16th or ⅛th inch. Repeat until you have sliced every radish.
Add them to a Weck's jar or canning jar that you can cover. Add your jalapeños.In a small saucepan over medium heat, add your vinegar, syrup, water, red pepper flakes, mustard seeds and salt. Bring to a boil, stirring 1-2 times to ensure the syrup was blended into the mixture.
Pour over the radishes. Let cool to room temperature then cover and place in your refrigerator. They will be ready to consume in 24 hours. Good for several weeks but they won't last.
Robin Runner
Robin Runner is the blogger behind www.kneadtocook.com. She grew up around two of her greatest inspirations, her Italian grandmother and her aunt. Both believed in farm to table foods, purity in nature and love as the main ingredient for anything on their menu. Today, Robin is a strong advocate of farming and buying local ingredients, as well as composting to help repurpose food scraps into rich soil for our garden.