Quick and Easy Lemony Chickpea Salad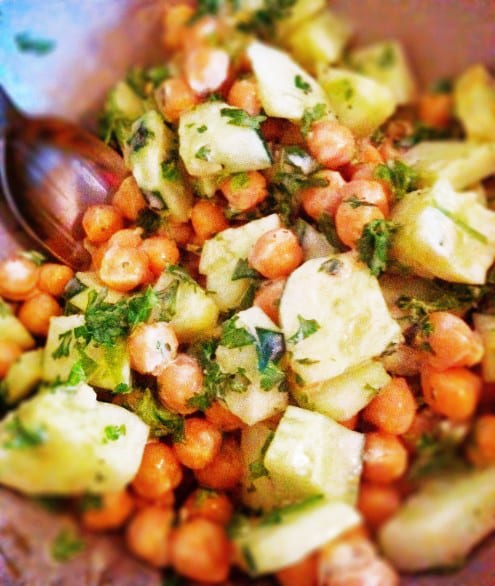 The dog days of summer call for light, refreshing fare that's cool, quick, and simple to prepare.
By Colleen Hill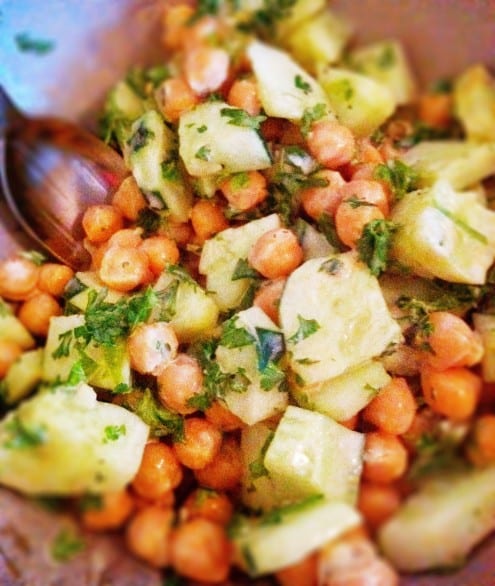 This salad is dressed with a simple squeeze of lemon and a handful of fresh chopped herbs, so it's a killer side dish, but can also shine by itself as a light lunch or dinner.

Quick and Easy Lemony Chickpea Salad
The dog days of summer call for light, refreshing fare that's cool, quick, and simple to prepare.
Ingredients
1 16oz can of organic, unsalted garbanzo beans (drained & rinsed)
1 cucumber, peeled and chopped
1 generous handful of fresh parsley, chopped
1-2 tablespoons of fresh mint, chopped
2-3 tablespoons of plain, greek yogurt
1 teaspoon of dijon mustard
juice of 1 small lemon
pinch of sea salt
pinch of fresh ground black pepper
Instructions
Combine all ingredients in a large bowl and toss gently
Refrigerate before serving…and enjoy!
Colleen Hill
Colleen believes that good food doesn't have to be complicated to be delicious. She sees cooking as a labor of love, and whether it's a dinner party for 10 or an intimate meal for 2, there's no place she'd rather be than in the kitchen, with a glass of wine in hand, of course. On her lifestyle blog, Curated Corner, Colleen features her favorite recipes, in which she uses clean, bold flavors to put her own fresh twist on classic recipes. She draws most of her inspiration from seasonal, locally available ingredients, and enjoys scouting out the local Baltimore food scene.