Make these tasty and good-for-you granola bars ahead of time to have a grab-and-go breakfast on hand.
By Ann Low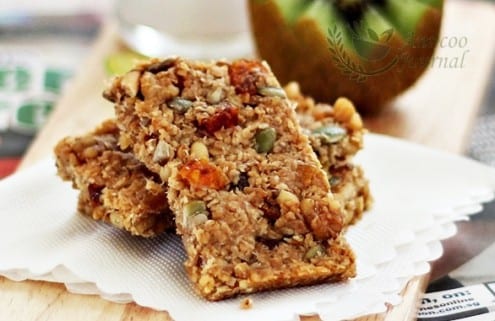 Quick and Easy Breakfast Bars
Make these tasty and good-for-you granola bars ahead of time to have a grab-and-go breakfast on hand.
Author:
Ann Low, adapted from Nigella Lawson
Ingredients
397g can Condensed milk (I used 295g honey + 100g fresh milk)
250g Rolled oats
75g Shredded coconut
100g Dried cranberries (used dried apricots, dried cranberries and dried sweet tomatoes)
125g Mixed seeds (pine nuts, pumpkin, sunflower)
125g Unsalted peanuts, (used walnuts, roughly chopped)
Instructions
Preheat the oven to 130C and place a non greased baking sheet on a 13 inch square baking tray.
Warm honey and milk together in a sauce pot.
Meanwhile, mix together all the other ingredients in a large bowl and then add the warm milk into it, using a rubber spatula to fold and distribute.
Spread the mixture into the baking tray and press down with the spatula, or better still, your hands (wearing disposable vinyl gloves to stop you sticking), to even the surface.
Bake for one hour, then remove from the oven and, after about 15 minutes, cut the bar to require size. Let cool completely.
Also check out
this
recipe for chewy granola bars.
Ann Low
Ann Low is the author of Anncoo Journal, and loves to bake and cook for both family and friends. She acquired a strong passion for culinary skills from a very young age by watching her grandmother prepare delicious meals for the family. Ann believes that baking is an art and she wants to share her baking and cooking experiences with everyone in the world.