Pupusas are stuffed round corn cakes, or patties, from El Salvador. They are made from masa harina dough, like corn tortillas, that is shaped into a disc and stuffed with a variety of ingredient.
By Nancy Lopez-McHugh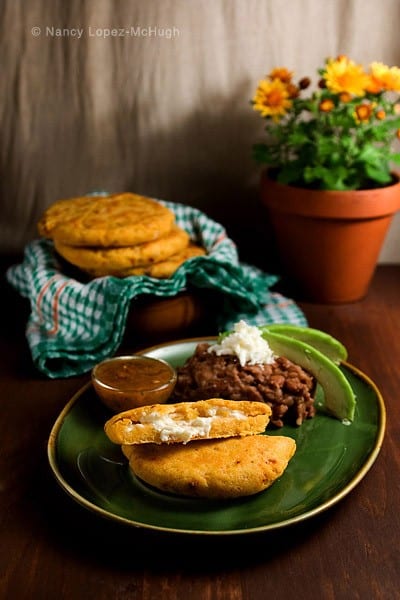 Pupusas can be stuffed with cheese, meat, beans or vegetables. If you're familiar with Hispanic food think of Pupusas as a relative to Mexican gorditas or South American arepas. Additionally pupusas are served alongside a traditional fermented cabbage salad called curtido.
See Also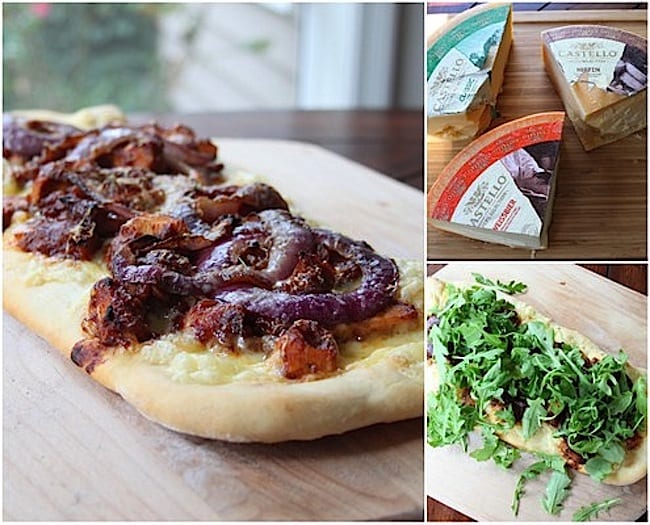 As you can see from the photos my pupusas aren't quite authentic El Salvadoran pupusas. These are more of a gordita-pupusa Spicie Foodie fusion… Or something like that. For starters the dough I used was fine yellow corn flour not the white masa harina called for. (yellow corn flour makes a great substitute) The cheese, I've used Feta, my queso fresco substitute, instead of a melting white cheese. To give the pupusas my special  touch I added red pepper flakes to the dough. Lastly instead of serving alongside curtido I choose refried beans and Mexican salsa. Regardless of authenticity these pupusas are also very good. In the past I've made my pupusas in the traditional way but every once in a while it's good to change up recipes.
Print
Pupusas, El Salvadoran Corn Cakes
Pupusas, El Salvadoran Corn Cakes – yields 9-11 depending on size.
Author:

Nancy Lopez-McHugh

Prep Time:

20 mins

Cook Time:

6 mins

Total Time:

26 minutes

Yield:

4

1

x
1 1/2 cup

corn flour +

1 cup

white flour OR

2.5 cups

Maseca Instant Corn Masa
(masa harina)
red pepper flakes to taste (I used about 1.5 tsp)

1/2 tsp

. salt

2 tbsp

sunflower or corn oil

1 cup

or

250

ml lukewarm water

200

gm or

7 oz

crumbled/grated feta or
queso fresco
or any melting white cheese
Equipment
Instructions
Heat a comal or griddle. In a large bowl combine the flours or masa harina, and salt. Make a well in the center and pour oil and water. Stir until a wet dough is formed. The dough will not have elasticity like that of other breads.
Divide the dough into even sizes.
Make a flat disc between your palms.
Place crumbled/grated cheese in center of disc.
Gather all sides up to make a round pouch and form back into a ball.
Once shaped into a ball flatten between your palms into a disc.
Place the shaped pupusas onto the heated comal or griddle, and cook for about 4 minutes on each side.
To serve:
Beans, salsa, avocado or your favorite sides and toppings
Nancy Lopez-McHugh
Nancy Lopez-McHugh is a food blogger, photographer and published author. Most recently she has published "Yummy Pics: A Food Blogger's Guide To Better Photos".