Pumpkin and Whey Wheat Bread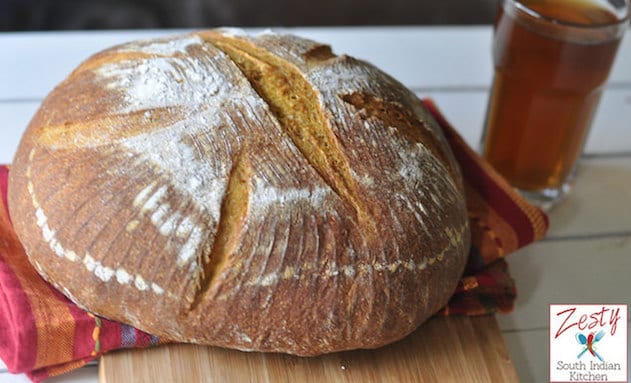 From sandwiches to french toast this orange pumpkin loaf with subtle sweetness and a delicate crumb from the whey is a fun bread to make at home.
By Swathi Iyer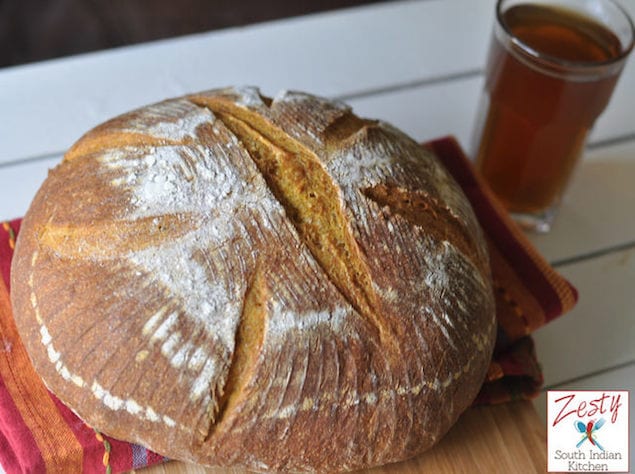 One good thing about making bread at home is that you get varieties of bread which are not easily available in the store. I did overnight bulk fermentation with this dough which means that day before baking I made the bread dough and then refrigerated it overnight. The next morning I took it and left it out for 2 hours and then shaped into a boule, kept it for another 2 hours and then baked it. This recipe was adapted from Dan Lapard's Pumpkin whey bread . As usual I modified the recipe with 60 % whole wheat flour and 40% white flour.
Pumpkin provided golden yellow color and subtle sweetness. Whey did an amazing job of making the bread very soft and moist. It makes delicious toast, just add butter. The crust is very delicate and its crumb is really moist. This pumpkin whey whole wheat bread makes excellent sandwich bread too. Slice and serve with your favorite ham, cheese etc.
See Also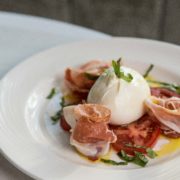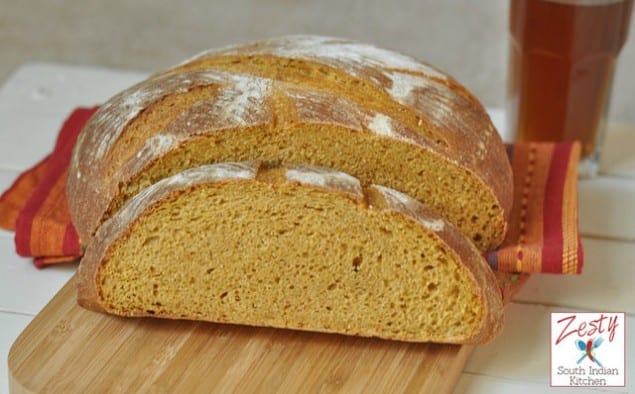 Pumpkin and Whey Wheat Bread
From sandwiches to french toast this orange pumpkin loaf with subtle sweetness and a delicate crumb from the whey is a fun bread to make at home.
Ingredients
225g Canned Pumpkin puree
225ml whey
3.5 g Instant yeast
25ml olive oil
300g Whole wheat flour
200g bread flour
2.5 tsp salt
Oil, for kneading
Flour, for shaping
Instructions
In bowl add both flour, salt, yeast and mix well.
add oil, pumpkin puree and whey to make smooth dough
Transfer to well greased container and keep it in the refrigerator for overnight for bulk fermentation.
Next morning take out the dough and set aside for 2 hours to bring back the dough to room temperature.
Then shape them into a boule and set aside for 2 hours for proofing. I don't have banneton in my hand so used a plastic colander as my proofing basket.
At end of proofing time preheat the oven for 425 F. Then you are ready to bake score and bake it in a preheated oven for 45 minutes or until the loaf register internal temperature of 200F.
Cool completely and slice.
Swathi Iyer
Swathi ( Ambujom Saraswathy) loves to explore cuisines from all over the world, and write about the ones that she and her family enjoyed on her blog Zesty South Indian kitchen. She loves to gives an Indian touch to several of the world cuisine, and has weakness for freshly baked bread. She is also a mom to two wonderful young kids who gives a up or down vote to the food she creates.