Spicy Crock Pot Drumsticks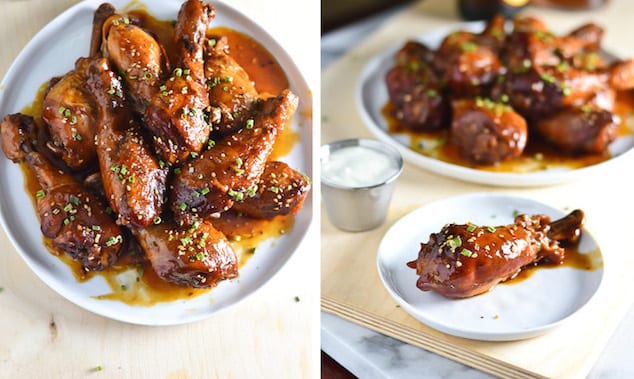 These drumsticks are perfect to make for a game day crowd. Throw them in the slow cooker the night before or in the morning and have fall-off-the-bone tender, spicy chicken ready by kickoff.
By Tina Putzing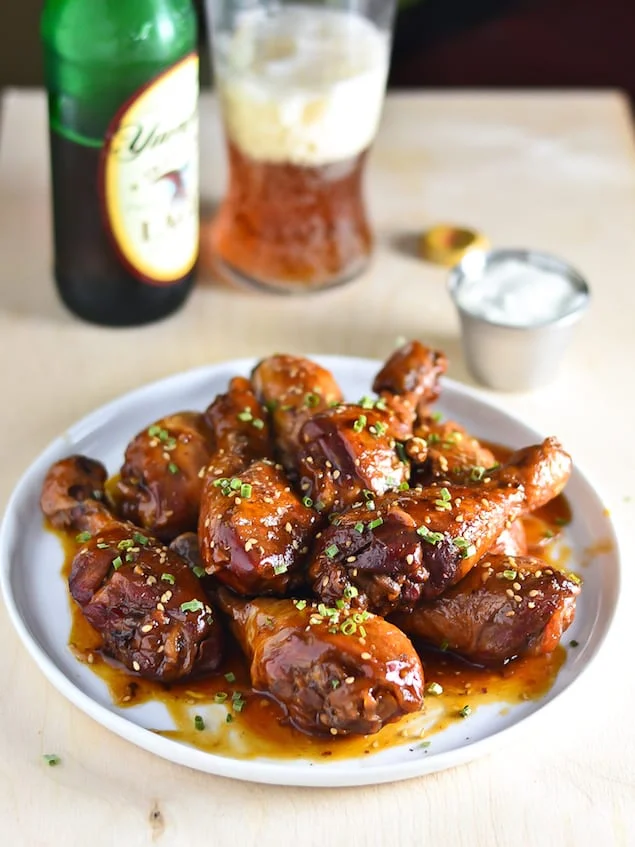 I keep forgetting how awesome slow cookers are, but I'm reminded of the fact every fall when I start seeing Crock Pot recipes pop up all over the place. Any contraption that lets me chuck ingredients into a big pot, walk away for a few hours (maybe watch a few episodes of Castle), and then come back to find a hot, delicious, perfectly-cooked meal is a big time win in my book. Crock Pots – best human invention ever? Probably, yes. Definitely top 10.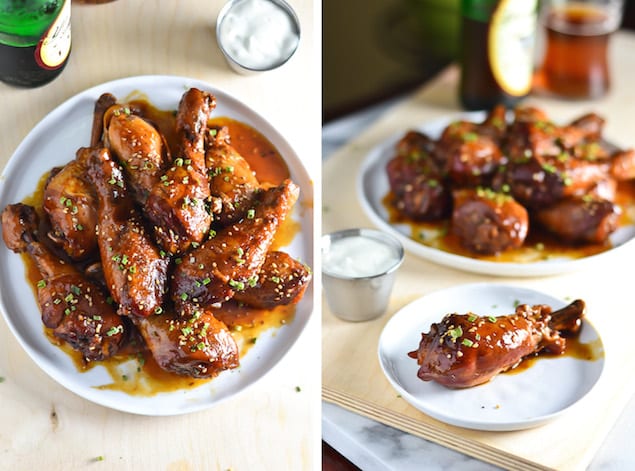 These hot and sticky wings, made in a slow cooker, are about as easy as you'd expect. Mix up a quick sauce, pour it over some raw chicken, set everything to cook low and slow in your Crock Pot, head to bed (or whatever)…and voila! Spicy, sticky, tender, flavorful chicken that is quite literally falling off the bone.

Spicy Crock Pot Drumsticks
These drumsticks are perfect for game day. Put them in the slow cooker and have fall-off-the-bone tender, spicy chicken ready by kickoff. (Slightly adapted from Damned Delicious's recipe)
Author:
Tina at Putzing Around the Kitchen
Recipe Type:
Main, Appetizer, Side
Ingredients
2-3 pounds chicken drumsticks (or wings)
⅓ cup sodium soy sauce
¼ cup white vinegar
¼ cup Worcestershire sauce
⅓ cup brown sugar
¼ cup honey
1 tbsp minced garlic
2-3 tsp Sriracha (adjust to taste)
1 tsp ground ginger
1 tsp ground pepper
1 tsp onion powder
1 tsp garlic powder
2 tablespoons cornstarch
2 tbsp water
Sesame (for garnish)
Instructions
In a large bowl, whisk together soy sauce, vinegar, Worcestershire sauce, brown sugar, honey, minced garlic, Sriracha, ground ginger, pepper, garlic powder and onion powder.
Place drumsticks into your slow cooker.
Pour sauce over the drumsticks and toss to combine.
Cover and cook on low heat for 6 hours (or high heat for 3-4 hours). Use a slotted spoon or tongs to turn your drumsticks over in the sauce every few hours to make sure all sides get cooked in the yumminess.
In a small bowl, whisk together cornstarch and 2 tablespoons water. Pour this slurry into your slow cooker and stir gently.
Cover and turn the heat up to high for an additional 10-15 minutes, or until the sauce has thickened.
Serve immediately, garnished with sesame seeds if desired.
Tina Putzing
I am an attorney, a lover of reality television (esp if food is involved), a stress-eater, a voracious reader, and a shameless sci-fi/fantasy nerd. I love to eat, I love to cook, and I love to make other people eat what I cook.