Non pie-eaters will appreciate this dense, moist cake-take on pumpkin spice with honey cream cheese frosting as the perfect accent.
By Sowmya Dinavahi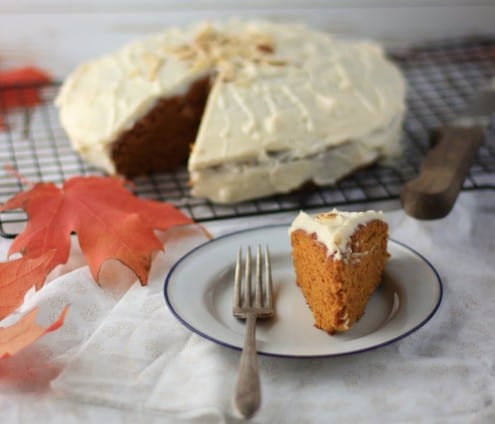 Pumpkin Spice Cake with Honey Cream Cheese Frosting
Non pie-eaters will appreciate this dense, moist cake-take on pumpkin spice with honey cream cheese frosting as the perfect accent.
Ingredients
½ cup of unsalted butter, melted, plus more for pan
2½ cups all-purpose flour,spooned and leveled
2 teaspoons baking soda
½ teaspoon salt
1 tablespoon pumpkin-pie spice (ie. 1½ teaspoons cinnamon, ¾ teaspoon ginger, ½ teaspoon nutmeg, and ? teaspoon each allspice and cloves)
2 large eggs
1½ cups sugar
1 can (15 ounces) solid-pack pumpkin puree
FOR THE HONEY FROSTING
½ cup (1 stick) unsalted butter, very soft
1 bar (8 ounces) regular cream cheese, very soft
¼ cup honey
Instructions
Preheat oven to 350 degrees. Butter a 9-inch round baking pan.
In a medium bowl, whisk flour, baking soda, salt, and pumpkin-pie spice. In a large bowl, whisk eggs, sugar, butter, and pumpkin puree until combined. Add dry ingredients to pumpkin mixture, and mix gently until smooth.
Pour batter into prepared pan, and smooth top. Bake until a toothpick inserted in center of cake comes out clean with just a few moist crumbs attached, 45 to 50 minutes. Cool cake 10 minutes in pan, then turn out of pan, and cool completely, right side up, on a rack.
Now to Make Honey cream cheese Frosting: In a medium bowl, whisk butter, cream cheese, and honey until smooth.
Spread top of cooled cake with honey frosting. Cut cake and serve.
Sowmya Dinavahi
Sowmya shares her culinary journey and passion for cooking and photography on her blog named 'Messy Kitchen Stories'. Her cooking style is mostly authentic South Indian cuisine and a little bit of Baking.She likes to cook anything and everything vegetarian. Mostly She tries to recreate the magic that her mom creates in her traditional South Indian dishes. Apart from that, If she loves something that she had outside, she cannot rest until she make it exactly the way she had it. She is a native from India but currently residing in Lincoln, NE with her husband.