PARTNER POST — The holiday season is here and it is time to add some Italian flair to your menu with authentic ingredients from Colavita and Perugina's rich Italian chocolate.
A simple spaghetti and meatball recipe is revamped with pumpkin and served as an elegant meal with a sweet finish of chocolate dipped gingerbread biscotti.
By Sarah Mason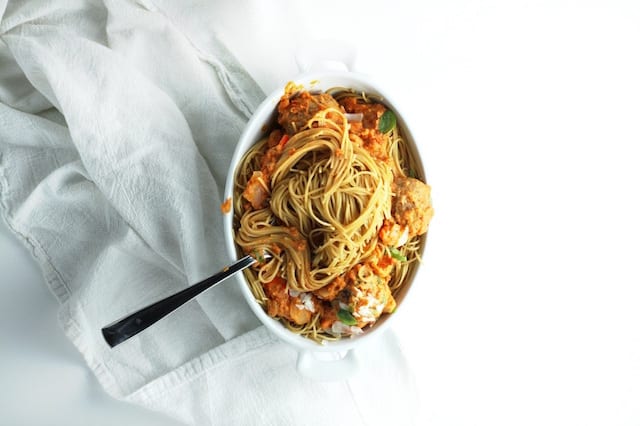 One meal. Two courses. Lots and lots of Italian love.
It's likely true that pumpkin spaghetti was MADE for me. It's like autumn in a bowl! It's warm and hearty and lovely and delicious. I would probably pay someone to allow me to bathe in it.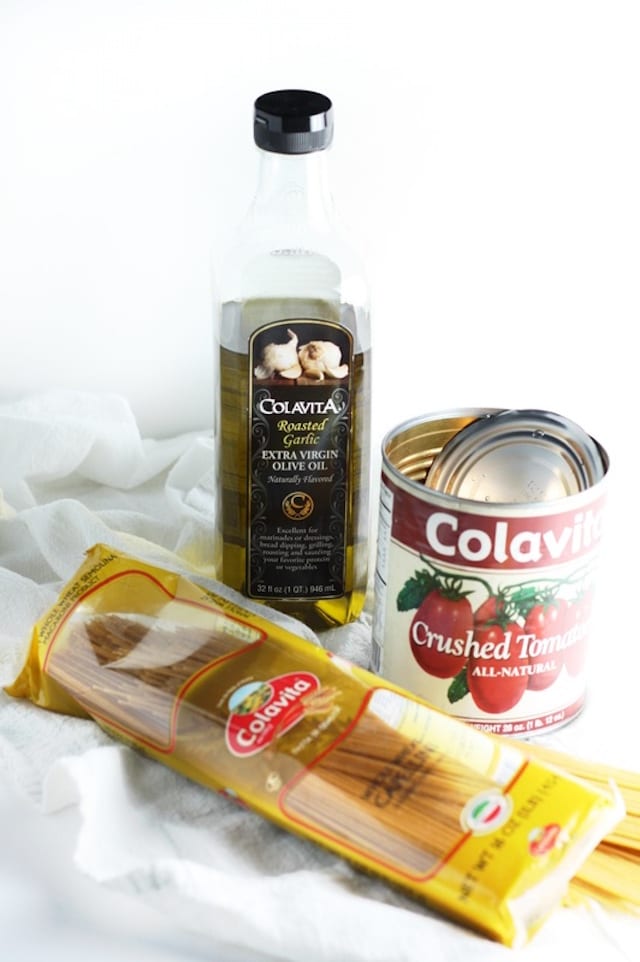 The ingredients are pretty simple, but I'm (newly) becoming an advocate of quality over quantity. I have a pretty terrible case of food blogger syndrome where if it doesn't have like 40 ingredients then I'm not interested, but I'm learning. Sometimes you just need to simplify, you know?
Here we're using pumpkin puree, tasty cheeses like mozzarella and Parmesan and Colativa tomatoes, capellini and roasted garlic olive oil.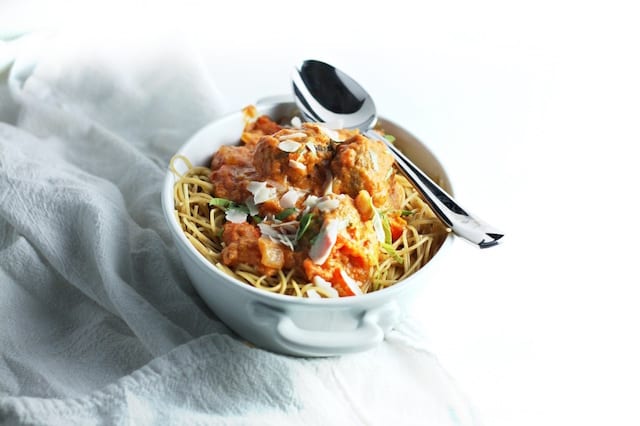 Want to win your own gift basket to recreate this meal or invent an Italian holiday dinner of your own?Enter the sweepstakes by clicking the picture below!
Italian Holiday Table: Pumpkin Sauce Spaghetti and Meatballs
Cuisine:
Italian-Inspired
Prep time:
Cook time:
Total time:
Ingredients
1 can pumpkin puree
1 (28-ounce) can of Colativa Crushed Tomatoes
1 tablespoon heavy cream
1 package Colativa Whole Wheat Capellini
2 tablespoons Colativa Roasted Garlic Extra Virgin Olive Oil
1 white onion, chopped
1/4 teaspoon crushed red pepper flakes
1/2 teaspoon dry Italian seasoning
1 pound raw Italian sausage meatballs
Parmesan cheese, for topping
Mozzarella cheese, shredded, for topping
Instructions
In a blender, puree pumpkin, crushed tomatoes and heavy cream until smooth.
Boil the capellini in a large pot until cooked to your liking (al dente or well done). Drain.
Meanwhile, heat the olive oil in a high-rimmed skillet over medium heat. Add the onion, crushed red pepper and Italian seasoning and cook, stirring, for 5-7 minutes or until onion is translucent.
Add the meatballs to the skillet and cook to sear the outsides, turning often, for 3 minutes or until outsides are browned.
Pour pumpkin tomato puree into the skillet and increase the heat to medium-high to bring the mixture to a boil. Cook until meatballs are cooked through.
Spoon meatball mixture over the pasta. Serve with parmesan and mozzarella on top.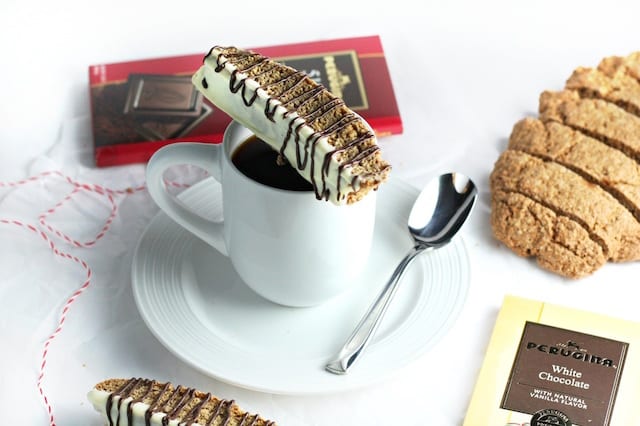 Gingerbread biscotti.
Um, yes. I know I'm not the only one who gets a little (read: raging) sweet tooth after dinner, but normally I have to dig in the back of my pantry for some of last year's Halloween candy or baking chocolate. I don't know why I don't bake dessert more often. Maybe I'm about to start.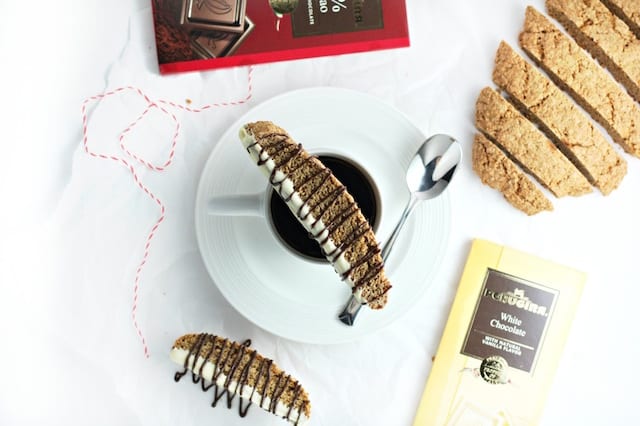 This biscotti is fantastic. It's like a gingersnap coated in chocolate wrapped in heaven. I actually cheated a little here and undercooked mine because I wanted it to be less crumbly, but if you're into the classic biscotti texture then by all means bake it the full time.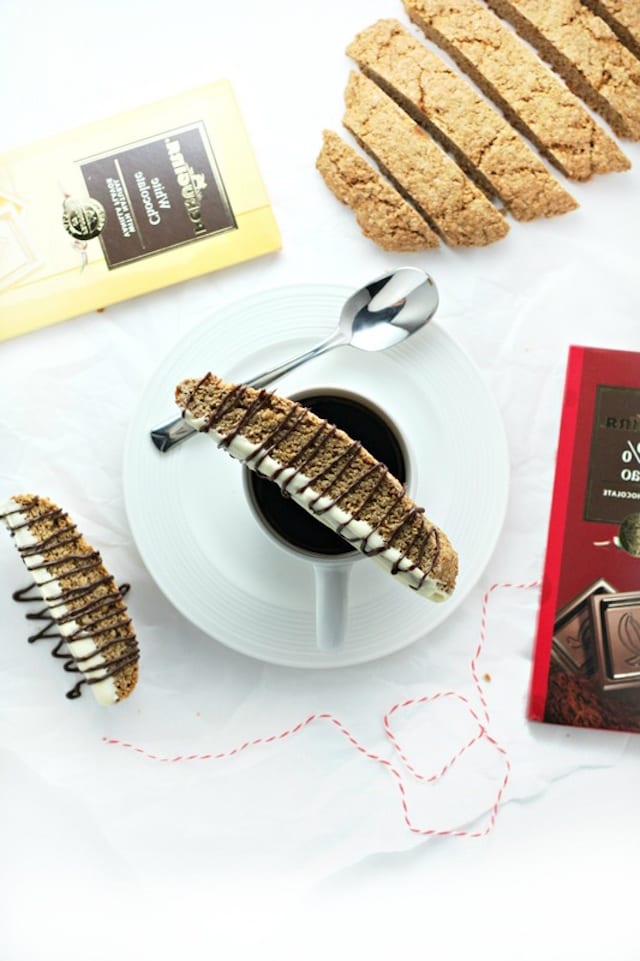 Either way, it's the best dessert. Also, it's the dessert that's 100% okay to eat again for breakfast. (Promise I won't tell).
And the chocolate drizzle! Don't skip the chocolate. We're using Perugina white and regular chocolate and it adds juuuuust the right amount of sweetness. Plus, look how festive!
Italian Holiday Table: Gingerbread Biscotti
Recipe Type
:
Dessert, Baking
Cuisine:
Italian-Inspired
Prep time:
Cook time:
Total time:
Ingredients
2-¼ cups flour
1-¼ cups brown sugar
2-1/2 teaspoons ginger
1 teaspoon cinnamon
½ teaspoon cloves
¼ teaspoon allspice
1¼ teaspoon baking powder
¼ teaspoon baking soda
½ teaspoon salt
2 eggs
¼ cup molasses
1/4 cup water
1/2 Perugina white chocolate bar
1/2 Perugina chocolate bar
1 teaspoon vegetable oil (optional, to thin melted chocolate)
Instructions
Preheat oven to 350F. Line a baking sheet with parchment paper.
In a mixing bowl, sift together all dry ingredients (flour to salt). Mix in eggs, molasses and water. Mix until well combined. (Note: mixture will be dry but should "stick" when you mold with your hands).
Split dough into two parts and form each half into a log about 6 inches long, 4 inches wide and 1 inch tall. Space the two logs apart on the baking sheet and bake for 30 minutes (until the surface springs back when gently touched). Cool for 10 minutes.
Move logs to a cutting board. Use a serrated knife to cut each log into slices on the diagonal (about 3/4 inches wide). For traditional biscotti, place slices back on parchment paper cut-side down and bake another 10 minutes to make dry and crunchy. (However, I prefer "softer" biscotti so I skipped this step).
When finished cooking, let cool completely.
Add chocolate to a wide-bottomed bowl and microwave in 25 second increments, stirring in between, until fully melted. (Stir in vegetable oil if needed to thin the chocolate). Dip the bottom of each biscotti into the chocolate; set upside down until chocolate has cooled/hardened.
?Serve at room temperature