South Indian tamarind rice, or puliyogare, brings mouth-watering sweet, spicy, and tangy bites to a meal. It is perfect to be made ahead for a picnic and served with cool yogurt and a crispy cracker-like bread.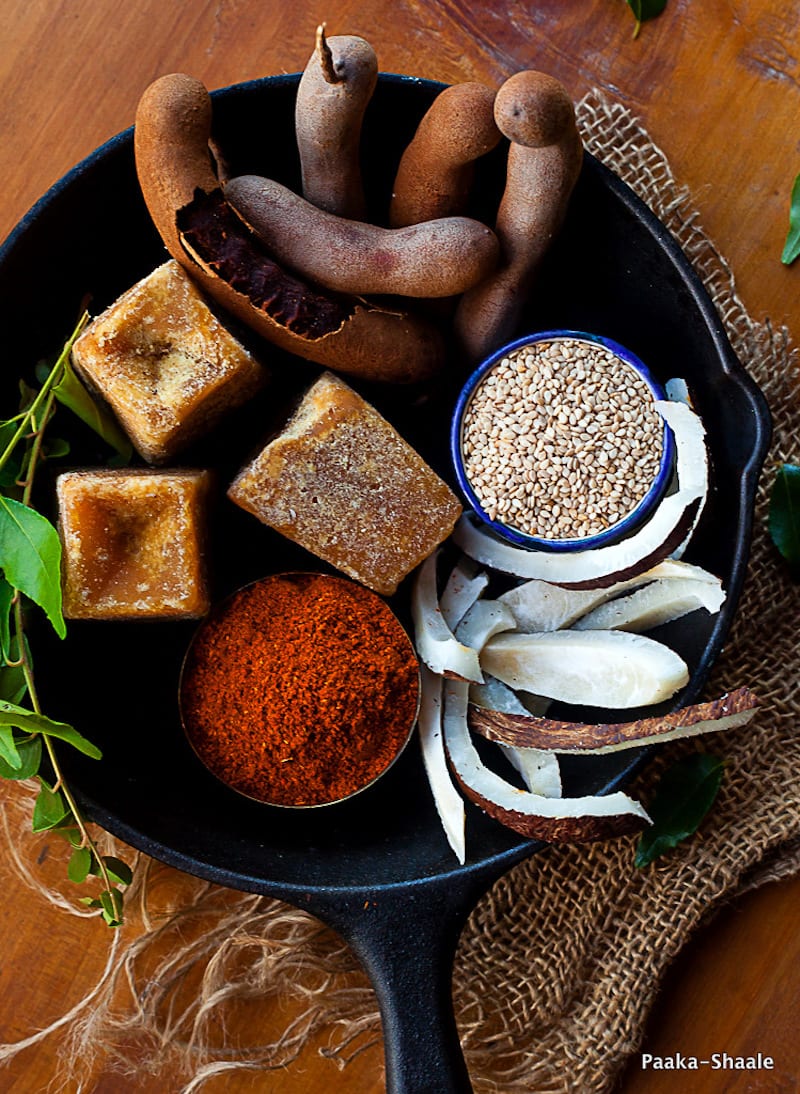 Puliyogare or the tamarind rice is one of the most traditional and one of the most sought after recipes from South India. Every bite of this sweet, spicy and tangy rice brings back some fond childhood memories. Each savored bite takes me back to the times when I used to visit the Venkateshwara temple with my grandmother. The beautiful sculptures, the chanting of the shlokas, the divine atmosphere and the one of a kind puliyogare for prasadam. We would eagerly wait in the long queues to receive our share of Puliyogare. The tamarind rice offered there was so delicious that we would invariably go back for more!!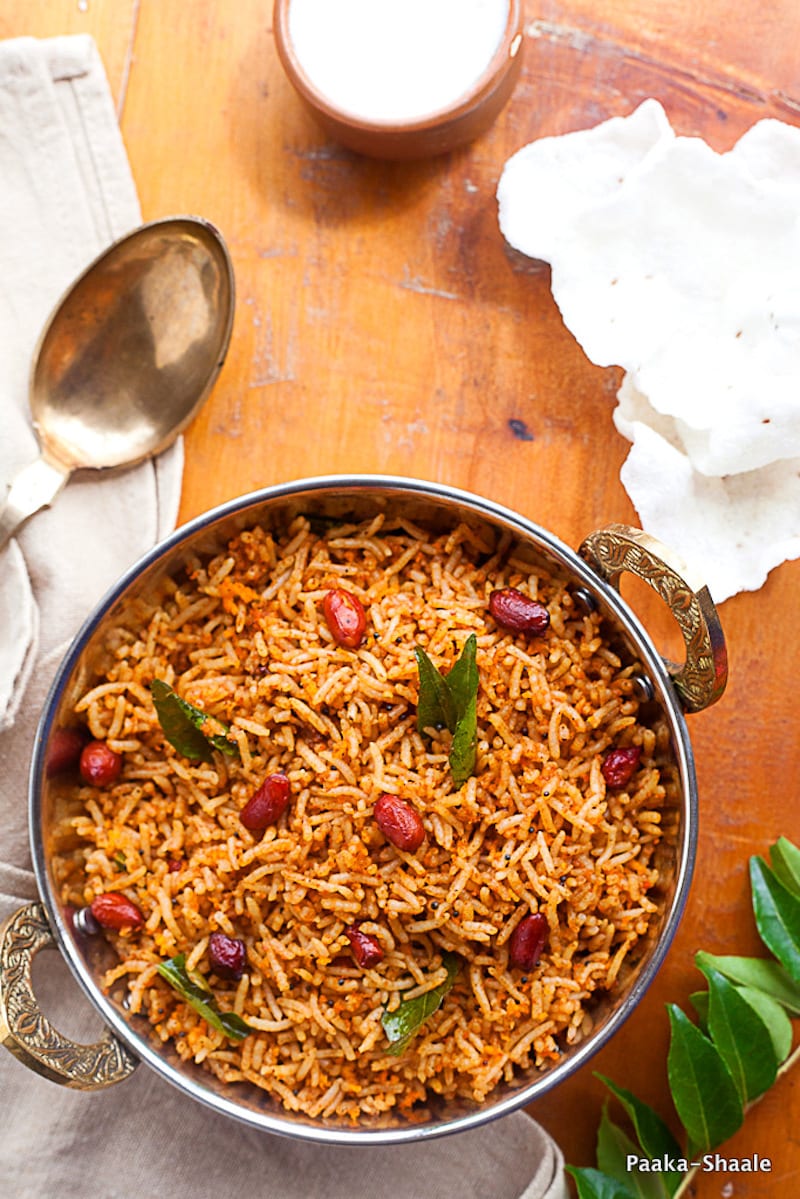 Since this rice makes a great picnic meal, I remember my mother making large quantities of Puliyogare for my school picnic. It was a big hit with my friends and the boxes were licked clean. So now you can imagine how nostalgic Pulyogare always makes me!
The making of Puliyogare has two steps. The first step is to make the puliyogare gojju which is slightly time consuming. The second part involves mixing the gojju with the rice and other seasonings.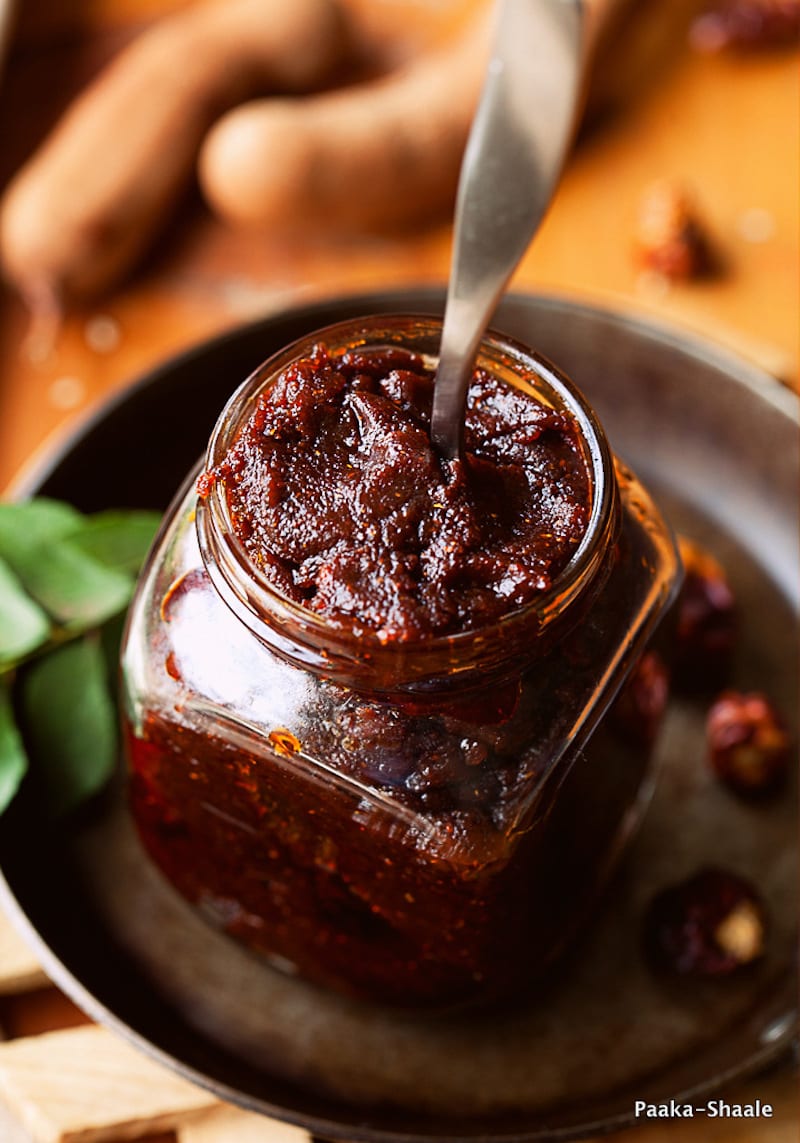 The Puliyogare gojju can be made well in advance. By "well in advance", I mean a atleast a week earlier. So whenever you are feeling lazy or you have to make something in a jiffy, then mix a few table spoons of the gojju with a few cups of rice and Puliyogare will be ready in no time.
The Puliyogare great all by itself. But pair it with some Poppadums and a bowl of yogurt and you will have a complete meal in front you.

Puliyogare - Tamarind Rice
South Indian tamarind rice, or puliyogare, brings mouth-watering sweet, spicy, and tangy bites to a meal. It is perfect to be made ahead for a picnic and served with cool yogurt and a crispy cracker-like bread.
Ingredients
Puliyogare Gojju
Tamarind- 100gms (3.5 ounces)
Water- 700ml (23.6 fluid ounces)
Sesame seeds- 1-1/2tbspn
Grandma's rasam powder- 3tbsp
Grated dry coconut- 4tbspn
Salt to taste
Jaggery- 120gms (4.2 ounces)
Peanut oil- 2tbsp
Puliyogare or Tamarind rice
Peanut oil or any other oil- 2tbsps
Mustard seeds- ½tsp
Peanuts- 3tbsps
Curry leaves- 2sprigs
Asafetida- A pinch
Cooked rice- 2 cups
Salt- To taste
Puliyogare gojju- 2tbsp
Freshly grated coconut- 1tbsp (optional)
Instructions
Puliyogare Gojju
Clean the tamarind by removing the seeds and strings and soak in 500ml of water for atleast two to three hours.
Squeeze the juice from the tamarind with you hands and set aside the pulp. Add the remaining water to the pulp and strain the juice in a strainer. You will get about 700ml of tamarind juice at this point.
In a pan, dry roast the sesame seeds till brown and keep it aside to cool
In the same pan, dry roast the coconut and set aside to cool.
Combine the sesame seeds and the rasam powder in a blender jar and blend till finely powdered.
Add the roasted coconut to the ground mixture and blend again to get a paste like spice mix.
In a thick bottomed, non reactive pan, add the tamarind pulp and bring it to a gentle boil. Allow the pulp to reduce a little before adding the jaggery and salt.
Let the mixture to simmer for a couple of minutes more and then add the ground mixture.
Allow the mixture to simmer on low heat while stirring from time to time. Continue mixing till the mixture achieves a thick jam like consistency and comes together in a single mass. Take off the heat at this stage.
Add the peanut oil mix well and allow the gojju to cool completely before storing in airtight container.
Puliyogare or Tamarind rice
Heat oil in a thick bottomed pan. Add the mustard seeds and allow it sputter. Add the peanuts and fry till they turn brown.
Add curry leaves and fry till they turn crisp. Stir in the asafetida and mix.
Add the cooked rice and salt and mix well. Stir in the gojju and the grated coconut and mix well so that the rice is coated with the gojju.
Take off the heat and serve hot with yogurt and poppadoms.
Notes
Do not use polished sesame seeds. Use unpolished (mildly brown) or black sesame seeds.
The quantity of the jaggery used, largely depends on the variety of jaggery. There some varieties that are not very sweet. Use more in that case.
I use peanut oil because it prevents the gojju from going bad. Apart from that, it also enhances the flavor.
Try and use tamarind that is dark brown in color. It imparts a rich color and taste.