PARTNER POST — Grilling season is here and it is time to explore Italian grilling with authentic ingredients from Colavita.

Boost your veggies intake and create delicious vegan dishes all summer long on the grill.
Being an Italian girl and vegan – I thought I would take you on a food journey grilling vegan style versus the classics you've come to expect during grilling season. Plus moving outside to grill for friends and family, enjoying warm and sunny weather – there is nothing better after a long winter.
I created three recipes to share. Each have a fun twist and are a cinch to prepare. Great for parties and get-togethers.
Let's begin with a Roasted Beet Salad. I typically roast beets in my oven but took to the grill and it worked out beautifully with minimal clean-up. Win – win!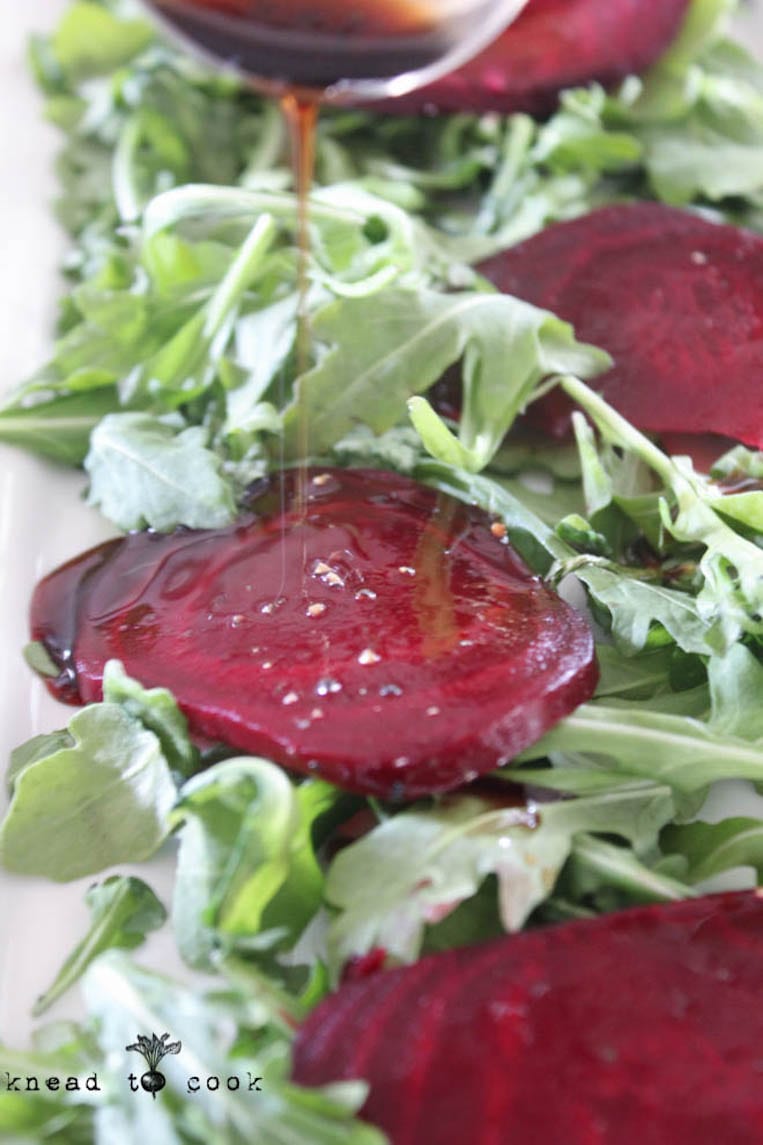 Grill Like an Italian with Colavita: Grilled Beet Salad
Ingredients
4 large red beets, washed and tops/bottoms removed
2 cups of fresh arugula, washed
1 tablespoon of Colavita White Truffle Balsamic Glace
2 tablespoons of Colavita balsamic vinegar
1 tablespoon of maple syrup
Freshly ground black pepper
Instructions
Preheat your grill to 400-425 degrees. Place each beet on the center of the tin foil and drizzle with olive oil. The wrap each beet in a piece of tinfoil. Loosely close the top. Repeat until all of your beets are wrapped. Place on the grill and cook for 40-45 minutes or until a knife pierces the beet easily. Then remove with tongs and place on a tray to cool. After about 15 minutes, I open the foil and let cool completely. Remove the skin after about 25 minutes. Then slice into thin slices.
Dressing
Whisk together the remaining ingredients.
Assembly
Place the arugula on a platter. Then top with the sliced beets. Drizzle the dressing overtop and add freshly cracked pepper. Serve at room temperature.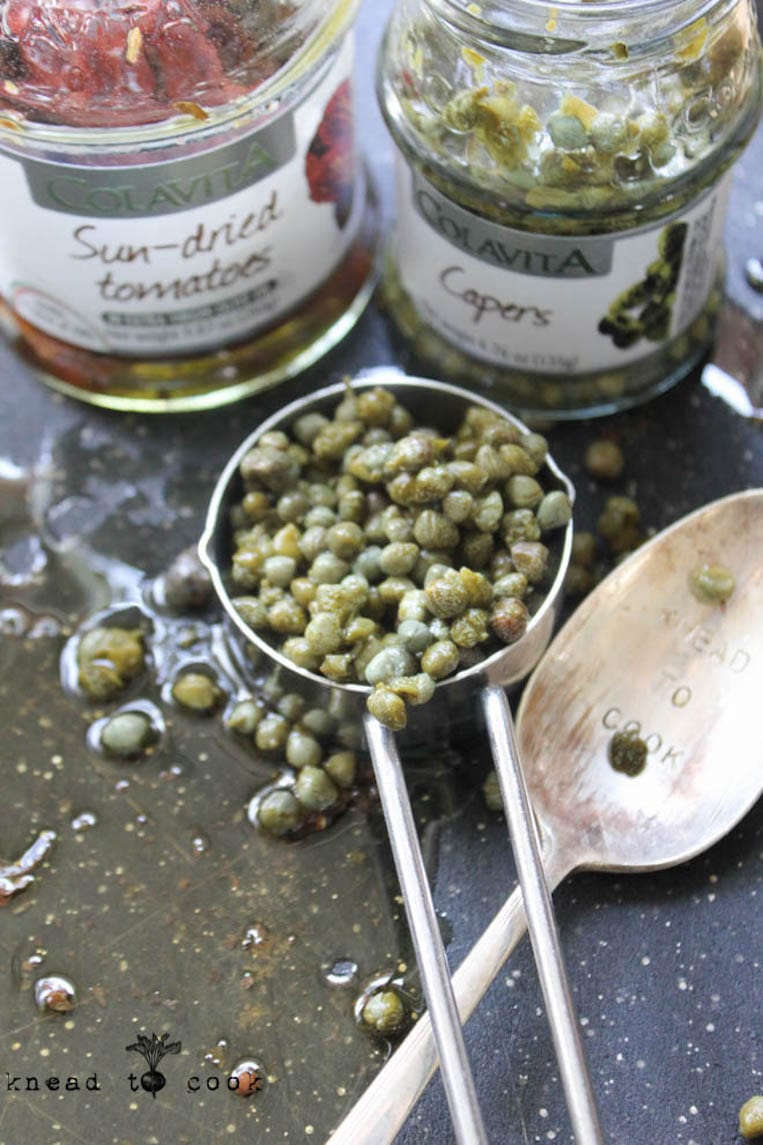 Onto a recipe that can be served on grilled Italian bread, with crackers or veggies as a dip or believe it or not – over pasta as my husband discovered, Sun Dried Tomato and Caper Tapenade.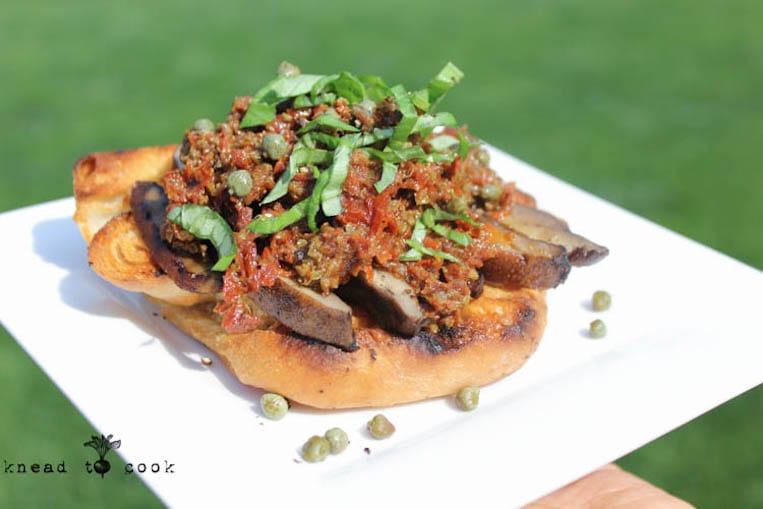 Grill Like an Italian with Colavita: Sun Dried Tomato and Caper Tapenade
Cuisine:
Italian Inspired
Ingredients
1 cup of Colativa sun dried tomatoes
¼ cup of the olive oil that the sun dried tomatoes are packed in or olive oil
1 tablespoons of Colavita capers plus extra for topping
1 tablespoons of Colavita white wine vinegar
1 teaspoon of Italian seasonings
Instructions
Add all of the ingredients to your food processor and pulse 6-8 times until the mixture is chopped but not pureed. Remove and place in a bowl. Add additional capers to the top (whole and in tact) for garnish.
This tapenade can be served as a sandwich spread, as a dip, atop of grilled baguette slices, on your favorite protein or as we did, topping a portobello grilled mushroom. We simply washed the mushroom and removed the stem. Sliced into long piece pieces. Brush with olive oil and place on a hot grill. Grill for 2-4 minutes on each side until tender. While grilling the mushroom, brush your Italian bread with a bit of olive oil and place cut side down on the grill to toast. This only takes about 30 seconds, or longer depending on how hot your grill temperature is set at. Keep a watchful eye. Remove and place your portobello slices and top with the tapenade. Top with fresh basil as an option.
The final recipe in this trio is a classic and favorite pasta salad with an Italian vinaigrette. I omitted the traditional meat and replaced it with a lot of fresh vegetables I picked up at the farmer's market this morning. This recipe is very versatile and you can use the veggies you have on hand.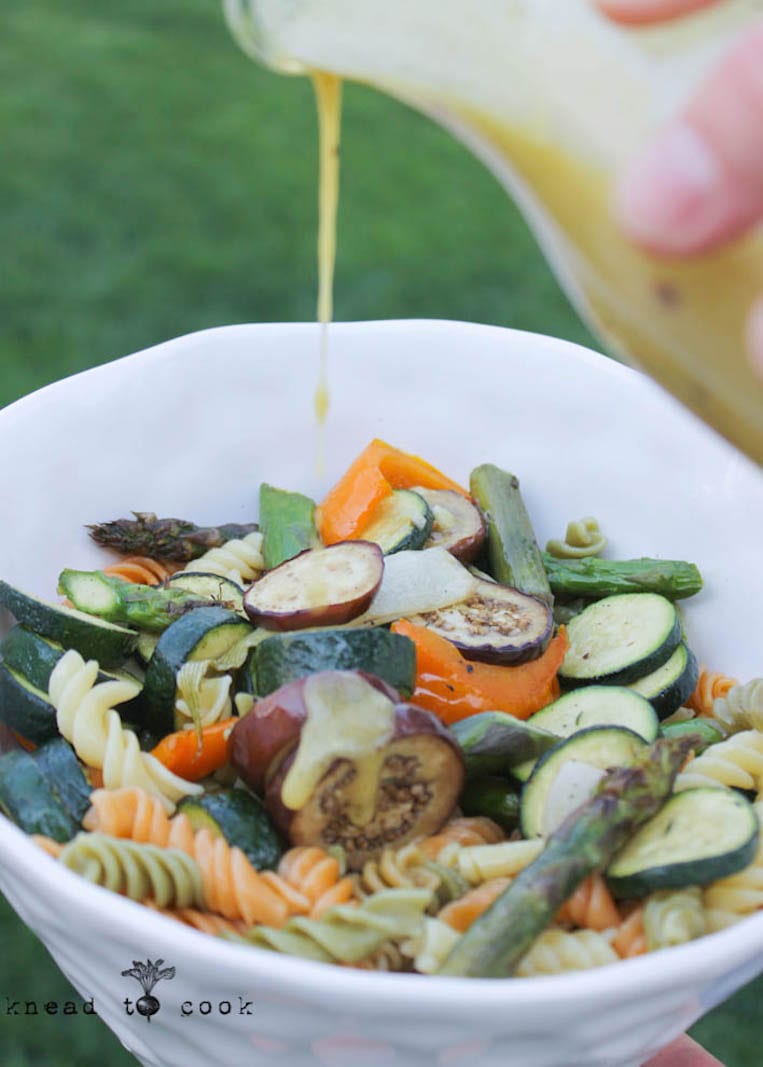 Grill Like an Italian with Colavita: Grilled Vegetable Pasta
Recipe Type:
Primi, Pasta
Cuisine:
Italian Inspired
Ingredients
2 mini zucchini, washed and sliced into coins about
¼ inch thick 6 mini eggplant, washed and sliced into coins about
¼ inch thick 2 spring onions, stems removed and sliced into coins
1 orange bell pepper, seeded and sliced into larger slices
4 asparagus, bottoms removed and sliced into
2 inch pieces Colavita Olive oil
Salt
Pepper
1 bag of Colavita tri-color pasta
Dressing
½ cup of Colavita olive oil
¼ cup of Colavita white balsamic vinegar
2 cloves of garlic, minced
1 tablespoon of Dijon mustard
Salt and pepper
Red pepper flakes (1 or 2 pinches)
1 teaspoon of Italian seasoning
Instructions
Place all of your vegetables into a large bowl and toss with olive oil (a light coating). Salt and pepper. Give that a good toss. Place them on a large piece of foil on your grill or if you have a grilling basket – add them to that and cover your grill. Flip them every 5-10 minutes or so. Total cooking time about 20 minutes.
While grilling the vegetables, bring a medium pot of water to a boil and add a good pinch of salt. Once that's boiling, add your pasta and follow the cooking time suggested on the package.
Dressing
Place all of the ingredients into your container. Place the lid on securely and vigorously shake until combined.
Assembly
Once the pasta is al dente, drain and place in a large bowl. Add your grilled vegetables and drizzle your dressing over the top. Toss and then taste. Add additional dressing as needed.