A specialty from the south of the Netherlands: A sweet yeasted pie base filled with lovely smooth and creamy custard topped with crunchy streusel.
By Ena Scheerstra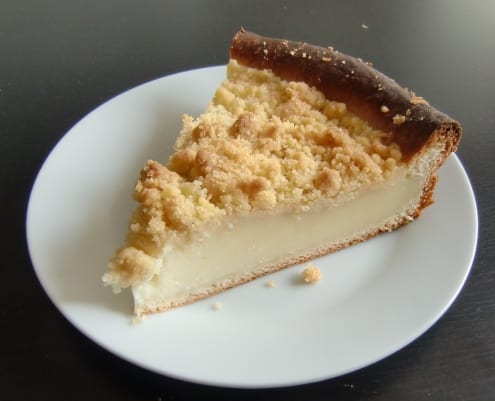 This pudding streusel pie is a variety of 'vlaai', a specialty of the Dutch province of Limburg. Vlaai goes a long time back: Germanic people baked their bread on a hot stone and poured honey or fruit juice on top to make it more tasty, this was called 'vlade'. Later on in German history vlaai was baked in monasteries as sacrificial bread. Probably it were merchants that traded both in Limburg and at the other side of the border in Germany that took vlaai from Germany to Limburg, where they started to bake vlaai for special occasions: birthdays, weddings and the twice a year fair (these were combined with a procession and a mass).
For a real vlaai you have to start with the tin. Officially a vlaai should be baked in a smooth, shallow pie tin with a diameter of 28-30 cm. Since I used a scalloped pie tin, my pie officially cannot be named vlaai. However, I think it is useless to buy yet another baking tin, because the scalloped pie tin works fine, the vlaai will not taste any different.
Then the base. There are many recipes out there that use a simple sweet crust, but for a real vlaai you use a sweet yeasted dough base, otherwise it is just a pie and not a vlaai. I guess people use a sweet crust because they are afraid a yeast crust is very difficult to make, but actually I find that it is easier than a sweet crust.
Then the filling Traditionally you can fill a vlaai with rice pudding and leave the top open, fill it with fruit (apricots, plums, cherries) and top with a lattice, or fill with pudding or apples and top with streusel. Nowadays most bakeries have other flavours as well, and there even are bakeries that specialize in vlaai and fill them with about anything you can think of. A 'Limburgse vlaai' is always baked completely with filling and topping, a vlaai base baked first and then filled with a mousse or something like that is just called a vlaai.
I like the traditional flavours, so I chose to make a streusel pudding vlaai (in Dutch 'kruimelvlaai' or 'puddingkruimelvlaai'). The combination of the soft, slightly chewy vlaai base, a lovely creamy and smooth pudding filling and crunchy streusel on top is just delicious. Unfortunately, the ones you buy in the shops often have a rubbery pudding filling and soggy crumbs on top. Freshly baked, the crumbs of this vlaai are nice and crisp (bake it a maximum of 1 day in advance). If you look at the picture, my pudding seems very stiff, which makes it easy to cut (no oozing and sticking), but tastes like a very soft pudding that melts in the mouth. So give this delicious pastry a try, or choose on of the other fillings/toppings (see notes of the recipe below).
Generally a vlaai is cut into 12 portions, since it is a large pie you might divide it into 16 portions. Lots of people from Limburg consider this a frugal habit and cut a vlaai in 6-8 portions. On special occasions (birthdays, weddings, parties etc.) they buy or bake different flavours of vlaai and sometimes they eat 2, 3 or even 4 portions per person (I would like this habit in my part of the country!). You can serve a vlaai portion on a plate with a fork, but since a piece is quite sturdy and easy to pick up, it is often eaten without.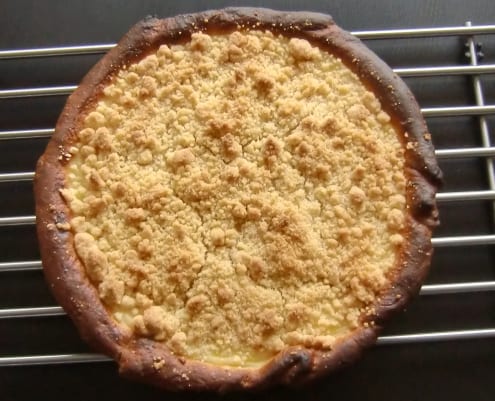 Print
Pudding Streusel Pie
A sweet yeasted pie base filled with lovely smooth and creamy custard and topped with crunchy streusel.
Author:

Ena Scheerstra

Prep Time:

20 mins

Cook Time:

45 mins

Total Time:

1 hour 5 mins

Yield:

6

-

1

6

1

x
Category:

Baking

Cuisine:

Dutch
Base
50 gram

butter

250 gram

flour

10 gram

dry yeast

35 gram

sugar

1

bag vanilla sugar (

8 gram

), or 1 tsp vanilla extract
a pinch of salt

150

ml milk, tepid
Filling
1

liter milk

80 gram

cornstarch (maïzena)

3

eggs

150 gram

sugar

2

bags vanilla sugar (

16 gram

), or 2 tsp vanilla extract
Streusel
100 gram

butter

175 gram

flour

75

sugar

1

bag vanilla sugar (

8 gram

), or 1 tsp vanilla extract
a pinch of salt
Instructions
Start with making the filling (it needs to be completely cold when you put it in the base).
Pour the milk in a saucepan big enough to hold all the filling ingredients.
Add the vanilla sugar to the milk and bring to the boil.
Meanwhile, mix the cornflour and sugar in a bowl large enough to hold all the filling ingredients.
Add the eggs and mix well.
Pour 1/3 of the boiling milk on top of the egg mixture while stirring constantly, then pour the milk-egg mixture back into the pan with the remaining milk, again while mixing constantly.
Warm on medium heat while stirring constantly until the mixture has thickened and has come to the boil.
Pour the pudding out into a bowl, place a layer of cling film directly on top of the pudding to prevent a skin from forming, leave to cool for 1 hour at room temperature and then until completely cold in the fridge.
Next, make the pie base.
Melt the butter so that it is just getting fluid (it should not be to hot).
Mix flour, yeast, sugar, vanilla sugar and salt together and form a well in the middle.
Pour the tepid milk and the just molten butter in the well.
Mix everything together with a fork, then use your hands to knead it in a smooth dough (it will take 2-3 minutes).
Put in a bowl, cover with cling film or a damp tea towel and leave to rise on a warm spot for 1 hour.
Roll the dough into a circle of 32 cm diameter (easiest by placing it in between two layers of baking paper).
Grease a 28 cm vlaai tin and line it with the rolled out dough.
Place the tin lined with the base on a warm spot while making the streusel topping.
Rub butter and flour together until it resembles coarse bread crumbs.
Add sugar, vanilla sugar and a pinch of salt, mix well and rub everything together until crumbs form.
Pour the cold pudding in the vlaai base, smoothen it and sprinkle the streusel on top.
Place in a preheated oven at 200C and bake 45 minutes; cover the top with aluminum foil if it gets to dark.
Let cool for 5 minutes, then take the vlaai from the tin and leave to cool further on a rack.
Notes
For a vlaai with a lattice top: make 1.5 times the dough recipe. For an apricot vlaai: soak 200 gram dried apricots in cold water for 8 hours. Cook the apricots 15 minutes with 75 ml of the soaking water, 35 gram sugar and 1 tsp grated lemon zest. Leave to cool and drain. Spread over the vlaai base and sprinkle with 15 gram sugar. Cover with a lattice and bake 30 minutes at 225C. For a rice vlaai: bring 750 ml milk to the boil with the zest of half a lemon and a pinch of salt. Add 150 gram pudding rice, stir well and cook for 45 minutes on very low heat, stirring regularly. Remove the lemon zest, add 75 gram sugar and 25 gram butter. Mix in a bowl an egg yolk with a few spoons of the hot rice pudding, then stir it through the rest of the rice pudding. Whip 1 egg white till stiff peaks and fold through the rice pudding. Spoon the rice pudding in the vlaai base and smooth it. Bake at 200 C for 45 minutes; when the top gets to dark, cover it with some aluminum foil. If you want to you can garnish the vlaai with whipped cream and chocolate curls. For a cherry or plum vlaai: spread 350 gram cherries or plums (stones removed!) over de vlaai base. Sprinkle with 50 gram sugar. Cover with a lattice and bake 30 minutes at 225C. For an apple vlaai: spread 350 gram apple cubes over the vlaai base. Sprinkle with 50 gram sugar and some cinnamon. Some people also add some raisins, or use a very thick/dry apple compote. Top with streusel and bake 45 minutes at 200C, covering the top with aluminum foil if it gets too dark.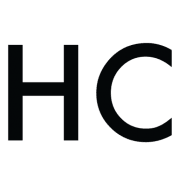 Ena Scheerstra
Ena Scheerstra has a lifelong love for food and cooking, starting to collect cookbooks at age 10. She spends most of her free time on cooking and everything food related. She is a strong believer of honest food, produced sustainable and sourced locally, and cultures her own vegetables on her balcony and in her small allotment. Her blog is very internationally orientated, reflecting the variety of food she cooks, but on Honest Cooking she is focusing on showing the world the wonders of Dutch food.