Potato Dumplings With Plums
Potato dumplings filled with plums can be served as a dessert or as a sweet lunch.
By Tamara Novakoviç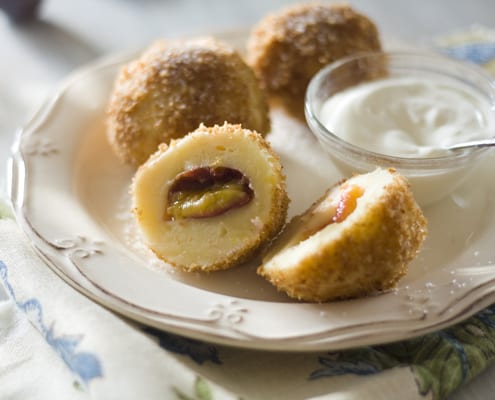 Potato dumplings are a staple in Croatian kitchens. The potato dough is very common in Croatian cuisine, so we enjoy in different varieties and shapes of dumplings, gnocchi, croquettes and such. The most common and traditional potato dumplings are the ones filled with plums: either fresh plums, or home made plum jam. Of course, you can use any type of fruit or marmalade as the filling but personally, plums are my favorite.
Potato dumplings are first cooked, then rolled into fried breadcrumbs. For this purpose, we most often use oil, but you can substitute it with butter. You can also add some cinnamon to the breadcrumbs. The traditional way of serving them is with sugar and sour cream on top.

Potato dumplings with plums
Potato dumplings filled with plums can be served as a dessert or as a sweet lunch.
Ingredients
35.2 oz (1 kg) potatoes
10.5 oz (300 g) all-purpose flour
1 egg
pinch of salt
1 tbsp butter or lard
3.5 oz (100 g) breadcrumbs
3.5 oz (100 g) sugar
½ tsp cinnamon
vegetable or sunflower oil
sour cream
Instructions
Peel potatoes, cut into cubes and cook in boiling water. Drain and mash. Add butter or lard to it. When the mixture cools slightly, add egg and flour. Knead until the dough forms. Shape into a log (on floured surface) and cut pieces, about 0.5 inch (1.5 cm) thick.
Wash and pit plums, cut into half. Put each half into a piece of dough and form into a ball.
Cook dumplings in salted, boiling water. Drain them.
Heat oil and fry breadcrumbs combined with cinnamon, until golden. Use low heat, make sure not to burn them. Roll cooked dumplings into breadcrumbs. Serve sprinkled with sugar and a tablespoon or two of sour cream.
Tamara Novakoviç
Tamara Novakovic is a passionate self-taught cook, food blogger, freelance food writer and photographer behind bite-my-cake.blogspot.com. Her life journey has led her through Faculty of Humanities in Zagreb, Croatia to discovering passion for making cakes. She is currently a weekly food columnist for Croatian newspaper V magazine and food magazine Repete.