Oreo Ice Cream with Chocolate Chip Cookie Dough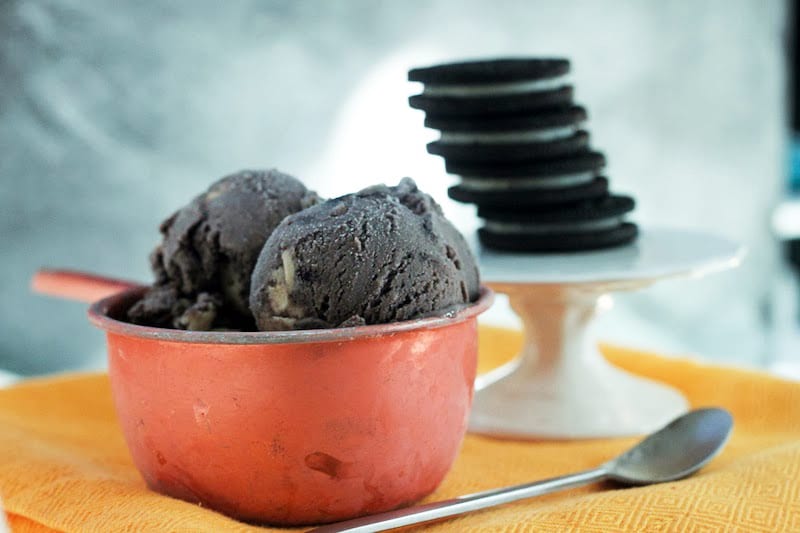 This indulgent ice cream combines cookies and cream with cookie dough for a double dose of cookie goodness.
By Amrita Rawat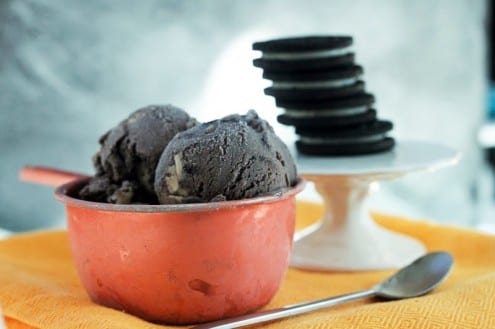 Oreo Ice Cream with Chocolate Chip Cookie Dough
This indulgent ice cream combines cookies and cream with cookie dough for a double dose of cookie goodness.
Ingredients
2 cups milk
1¼ cup heavy cream
1 tbs + 1 tsp cornstarch
⅔ cup sugar
2 tbs corn syrup
1.5 ounces cream cheese
pinch of salt
20 oreos (15 ground up, 5 crushed coarsely)
chocolate chip cookie dough
Chocolate Chip Cookie Dough
2 tbsp. unsalted butter, at room temperature
3 tbsp. light brown sugar, packed
½ cup all-purpose flour
3.5 oz. sweetened condensed milk
¼ tsp. vanilla extract
⅛ cup mini semisweet chocolate chips
Instructions
Stir two tablespoons of the milk with cornstarch in a bowl.
Put the cream cheese and salt in a medium bowl and set aside.
Combine the remaining milk, cream, sugar, and corn syrup in a large saucepan and bring to a rolling boil over medium to high heat.
Stir the cornstarch slurry to make sure there are no lumps.
Lower the heat and whisk in the cornstarch slurry, and then turn to medium-high heat again.
Bring back to a boil and stir with a spatula until slightly thickened (about 1 minute).
Remove from heat.
Gradually whisk the hot milk mixture into the cream cheese and salt until smooth.
Cover the bowl with a lid or plastic wrap and place in the fridge until chilled thoroughly.
Pour the ice cream base into your ice cream maker and follow the manufacturer's directions (mine says to churn for 20 minutes).
In the last 5 minutes, stir in the ground Oreos while still churning, and then the crushed Oreos.
Drop in the chocolate chip cookie dough little balls at a time (you might have leftovers)
Pour into a container, and press parchment paper directly against the surface and seal with a lid (I poured mine into pint-size paper containers)
Freeze until firm, at least 4 hours.
Chocolate Chip Cookie Dough
Beat the butter and the sugar until light in color and fluffy. Stir in the rest of the ingredients. Let chill in a bowl and then break off and roll into little balls, dropping them into the ice cream.
Amrita Song
Amrita Rawat is the author of the blog Chai and Dumplings. Born in India and a lifelong resident of Atlanta, she recently moved to Saint Louis. Her love for food stems in part from its ability to bring cultures together and in part from how darn good it feels to eat a delicious meal. She loves traveling and has eaten her way through cities like Hong Kong, Paris, Budapest, Mumbai, and Shangri-la. Amrita is also a contributor to Sauce Magazine in St Louis.