PARTNER POST: The versatile potato is perfect in a multitude of recipes showcasing flavors from around the globe. Get creative with your spuds.
Wrapped in a whole wheat crust, potato empanadas with corn and goat cheese are a delicious Peruvian-inspired bite. Serve with avocado chimichurri for an awesome food to celebrate Carnival.
By Rachael Hartley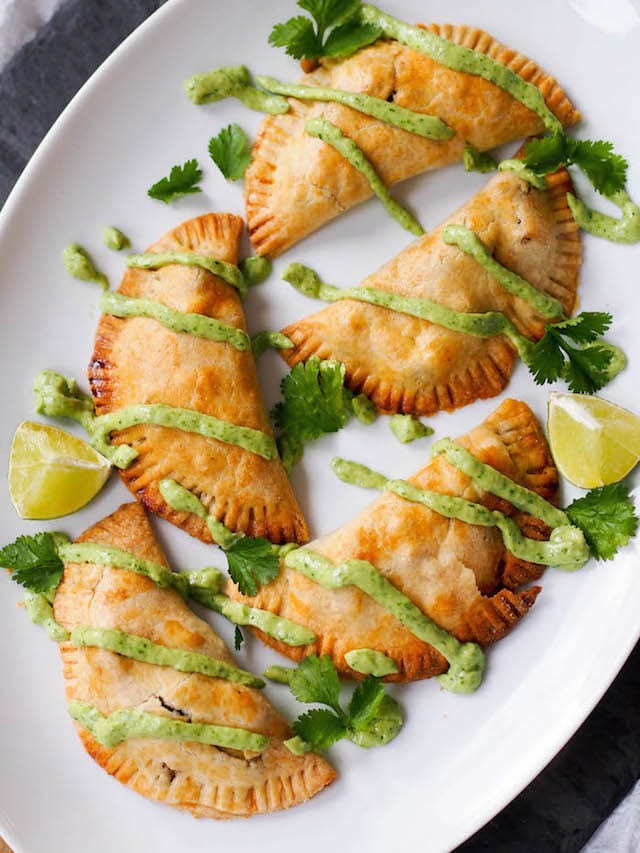 Is there a more under-appreciated food than the humble potato? I certainly can't think of one. I mean, how many meals have potatoes graced your plate, nourishing your body and providing hearty sustenance? Yet 15 years after most of us realized low carb isn't a sustainable way to live, potatoes still don't get the love they deserve.
Outside the US however, potatoes are celebrated for the fabulous food that they are. Rather than being thrown on a plate as an afterthought, potatoes are the star. Think patatas bravas in Spain, aloo gobi in India, bubble and squeak in England, gnocchi in Italy, and colcannon in Ireland. That's why I'm so excited about the theme for the campaign with the US Potato Board, Celebrating Potatoes Around the World.
About five years ago, I traveled to the home of potatoes – Peru. Did you know the potato was first cultivated in the Andes? Crazy to think now that potatoes are so ubiquitous around the world, but they only began their spread around the world 400 or so years ago. While we're just starting to see more of a variety of potatoes in grocery stores, South America got about 8,000 years to head start. There are over 3,000 (!!!) varieties of potatoes in South America. We saw hundreds at the local markets…and it feels like we ate hundreds too while we were there.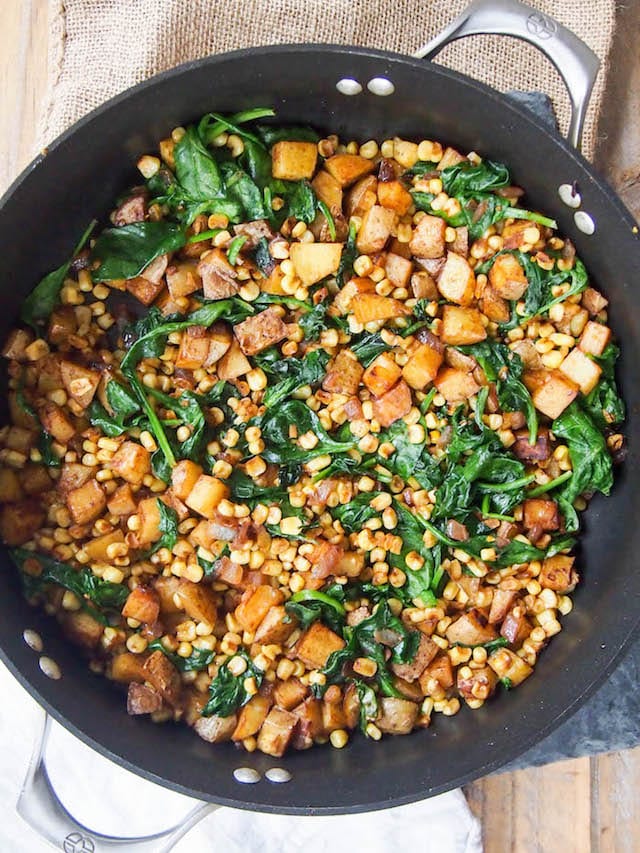 You might think we'd get bored of eating so many potatoes, but that never happened. At a Peruvian barbecue, we were served a big bowl of various boiled potatoes, which sounds like the blandest side dish you could imagine, but each potato was so unique. So was each potato dish we tried – potatoes in huancaina sauce (a creamy, chili spiked cheese sauce), causa (a cold dish of potatoes layered with avocado and tuna salad), freshly fried potato chips, ocopo (boiled potatoes, lima beans and olives in a fresh cheese sauce) and my personal favorite, potato empanadas.
Since empanadas are somewhat time intensive, they're usually made for special occasions. Occasions like Carnival, which is being celebrated this month all over South America. So let's go ahead and use that as en excuse to whip up these bad boys.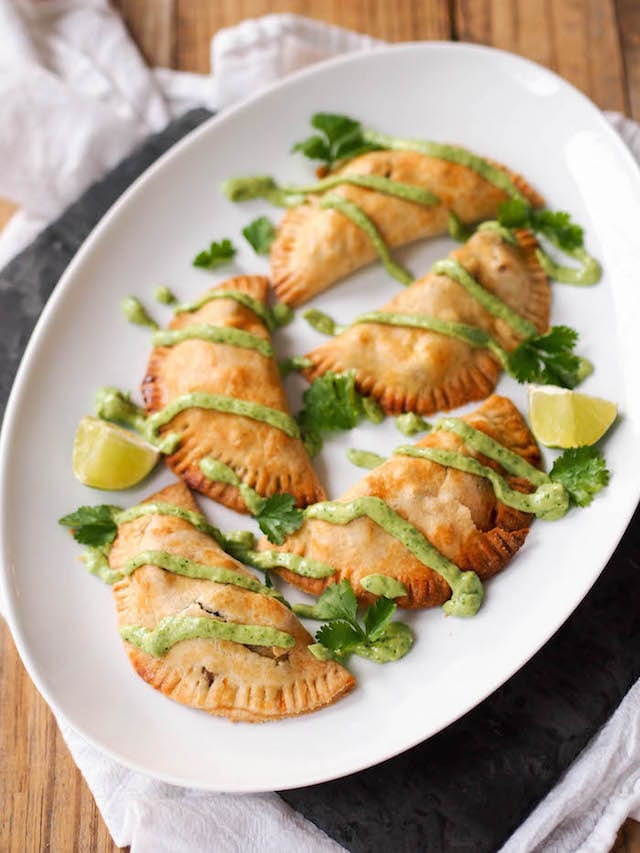 For this recipe, I made a whole wheat and coconut oil crust. I always struggle with crusts, and I've been assured this recipe works from my non-crust challenged friends. I know it looks a little wonky in my pictures, but it tastes amazing. Just to make sure the recipe works, and also because I wanted to eat it again, I also tried it with a store bought whole grain pie crust too, and it just took 5 less minutes in the oven. Not as tasty as homemade, but possibly a worthwhile time saver.
See Also
Now, before we get to the recipe, let's talk potato nutrition for a minute, just in case you're one of those people who has been eating their potatoes with a side of guilt. A medium potato contains almost 50% daily needs for vitamin C and 18% daily needs of vitamin C. It's also a good source of vitamin B6. And yes, there's much more to potatoes than starch. Being a plant and all, potatoes contain fiber and resistant starch, which has beneficial effects on colon health and improve glucose tolerance.
But mostly, potatoes are delicious, so let's enjoy them without the side of guilt.
For another hearty international recipe, try these Bombay Spiced Potatoes:
Print
Potato and Goat Cheese Empanadas with Avocado Chimichurri
Wrapped in a whole wheat crust, potato empanadas with corn and goat cheese are a delicious Peruvian-inspired bite. Serve with avocado chimichurri for an awesome food to celebrate Carnival.
Author:

Rachael Hartley

Category:

Appetizer, Side

Cuisine:

Peruvian-Inspired
Crust:
2 cups

white whole wheat flour (plus more for rolling the dough)

2/3 cup

coconut oil

1 teaspoon

salt

1

egg

3 tablespoons

coconut or almond milk

1

egg whisked with a little water for an egg wash
Filling:
1 tablespoon

extra virgin olive oil

2

medium potatoes (in

½

inch dice)

½

red onion (finely chopped)

2

garlic cloves (minced)

½

lb frozen corn

1½ teaspoons

chili powder

6 ounces

baby spinach

3 ounces

goat cheese (crumbled)
Avocado Chimichurri:
1

avocado (pitted and peeled)

½ cup

cilantro (packed)

3

garlic cloves (minced)
Juice of

½

lime
Instructions
First, make the filling. Heat olive oil in a large skillet on medium high heat. Add potatoes and season with salt and pepper. Cook, stirring every so often, until starting to get golden, about 10 minutes. Add red onion and garlic and saute until translucent, about 3 minutes. Add corn and chili powder, stir and cook until corn is lightly charred and potatoes are cooked through. Stir in spinach and cook until wilted, about 1-2 minutes. Season with salt and pepper.
Mix flour, coconut oil and salt together in a large bowl with fingers until it forms a sandy consistency. In a small bowl, whisk together egg and milk. Pour into flour and mix until it forms a ball of dough. Add another tablespoon or two of almond milk if it's too crumbly. Refrigerate 15 minutes.
Preheat the oven to 350 degrees.
Remove dough from the fridge and place on a well floured surface. Using a rolling pin, roll the dough until it's about 1/8th inch thickness. Using cutter or a rim of a mixing bowl, cut out circles. I used a 5-inch bowl and it yielded 8 empanadas. Feel free to make yours larger or smaller.
Scoop a little filling onto one half of the dough round, leaving room around the rim. Crumble a little goat cheese over the top. Fold the other side of the dough over the top of the fillings. Press down with a fork around the edges. Repeat with remaining dough, reserving any leftover filling. Brush the top of the empanadas with the egg wash. Place in the oven and bake 30-35 minutes until golden.
While empanadas are cooking, blend avocado, cilantro, garlic and lime juice in a food processor. Season with salt to taste.
Serve empanadas warm with dipping sauce.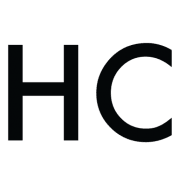 Rachael Hartley
Hi there! I'm Rachael Hartley, a dietitian, food blogger, whole food lover and avocado enthusiast. My mission is to help you rediscover the joy of eating. I believe living a healthy, fulfilled life should be fun, simple and most of all, delicious!